García Pimienta's muscle: 43 of the 66 points played since his arrival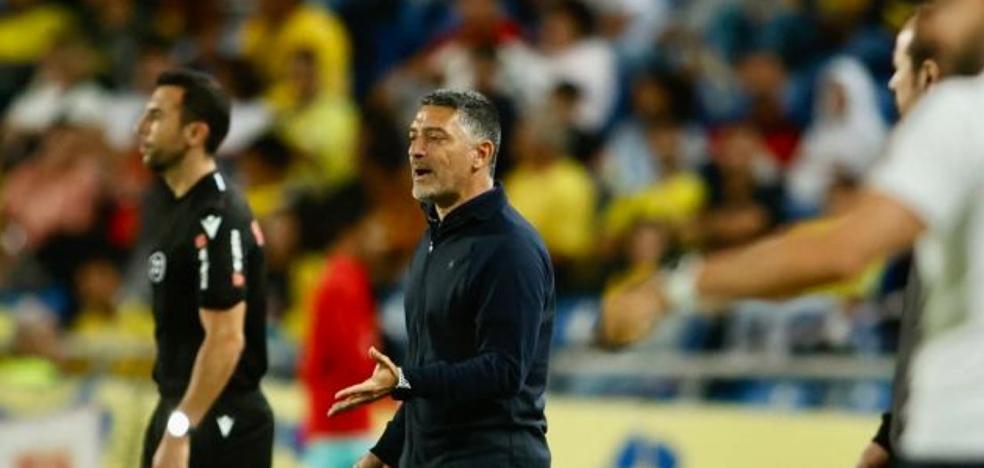 football - second division
The Catalan becomes the coach of UD Las Palmas who, counting more than ten games, has the lowest percentage of defeat (13.6%)
That the arrival of García Pimienta, despite the fact that it was questioned at the time, has been an obvious success. It is no longer that the sensations are almost always positive, but that their numbers support such a statement. The Catalan took the controls of the yellow team on matchday 25 of last year (2021-22) and
it premiered with a draw (0-0) against Real Sociedad B. Since then, and it has rained a lot, the head of the island bench has managed
43 of the 66 possible points.
A fact that
places him as the coach with the lowest percentage of defeats in the history of UD Las Palmas, taking into account all the categories in which the team has played. With
only 13.6% on average, surpasses Manolo Jiménez (14.29%). Without going any further, in this new season, 2022-23, he still does not know what it is to bite the dust, reaping two wins and two draws in the games played, with seven goals for and only one against.
In the regular league, moreover, La Palmas have not lost since March 12. He is being pursued by a certain Carlo Ancelotti with his Real Madrid, with 7 games without defeat. The 43 points out of a possible 66 since he took charge of the Unión Deportiva have only found one mole: the tie for the semifinals of the promotion playoff against the eternal rival, CD Tenerife, which ended with two defeats.
However, in what happens to the domestic competition, the coach forged in La Masía
only 23 points have escaped him. In the 2021-22 season, in the 18 games played, he won 10, drew five and gave up only three.
He scored 25 goals and received 17. Or what is the same: he got 35 of the 54 points played, with an average of 1.94 points per game.
The last draw (1-1) against Alavés left good feelings too. Things are going even better this year, although the film has only just started. With 2 average points,
optimism radiates from Gran Canaria. But there are also smiles when leaving the island, because Las Palmas, with Pimienta at the helm, has only lost two games, against Zaragoza (2-1) and CD Tenerife (1-0).
That without counting the promotion promotion, of course.
raided the fields from Cartagena (0-2), Valladolid (0-1), Ponferradina (1-2), Alcorcón (0-2), Sporting de Gijón (0-1) and Málaga (0-4). He drew a draw at Huesca (0-0), Éibar (1-1), Ibiza (2-2) and Alavés (1-1).