Garamendi: «There is no great resignation in Spain, nor is little paid»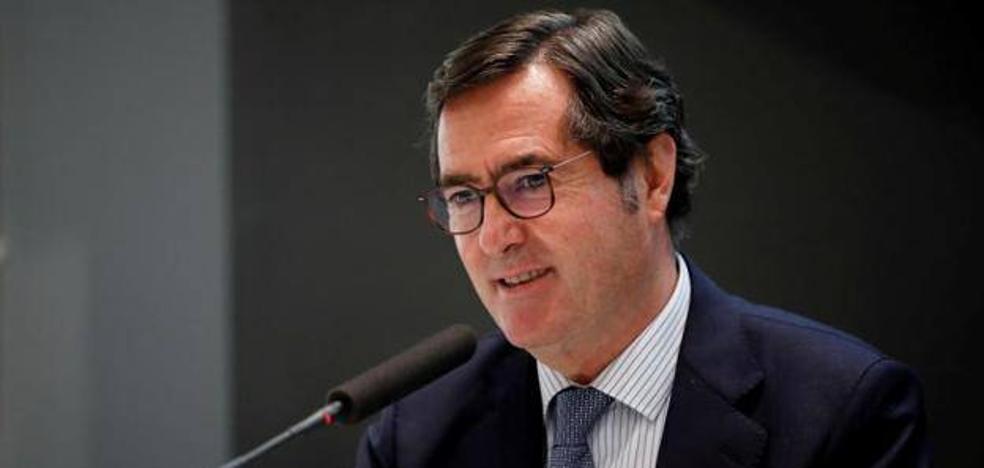 The president of the CEOE Foundation has stated during an act held this Thursday, in the capital of Gran Canaria
The president of the CEOE, Antonio Garamendi, said this Thursday that he does not believe that there is a "
big resignation«, although he has opined that there is »a problem« between offered positions and available professional profiles, but that this dissonance does not occur because employers «pay little».
"There may be some who pay little, but that is not the problem," Garamendi insisted during a breakfast in Las Palmas de Gran Canaria organized by the CEOE Foundation, where he stated that, with three million unemployed, "
It is not worth saying that it is paid poorly».
The "great resignation" is a term that has been coined in the United States after the pandemic due to the lack of workers and the increase in voluntary dismissals, motivated, mainly, by
the ease of finding better paid jobs or by the dissatisfaction of the workers with their wages.
"We see that there is a lack of thousands of jobs in engineering, in areas of industry, also in hospitality and construction.
People are coming from outside to fill those positions», Garamendi pointed out.
Thus, he has advocated working "intensely" on dual training and on a reform of Vocational Training because it is "key" to bring together workers, companies and educational centers in business growth "with a future" where "
everything works and there is employment for all».
Regarding the rent agreement, he pointed out that the CEOE has left that agreement because he would like "to develop much further."
"We should talk not only about the rise in wages of private sector workers, but also of civil servants," said Garamendi, who has denied that business profits "are out of control."
"Nothing is further from reality. We are
€600 million lower than before the pandemic. It is not true that companies are earning more because they are also assuming the costs of energy and inflation, especially SMEs that do not have a liquidity problem, but rather a solvency problem", she stated.
Garamendi has also pointed out that the CEOE is not against wages rising, but against defining a specific figure.
"We are not discussing how much it should rise, but rather we cannot assume and sign a clause that binds it to the revaluation of salaries based on the CPI because that would make inflation even more uncontrollable," added the president of the CEOE, who added that he would not think sign
a salary increase of 2.5% to then have to raise wages again based on the CPI.
Regarding pensions, he has been in favor of maintaining a "sustainable" public pension system and has asserted that the CEOE "
will always defend it in a social, democratic and legal state», but he has pointed out that the parties have to agree and study the sustainability factor, even if they do not use that term and speak of an «intergenerational» factor.
"The problem that we are going to have, and I am not saying that the minimum pensions cannot go up, is that we have to better calculate how much we have to pay, at what age we have to retire, see the mortality tables, which are not the same, and reach agreements, whether we like it or not", summarized Antonio Garamendi, who has estimated that each point of increase in pensions represents 1,700 million euros, so increasing them according to the evolution of the CPI would cost
between 14,000 and 18,000 million euros.
In this way, he has expressed concern about the budgetary stability and the inflation situation, which he has said does not come from the war situation in Ukraine because already in December of last year
stood at 6.5%.
"For the company to work there must be a space for us to act. We are especially concerned about public accounts, debt and the risk premium », she pointed out, while recalling that the European Central Bank (ECB) has already set a date for the rise
0.25% interest rates.
With a debt of 110%, a deficit of 7 and the ECB without buying more debt, he has insisted, one must reflect, «
return to budget rigor» and, «whether we like it or not, do things in an orderly manner», concluded Antonio Garamendi.
The former Minister of Employment Fátima Báñez also took part in the event, in her capacity as president of the CEOE Foundation, who highlighted the importance of the corporate social commitment of Spanish companies.
The breakfast served as a farewell for the president of the Canarian Confederation of Entrepreneurs, Agustín Manrique de Lara, who has finished his mandate after
nine years at the head of this organization and who will from now on take a "prominent role" in the recently created Ibero-African Business Council.