Galdós's women are outlined in vignettes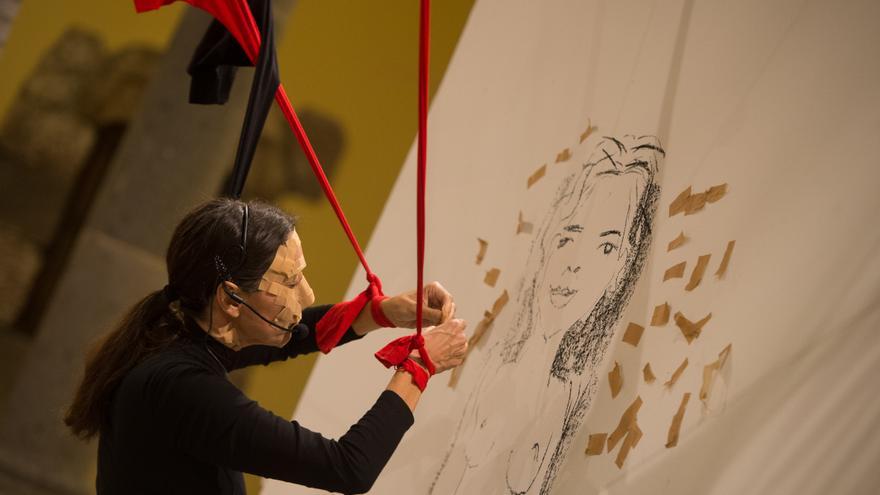 Table tells the process of preparing the Six novels by Galdos. "The young public is very connected with the images. The books of this author, although they are very good, are also very dense on a literary level. To that first idea of ​​approach with images was added that one of the characteristics of the writer is that he dedicated many of his works to female characters. We selected six and took them to graphic novels. Galdosian texts have the complexity of several layers. On the one hand, there are the descriptions, for example, of the Madrid of the time, both the clothing, the shops or the streets, and then the difficulty of each of the characters. This mixture of working female figures in a graphic novel and vignette-type environment, very accessible to young people, was the primary origin. It is true that we had also done a workshop where in a very basic elaboration we saw that a small comic worked very well for them to get into the novel. And from there the whole project arose ".
The graphic work includes 'Doña Perfecta', 'Fortunata y Jacinta', 'Gloria', 'Marianela', 'Tormento' and 'Tristana'
To elaborate the profile of the women "I reread the works to extract a mental image of each character, to be able to create it and then develop the story. It took me about two years because each novel has six or seven central characters. Then you had to put them into the plot of each book. Then I developed the vignettes. I was interested in taking out each figure and its history, I did not focus so much on the description part or landscapes or environments. It is true that when drawing up the drawings, the place where the characters were present, the description of Galdós appeared ".
"I made a deep summary of the six novels because they are very extensive," says the cartoonist
"From each figure I obtained the vision that the author wanted to give. For example, Doña Perfecta was a very strong woman, ambitious, unscrupulous, extremely religious, somewhat hypocritical and manipulative. He made it easy for me because he is very descriptive and each protagonist is highly developed. Within Perfect Lady The daughter appears, a very modest young woman unable to confront her mother or her nephew Juanito, very talented, who has done well everything in life and is going to succeed, but with religious weaknesses. So I tried to create someone attractive, but at the same time, with a more modern touch than I could have Perfect Lady. I was rescuing the messages that Galdós gave of each character, of how he made us reach the different facets of life at the time, that is, the powerful woman, in front of whom she would want to make her own decisions, but who is totally incapacitated as was the daughter. The priest is behind, he is manipulative, always controlling because deep down he has economic interests. In each novel I included only the main members. There is an in-depth summary of the six novels because they are all very long. The final idea is that the young people end up understanding each novel, that they know who those people were and what they represented at the time ".
According to Mesa, "I reread the author's texts and extracted a mental image of each character"
Rosa Mesa explains that "the novels of the Anglo-Saxon world are covered in all kinds of spaces. For example, when we think of Shakespeare we see him, both in Simpsons cartoons, as in a play or a love-type movie. However, in Spain we have not been able to rescue a work and characters as impressive as those created by Galdós at a level so accessible to all audiences because a child of 8, 10, 12 years old, is not going to read his texts . If we bring him an interest in the themes and history of our trajectory as a country, then he will become aware later. That is why it is necessary to act as a link to bring the books to the most youthful imaginary ". "There are parts that I have omitted," says the cartoonist. For example in Fortunata and Jacinta the shop of his parents is described with all its tablecloths, each manila shawl, each sheet or each quilt. I do not include that, but I focus on the characters, the time, how it was lived, the religious connection or what they will say. If I broaden the descriptions it would be impossible to cover the dimension of this graphic novel ". This magazine of the Six Galdós novels It is part of the March-Woman program of the Cabildo. "The idea was also born of two projects that were carried out at the time on the author's work in terms of female characters, giving talks and doing performances. It was when we realized that young people are interested in this slightly more dynamic version of his books. The magazine is designed for the use of the education service of the House-Museum of the writer. When future courses are taught, the children will have these images in their hands with readings that you can handle in one or two hours of the workshop ".
"The idea is that young people understand each book, the protagonists and the time in which they lived"
According to Mesa, "Galdós did not think of boys or girls when he wrote his novels. They can be liked by some as well as others. I read it when I was 11 years old and it fascinated me because there weren't many female characters and those that were there were soft characters with little body. Even today, a way that feminism has to identify to what extent a series, a movie or a play is or is not feminist is measured in how many dialogues a woman has, in how much she appears. In Galdós's works, the characters are fully defined, in such a way that when it came to drawing, I had no complications to develop the protagonists because the work had already been done. Although all six graphic novels are about women, it will interest all young people. I think that for a woman it is important to read this author, but that these stories are fundamental on a literary level also for men, since it will allow them to delve into the female psyche of an era ".
In each work the macho component of the historical stage is seen. "Violence against women, the little power and how in the end none of them manages to triumph, despite their attempts … I have not manipulated the novels, I have reflected the characters."