«Galdós would not be an avant-garde writer today, but in his time he was»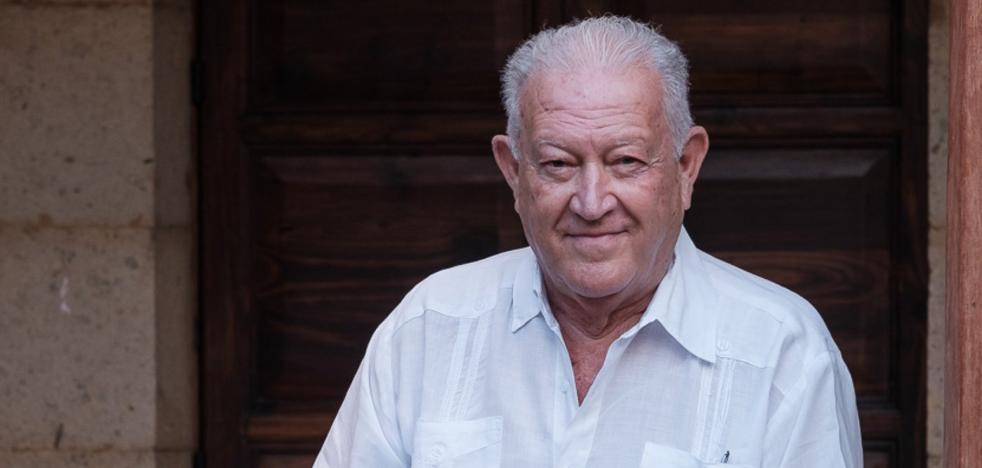 -He arrives at the Casa de Colón ready to unravel 'The quiet gaze' by Vargas Llosa on Benito Pérez Galdós, a reflection that is not, in any case, complacent. It starts from a premise: «Galdós was not an avant-garde writer...».
-I do not agree with Vargas Llosa, despite my admiration and my 50-year friendship with him. He is a liberal and I am a social democrat, ideologically. I really like Proust and he doesn't. I hate Sartre, he seems to me to be a very intelligent salesman of smoke and to him, for a long time, he seemed like a model writer, and later the two came together in Camus. I believe something else: that today Galdós would not be, in any way, an avant-garde writer, but that in his time he was. An avant-garde journalist and an avant-garde writer at that time. Discussed, of course, and still, but widely read and commented on. He is one of the writers who has a chair with his name in several North American universities. Well, you know, eleven years ago I founded the only Vargas Llosa Chair that exists and that still exists, after having directed it for ten years.
-What is then the premise of your own view of Galdós?
-Galdós is invariable, like Balzac, and perhaps like Dickens, far superior to Zola and along the same lines.
-That critical vision, without veneration, of Vargas Llosa towards Galdós, can it be extrapolated to yours towards Vargas Llosa?
-Of course, what happens is that I have read Vargas Llosa for more than 50 years, slowly and thoughtfully, and Vargas Llosa is a late reader of Galdós. And I think he read it all too fast. The good thing is that he has dared, as he usually does, with that giant and has written a book about reading him.
-The Nobel also assures that Galdós "ignored" Flaubert's invisible narrator. He says that he "introduced himself as a character and then forgot about him." What kind of storyteller are you?
Well, I don't even know at all. But, anyway, Galdós's 'interferences' in his books as a narrator are many, but it all depends on the ideas of the reader, there are those who like it and there are those who don't. Vargas gets involved in his characters, his biography is visible in his best novels, and he always believes in the narrator who knows everything. Not all novelists are like that. It all depends. I think that when writing there is always the question of what is remembered, the experience, and the foundation of the fiction. There I am.
-Why did you abandon the Vargas Llosa chair, which you yourself promoted, after a decade at the head of the project? Is it a retirement?
-Some stupid things have been said and written... The truth is that I asked Vargas Llosa to resign in February 2020, at the start of the pandemic. I didn't like the new managers and their ways, I didn't like their plans, I didn't like their gestures. Mario told me that he would last a few months. I endured what I could, but I made my proposals that were not accepted. And then I forced my way out. I was not, at this point in my life, to spend the rest of the energy that I have left in discussions for myself without interest. I have my experience and my criteria and I don't change them for anything. Well, I also wanted to retire, so that those energies would go to the writing that I have left. And I got it, that's all. Today I have no relationship with the Chair, whose path no longer interests me at all.
-You explain that it was your Venezuelan cousins ​​who changed your name to 'Juancho'. Was this nod to Latin America a kind of literary premonition? He has not failed to keep the American continent in mind in his work...
-That's a detail. America, Cuba, Venezuela, Argentina (I was a child reader of the great magazine 'Billiken'), he was very close to me, in my house and in my studies. It is a vocational passion, which has been rewarded throughout my years of work. And I continue in that battle, I go frequently, I have traveled to America 263 times in my life. And I am very attracted to its literature, the intellectual conglomerate, its history and its legend.
-Cuba is another recurring place in your literary imagination. How many things have changed since the reflections he made in 'Asi en La Habana como en el cielo' (1998)?
-To worse the improvement... I speak frequently with Cuban writers. They recommend that I not go, that I stay with the image I have of Havana. They tell me that everything is much worse. In addition, many of my close friends have died and others have ended up living in Spain. In short, it is a delirium of stupidity that all this is happening, as if time did not hit Cuba head on...
-He just landed from the Dominican Republic. She has attended the Santo Domingo Book Fair, an event that he has defined as "la gosadera". Is everything in Latin America lived like a great party, even the culture?
-Of course not. America is a political, economic and social disaster, but it is a cultural paradise and a living museum of Spanish-language literature. For me it is a glossor, because I learn a lot by listening to the countrymen on the street, I go to canteens, I sit on benches in any popular square, I approach people, I talk to them... I walk around the cities I visit and that is indeed a party that makes me reflect on it and it stays inside me.
-Count among your circle the best writers of the 20th century. What is discussed in these meetings between the 'popes' of literature? I guess not everything will be Tolstoy and Balzac...
-Unclear. We talk a lot about literature, cinema, life. Of politics, of the reality of the latest, of what is happening, and we give our criteria on all of it. You learn a lot. I always wanted to be in my life with teachers, learn from them, and I got it. From that, which is a paradise, to being in a 'crying hole', always drunk and complaining about the world and the oblivion in which they have me, there is a tremendous philosophical difference. I am privileged, I confess.
-What is left to tell? Is there any pending account in the pipeline that still has the option of being printed?
-There are novels that I have to write. I am in 'Four times butterfly', the novel inspired, only inspired, in Mercedes Pinto, my direct relative, and in my second memoir, and I will continue, if the GADU (Great Architect of the Universe) gives me life and energy, with 'Ulysses on the beach' and 'Oliver's nights'. Lots of fabric to cut yet...
-Actuality or fiction? At this point, is the critical journalist still alive or does he prefer to escape into the literary world?
-I remain critical of the world we live in, in which, as a general rule, crazy idiots and assets rule. It has reached a degree of mediocrity intolerable for any adult with common sense. Written fiction is a refuge for personal freedom and a challenge for a writer with that, as I am at the moment. But, I am very sorry, today, I am healthy and strong.