«Galdós belongs to a generation that is not contaminated by electronic stupidity»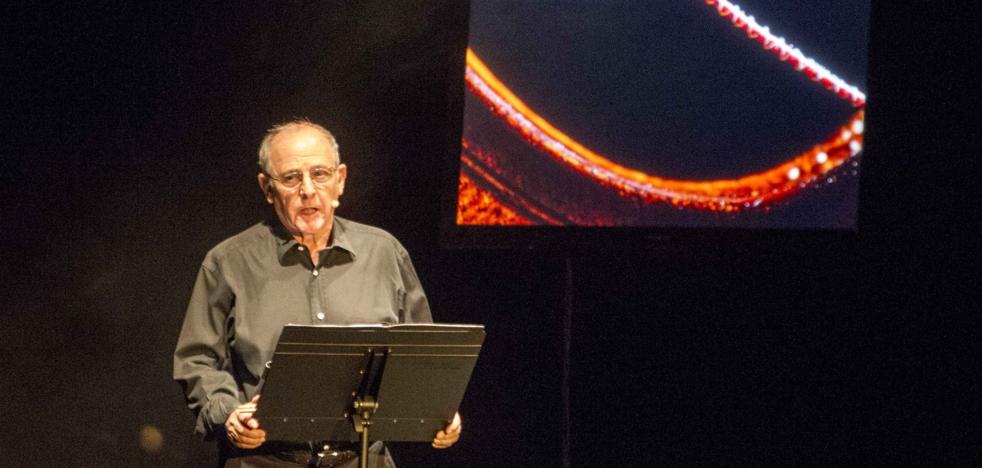 Emilio Gutiérrez Caba stars on Monday, online, in the opening of the 12th Galdosian International Congress
Actor Emilio Gutierrez Caba
stars ('online') on Monday, June 20, at 10:00 a.m., the opening session of the 12th Galdosian International Congressan event to which 115 specialists from the five continents have confirmed their attendance.
Until the 23rd, the Casa-Museo Pérez Galdós and the Casa de Colón will become the epicenter of worldwide galdosism. Gutiérrez Caba, who put himself in the shoes of Galdós in the staging
'Galdos in love' with which he paid tribute to the universal canary on its centenary, he confesses that he has always admired the work of the
author of the 'National Episodes', beyond its literary and theatrical facet.
The youngest of the saga, who in 2019 published 'El tiempo inheritance' as a tribute to the female representatives of his family, will give a new 'turn of the screw' in his speech to the figure of two great geniuses of Spanish literature, but with unknown lives and large 'gaps', Pardo Bazán and Galdós.
«In 'Galdós in love' it was a question of speculating, of imagining what had happened to those famous letters from Galdós addressed to Emilia Pardo Bazán that have never been found.
There is conjecture throughout the work about the possibilities, both in the present and in the future, that these letters appeared, "he explains.
The correspondence

In this speculation about the fate of the missing letters, the popular interpreter is not able to specify what approach he will give to his opening conference of the Galdosian Congress. «
I never submit to a literary corsetsurely in the talk I will mix literary aspects of Don Benito with my own personal experiences, both during the construction of the character, and throughout my life, "he reveals.
Despite his prior knowledge of both characters, he confesses that there was still room for surprises during the staging of this performance. «That friendship between both characters was not unknown to me. Don Benito is one of the figures that has most interested me in literature.
For me she was a close and familiar figure, but with regard to Doña Emilia Yes, it has caught my attention to discover his stories, almost of terror, as well as some magnificent press articles, "reveals the actor.
"The figure of Benito Pérez Galdós must be unique for us for many reasons," explains Gutiérrez Caba. «He has a magnum opus, the 'Episodes Nacionales', which is unparalleled.
Doña Emilia has a smaller plot in terms of literary workdespite the fact that she is a great writer", affirms the playwright bravely.
In 'Galdós in love' aspects of the literary life of both appear, such as Emilia Pardo Bazán's rejection of the Academy of Language, and Galdós's involvement in that process, as one of its members. On the love side of their relationship, Gutiérrez Caba explains how "both were in a kind of limbo in which they confessed some things regarding the past and what could happen in the future." The play closed with a reading of the hypothetical letters that she could write to him based on the letters that doña Emilia did write to don Benito.
The technology

How would a relationship with so many ups and downs like that of Galdós and Pardo Bazán have developed in the WhatsApp era? Emilio Gutiérrez Caba is not sure. «
I am precisely developing an essay in which I transcribe conversations on whatsapp and they are not dispassionate at all», affirms without blush the veteran actor.
"Things can be told on whatsapp without diminishing your feeling. Although it is true that
they would not be so academic or so erudite as could be the letters of two writers like Don Benito and Doña Emilia, "he acknowledges.
«I think that now they would write in a different way. His letters would be simple and much better than those of some new writers and writers who
they do not reach the literary or far-sighted height of the great authors of the 19th and 20th centuries. Marketing and networks are great gadgets that help sell », he adds.
an uncultivated country

Emilio Gutiérrez Caba does not cringe when stating that "this is a fairly uneducated country in general,
unnecessarily uneducatedIn fact," he stresses.
«Therefore, Galdós will be an unknown person for many people, as will writers who have just broken into the market
. It seems to me that, in this sense, the marketing that exists today further sharpens the ego of writers, simply because they become viral with a speed that did not happen in the time of Don Benito. This makes things more ephemeral and also magnified, majestic. great writers like
Molière, Dostoevsky, Delibes or Galdós they belong to a generation that is not contaminated by the electronic stupidity that sometimes plagues us, for not knowing how to apply it well, of course", he reflects.
On occasion, the actor has stated that the actor has a small ego, compared to that of the writers. What would Galdós and Pardo Bazán say about this statement? «
yesI have always thought that the ego in the human being it is stupendously gratifying », the interpreter leads.
"Anyone has an ego according to their own personality. In the case of writers, I think they have a very marked ego because what they write is black on white, it remains. We, the actors, do something that vanishes.
When our life ends, our way of communicating with the public also endsthe following generations hardly know about us", he laments.
"They have one
heightened vanity perhaps because his work is perpetuated more than ours and that, obviously, greatly reinforces the ego, "concludes with a laugh who will open the Galdosian appointment this Monday, online.