Funds, developers and the public sector launch 90,000 rental homes | Companies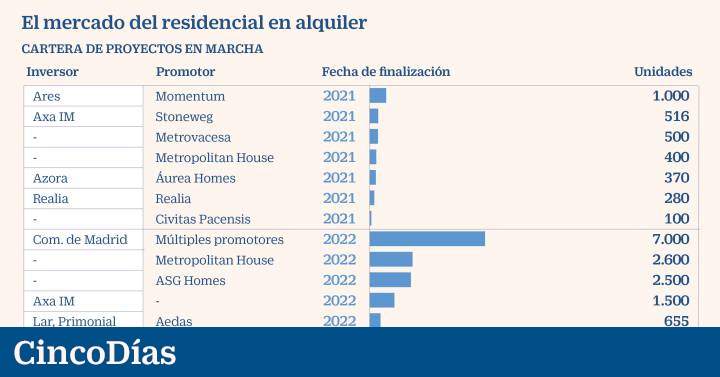 Private investment is accelerating in the construction of rental housing due to high demand. Funds and developers have fully entered into an underdeveloped business in Spain, to which the public sector is now also beginning to outline the first rental plans at affordable prices in collaboration with companies.
These plans materialize in that between funds, developers and the public sector they already have outlined plans to build 90,180 houses for rent in the coming years, according to a study by the consulting firm of big data real estate Atlas Real Estate Analytics, which exclusively advances Five days. Even so, it is expected that other Administrations will add more projects due to the high demand for accommodation, especially among the youngest without access to mortgage credit.
The private sector alone, already has 35,180 homes in operation that will be completed in 2024. In this practically new business segment in Spain among the large funds, names such as the insurance company Axa, the pension fund Ares, the manager DWS (formerly Deutsche Bank's real estate branch), and firms such as Azora, Tectum, among others (see graph).
The usual thing is the association with promoters so that they raise these buildings, giving the possibility to these real estate companies to bet on an alternative activity at a time when the sale of houses to families has slowed down. Metrovacesa, Gestilar, Aedas, Amenabar, Corp, Pryconsa, Acciona Inmobiliaria or Realia (controlled by Mexican magnate Carlos Slim) already work in this field.
For example, the French fund Primonial and the developer Grupo Lar aim to build 5,000 homes for rent, for which they have recently partnered with Aedas. Another major recent alliance has been between Nuveen, the realtor for the California teachers' pension fund, with developer Kronos to build another 5,000 apartments. Neinor also intends to reach that number in 2025 through its new subsidiary Neinor Rental, dedicated to what is known in the sector as the build to rent.
The private sector already has 35,000 units up and running by 2024
Similarly, the first rental housing plans have been outlined in collaboration with the private sector, which must remove 20,000 houses in a project of the Ministry of Transport, Mobility and Urban Agenda, as well as others promoted by the Community of Madrid. Taking these programs into account, the expected portfolio of 90,180 flats could be increased as more Administrations make their promises in this area a reality.
"The build to rent it has conquered the Spanish real estate market in record time, with a scale and geographic dispersion never before achieved by other previous trends ", reflects the Atlas report.
High demand
The consulting firm Atlas calculates that in Spain there is a deficit of 1,841,440 rental homes taking into account the demand for leasing, the current residential stock and the comparison with European countries. Currently in the country, 24.1% of the houses in Spain have a lease (15.4% in the free market) compared to 28% on average in Germany, France, the United Kingdom and Italy
The interest of the private sector is justified by the enormous demand for this product in large cities. "As far as access to housing is concerned, Spaniards are under increasing pressure to opt for rent instead of a home ownership that is increasingly far away," the document reflects.
The report recalls that salary problems are especially serious within the younger population, those who are looking for their first homes. "They have another added problem: high unemployment rates. The unemployment problem will only increase in the short term due to Covid-19 and already causes that almost 20% of people between 30 and 34 years old and 15% of those between 35 and 39 do not have work, significantly limiting their options for access to housing ", is collected in the study. In this sense, the consulting firm recalls that salary growth between 2014 and 2019 has been 5%, compared to a 12% rise in the price of housing.
It also details that since 2014 there has been an upward trend in the effort rate of home ownership, which together with lower mortgage facilities makes access to the property more difficult in recent years.
"Investors are no strangers to this phenomenon and their interest in the sector has skyrocketed in recent years. The ultimate goal of funds and other entities is to convert real estate assets into financial assets that offer stable returns over the very long term, making the build to rent in a very attractive product for a wide variety of institutional players, from asset managers even pension funds ", he emphasizes.
This situation occurs at a global level, since the consulting firm explains that if in 2010 the capital in residential rental accounted for just over 15% of total real estate investment, in just one decade this figure has increased to 27%. "Other complementary sectors such as residences for students or the elderly have also received significant increases in investment," he details.
Zones
The consulting firm advances in the report that the housing development of build to rent it is not homogeneous throughout the Spanish geography. Madrid and its metropolitan area account for more than 50% of developments, while Barcelona accumulates just over 11%, partly due to doubts generated by regional and local regulations for the sector, according to Atlas.
The rest are scattered in areas such as Valencia, Seville, Pamplona and Malaga. In relation to the number of people living for rent, areas such as the Valencian Community and the Basque Country have market niches that are still under-exploited.