Fundación "la Caixa" and CaixaBank receive recognition from the Red Cross for their support during the coronavirus crisis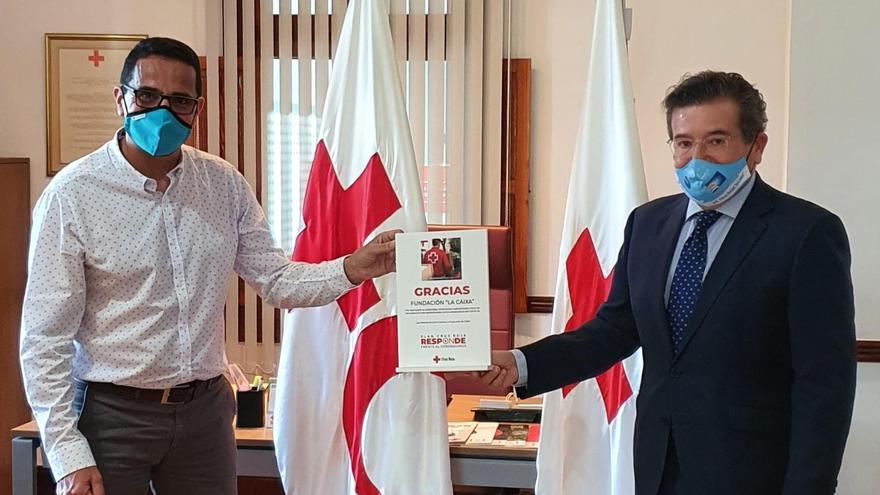 Fundación "la Caixa" and CaixaBank have received recognition from the Red Cross in Las Palmas for their support of the Red Cross Responde program, carried out on the islands to meet the basic needs of the most vulnerable families during the health crisis.
In a meeting held by the president of the Red Cross in the province of Las Palmas, Isaac Díaz, and the territorial director of CaixaBank in the Canary Islands, Juan Ramón Fuertes, the Red Cross expressed their appreciation for the involvement of the "la Caixa" Foundation , through the CaixaBank Social Action, in response to the social emergency that arose from Covid-19, which has led to the need to significantly increase Red Cross assistance to the neediest people.
Through the collaboration of both entities with a contribution of 30,000 euros, various initiatives have been launched, such as the acquisition of basic food, as well as basic hygiene kits for vulnerable families with dependent minors.
Since the beginning of the health crisis, the Red Cross has mobilized all its staff and hundreds of volunteers on the islands to support the most needy groups, attending to the distribution of basic goods, providing telephone assistance, employment support and facilitating a a place to sleep for many homeless people, in what is an unprecedented deployment for this institution.
Thanks to its territorial capillarity, the CaixaBank branch network can support the "la Caixa" Foundation in its social work, detecting the needs of local social entities such as the Red Cross and channeling a part of the Foundation's budget. In 2019, 92% of the bank's offices supported some social project and made it possible for thousands of small and medium-sized solidarity social entities to access financial aid to carry out their programs.
Social Action, one of the pillars of CaixaBank's CSR Plan
As a result of the collaboration between the "la Caixa" Foundation and CaixaBank, each year, more than 10,000 projects collectively receive around 45 million euros from the "la Caixa" Foundation in favor of more than 8,000 social entities throughout the country. Since the beginning of the Covid-19 crisis, the "la Caixa" Foundation has allocated, through CaixaBank, 9.6 million euros to 1,700 projects related to the supply of food, medical supplies and emergencies to respond to the vulnerable people most affected by the pandemic.
CaixaBank stands out for its responsible action and this is recognized by the main international organizations in this area. The World Sustainability Index Dow Jones Sustainability Index ranks it among the best global banks in terms of corporate responsibility. The international organization CDP, for its part, includes it as a leading company against climate change.