From Yolanda Ramos to Chenoa and James Rhodes: Complete List of 'Celebrity Bake Off' Contestants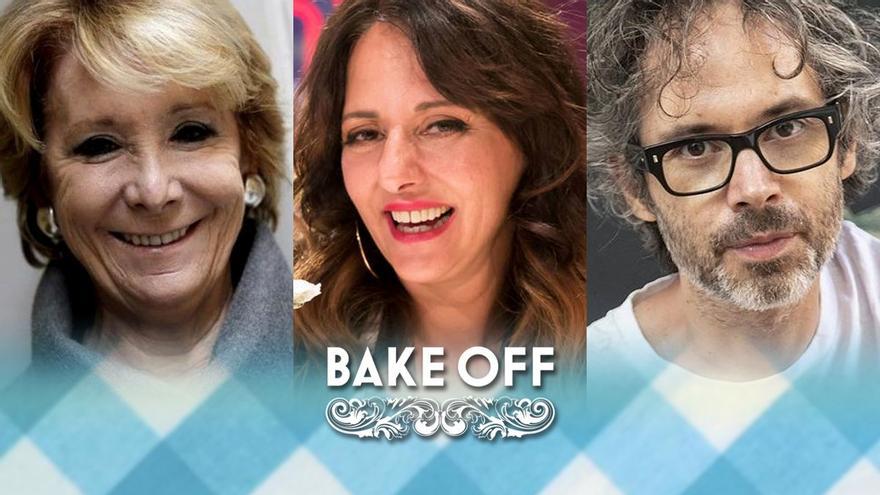 Twelve celebrities will compete each week for the award for the best amateur pastry chef in the country inCelebrity Bake Off', the new entertainment format for Amazon Prime Video. The platform has confirmed this Friday the complete casting of its new bet, which, as Yotele announced exclusively, will feature Paula Vazquez Y Brays Efe as a pair of presenters.
Hope Aguirre
The former president of the Community of Madrid is the star signing of the Amazon Prime Video talent show. Four years after her definitive retirement from politics, she will try to surprise with her skills as a confectioner, following in the footsteps of Celia Villalobos, a fellow member of the PP, who participated in 'Masterchef Celebrity 6'.
Esty Quesada 'I'm a pringada'
Esty Quesada, better known as 'Soy una pringada', is another of the fConcursoichajes that have generated the most expectation. In addition to being well known for her videos, she is the creator and protagonist of the series 'Looser' on Flooxer, Atresmedia's youth content channel. 'Paquita Salas',' Vota Juan 'or' Terror y feria 'are other productions in which he has participated'.
Paula Gonu
Yotele exclusively announced the signing of Paula Gonu for 'Celebrity Bake Off'. The influencer, who has 2 million followers on her Instagram profile, debuts as a contestant on a talent show.
Chenoa
She became known two decades ago as a contestant on 'Operación Triunfo', and since then, Chenoa has been combining her singing career with television. His latest television projects include 'Zapeando' and 'Tu cara me suena', where he has served as a jury since 2016.
Soraya Arnelas
Like Chenoa, she rose to fame as a result of her stint on the popular talent show. Now, Soraya Arnelas will change the scenes for the kitchens to surprise with her skills as a pastry chef.
Pablo rivero
Pablo Rivero, the actor who plays Toni in the long-lived 'Cuéntame how it happened', debuts as a contestant on a talent show on 'Celebrity Bake Off.
Andres Velencoso
The kitchens of the 'celebrity' edition of 'Bake Off' will also receive Andrés Velencoso. The model and actor has participated in series such as 'Velvet Collection' and in the fourth season of 'Elite', which premieres next June on Netflix.
Yolanda ramos
The touch of humor will be put by Yolanda Ramos. The actress and comedian, who already has experience in the kitchen after having participated in 'Masterchef Celebrity', will be one of the aspirants of the Amazon Prime Video format.
Eduardo Iturralde González
Anticipated exclusively by Yotele, former referee Eduardo Iturralde jumps from the soccer field to the kitchens of 'Celebrity Bake Off'.
Adriana Torrebejano
Adriana Torrebejano, known for her roles in series such as 'El Secreto de Puente Viejo' or 'Amar es para siempre', also makes her debut as a contestant on an entertainment program.
Joan Capdevila
Another of the contestants who advanced this portal exclusively is that of ex-footballer Joan Capdevila. In addition to leading the Spanish national team, during his sporting career he played for clubs such as Espanyol, Deportivo de la Coruña or Villareal.
James rhodes
The list of contestants for 'Celebrity Bake Off' is closed by the pianist James Rhodes, who has no experience in such a format.