From when Buenafuente destroyed the psychologist Rafael Santandreu in a minute and a half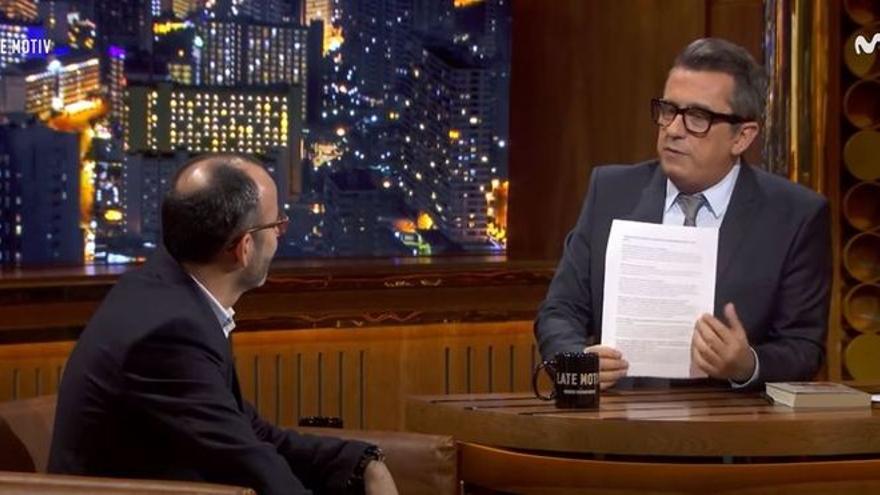 Rafael Santandreu is a psychologist and self-help book writer who has been in the spotlight in recent days for his supposed signing for the program The hour of the 1 by TVE, finally denied by television. This collaboration was announced by the psychologist himself, which is not the first time that it has been controversial. His statements are often followed by a barrage of criticism as when he said: "You cause depression, only if you try hard will you get depressed" in an interview with the newspaper The vanguard or that you have to "send love" to Hitler in an appearance in The 2.
For this reason, social networks have repeated Santandreu's intervention in Andreu Buenafuente's program in 2017, who was very critical of him. In that year, Santandreu was a recognized self-help book writer, as well as a television talk-show speaker and made a tour by various talk shows, among them Late Motiv, the Buenafuente de Movistar format.
In that interview the presenter showed that the psychologist had sent him the complete interview with the questions and the answers: "Never in my life had a guest sent me the entire interview, with his questions and answers," said Andreu, "I'm looking forward to telling me why you did it". To which the writer replied that it is something that he has always done because "journalists do very bad interviews, they ask questions you don't want to answer", Santandreu explains. "My past as a teacher tells me" give them the questions and the answers, "Rafael adds, to which Buenafuente, annoyed but elegantly, answers: "So we confirmed that you were a repellent teacher."
Andreu ended up saying that they were not going to use the interview document Because if that were the case, it would become fashionable, people would always bring it in and end up losing their job: "I work on this, imagine that it becomes fashionable, each guest brings their interview done, they replace me with a machine and I I lose my job. Then I would not be happy and buy your book. "
The networks have also rescued some of the most criticized moments from the author of "Be Happy in Alaska."
Following Santandreu's statement on collaboration in the program The hour of the 1, Finally TVE affirmed that the supposed signing is false and it is that "it has neither been nor is it going to be".