From the joke to the monologue: Marianico points to the new comedy | TV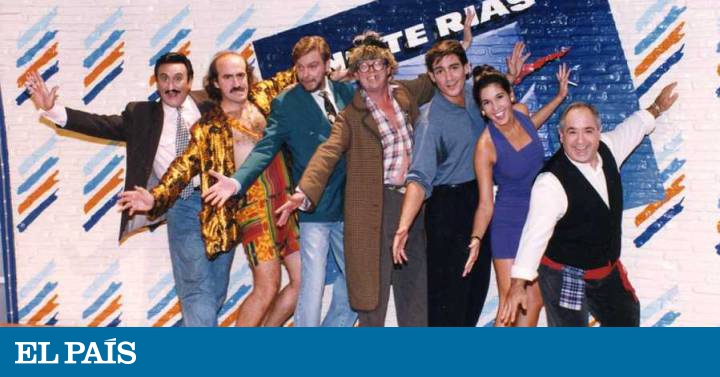 The first chapter of The last show start with Marianico the Short performing in El plata, historic cabaret in the center of Zaragoza. But the performance does not go as usual: although the audience is delighted with his jokes, the comedian ends with his face bathed in tears, remembering his childhood.
This eight-chapter series created by Álex Rodrigo (director of several chapters of Vis a vis Y Paper house) is the first fiction production of Aragón TV, where it premieres on February 20. In addition, each episode will be available for a week on the chain's website and will be broadcast on several Forta channels.
Miguel Ángel Tirado (which is the name of the comedian) interprets a fictional version of himself that is already tired of his own jokes and wants to stop being Marianico el Corto. His goal is to shoot a surrealist film in the style of Luis Buñuel and thus reconquer his ex-wife.
This starting point, that of autofiction, reminds of similar experiments such as What happened to Jorge Sanz? or even Curb Your Enthusiasm. But, at least in its first chapter, Rodrigo's proposal is more dramatic. The director explained in the presentation that his first idea was "crazier, more thug", but he lowered it when he met Tirado, for "the purity and tenderness of this man." He also had to adapt it to the generalist chain, where a more familiar proposal fit.
Don't laugh, which is worse
Marianico el Corto became popular especially thanks to Don't laugh, which is worse, which was broadcast on TVE from 1990 to 1995. This contest could be seen from Monday to Friday before the News and had a simple mechanic: the two contestants could not laugh at the jokes that were telling several comedians. These humorists were mostly well-known storytellers, like Paco Aguilar and Manolo de Vega. Two of them brought their own characters: Marianico el Corto and Mr. Barragan.
Marianico probably fell better than Barragan or, at least, the opinion in this regard was less polarized. But Barragan, who will also appear in the series, was more popular than his partner: edited a magazine, his face illustratedl board game contest, starred in a chrome collection and appeared in several movies of Torrente. And, in addition, it originated a legion of imitators of his "hello, how are we", many of them in the schoolyards.
The rarity of Don't laugh, which is worse It was Pedro Reyes, perhaps the only one who didn't just tell jokes already known (at least not always). Reyes added a surreal and personal touch to a program that we now see dated, even if it creates a certain nostalgia, but that in the 90s already received criticism.
In 1995 the board of directors of Radio Televisión Española proposed to cancel for his "chabacanería". Jordi García Candau, then CEO of RTVE, admitted that it was a "clearly border" program with bad taste, although he also remembered his audience success. The contest stopped broadcasting that year, although Gestmusic, the producer, would relocate it the following year on Telecinco. Something changed, with another title (Smile please), another presenter (Elsa Anka) and some new comedian. Not Marianico, who had already left the space.
The joke programs were not a rarity at the time: between 1994 and 1995 Antena 3 issued Genius and figure, another program with comedians of a similar profile, with another surrealist exception such as Reyes: Chiquito de la Calzada, which also quickly replaced Barragan as a favorite humorist of the impersonators amateur and of the kiosk promotions. Not only that: Chiquito would end up becoming a reference for absurd humor.
From the joke to the monologue
It is normal that a television program of 30 years ago has run out of age. But it is also that jokes, as a genre, have also become outdated: humorists are no longer the people who repeat, with more or less grace, these occurrences of author generally unknown. Performances on stages and sets are used to being, above all, in the form of an autofunctional monologue (such as Ignatius Farray).
Of course, this is nothing new (Miguel Gila and Pepe Rubianes were already doing something similar), but it is increasingly rare to see a comedian who just tells jokes. In fact, Tirado (Marianico) himself said in a recent interview that what he does "are monologues. I go on stage and speak alone. And I play many more songs. "
This conflict between the humor of the 90s and the current one will also be seen in the series, says Álex Rodrigo. You already sign up in part in the first chapter, when the Tirado representative gets you a performance in what looks like a version of Comedy club (which, by the way, is already over 20 years old).
But Marianico (the one in the series) doesn't want to reinvent himself as a humorist in a world he already sees as his own, but rather doing something completely different. He is not the only one who does it: also the character of his ex-wife (Luisa Gavasa), who regains his love of painting.
Humor ages very fast. Not everything and not always, but a lot and often. The drama and fiction of The last show they allow us to return to that Marianico el Corto of the 90s and even enjoy a certain nostalgia, but with distance and without the need to gloat over what writer and humorist John Hodgman calls "toxic impulse."
It is Marianico el Corto, but Marianico el Corto is not the same. It's funny, but it doesn't tell jokes here. And that is not his representative, but an actor (José Luis Esteban). That is, we do not run the risk of ending up crying when we remember our childhood, as the protagonist does in El plata. And that's fine, really. It is not necessary to reinvent or make up our memories to see Marianico again.