From outer space, with humor | Babelia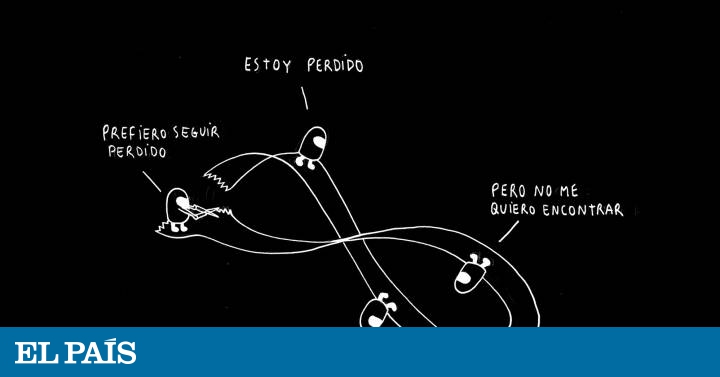 To believe that there are Martians who copy human behavior is fiction. Making that fiction become reality is what the cartoonist achieves Count Duck (Buenos Aires, 1982) in his book Stories from outer space, a compilation of vignettes that he has been working on for more than five years. "The best thing about fiction is to simulate everything so well that the viewer believes it," says the illustrator.
A multifaceted artist, settled in Mallorca for two decades, he has created a graphic world in which he analyzes current affairs, thoughts and personal relationships through fantastic beings who live in outer space, an imaginary and undefined territory in which the author feels the freedom to draw and express himself. "To provoke a reflection in the viewer and that anyone can see themselves reflected in each situation is my main objective. Getting a laugh is a prize ", says the author. Conde is a photography professor at the School of Audiovisual Arts (CEF) in Palma de Mallorca and studies Fine Arts. In a constant challenge of creativity, he moves between photos, drawings and texts, edits fanzines and if he works he molds sculptures, or plays the drums in a music group.
For years he devoted himself to documentary photography and thoroughly portrayed the world of skateboarding, a hobby he has had since he was a child. Tired of capturing reality with his camera, he entered the world of ideas to focus on drawing and writing, two disciplines that he has practiced since childhood. This is how his cartoons were born, which he publishes daily since 2015 On Instagram Y on Facebook, where he has more than 6,000 followers. At the end of July, Conde self-published a book with 128 illustrations, of which 300 copies were published.
To create the comic strips, he did an improvisation exercise that he considers essential. He drew non-stop and tried multiple options until he managed to shape his Martians, as he likes to call them, and gave them the gift of reflecting on humans, imitating their behaviors with ingenuity, irony and naturalness, fleeing from the offense, which Pato does not conceive as a way to provoke reactions in the viewer. The charismatic inhabitants who live in the artist's imagination do not copy reality, but are a reflection of it. They have no name or sex, they are never the same characters and anyone can identify with them and with the situations they represent. They look like simple ink puppets but their large eye as a mask, as the only feature to gesture, makes the illustrator sometimes have to do real juggling to express their emotions.
Conde grew up fascinated by the tales of Cortazar and the stories of the late Quino,. In his teenage thoughts there was no room for being a cartoonist, he simply envied his wit, intelligence and culture. The universe of Quino, Edward Steed's cartoons for The New Yorker, by Darío Adanti for the magazine Mongolia or the creations of Max and Michael DeForge are some of its references. "I don't draw well and I don't look for perfection in my lines, what worries me is the text that supports the image. I am obsessed with the capacity for synthesis to tell a lot with few words. Still, I don't write much. I think a lot, "says the cartoonist.
This comic scene maker, who loves to watch, doesn't believe in inspiration. Although there are ideas that occur to him at any time and he leaves what he is doing to draw them, on many occasions he sits in front of a blank page without knowing what to tell, he draws aimlessly thinking about how his Martians can dialogue at that moment. "It is an effervescent moment. What happens does not happen on paper but in my head ", says the cartoonist, who can spend days molding a concept as if it were plasticine until he manages to give birth to a new vignette. He does not make sketches, he does not rectify the drawings he paints with a black marker on white paper and he only uses Photoshop to invert the colors and thus achieve the aesthetic of white stroke on a black background that characterizes him.
In the edition of Stories from outer space It is difficult to perceive a peculiar characteristic of the characters if you do not know them from the beginning. They were conceived as finite beings. Each one has a specific life span, they know when they are going to die, which can enhance the meaning or nonsense of any of their experiences. "They have not lost this quality, but I have stopped influencing it because I believe that it is already told and the stories do not lose their meaning," says Conde.
Page by page, after a prologue by the Mallorcan writer Nadal Suau, which presages a content full of imagination, these small intelligent beings observe humans questioning and reproducing their behaviors in a speech loaded with emotions. They dare with art and politics, talk about ideals, philosophize, play superheroes and let themselves be carried away by the most earthly feelings. They love or hate each other, they experiment with sex, and they become obsessed with social media and loneliness. They make us think and think a lot, like their author, that from asteroid to asteroid he gives life to a fantastic world of graphic humor in which these space dolls dare with everything.
For a few weeks the Mallorca newspaper publishes a cartoon every Sunday in panoramic format but with the same concept. West Indies Publishing will publish Stories from outer space. Full, a hardcover book and 80 more vignettes than the one edited by the comedian, which will be available from October 12. In the future, Conde will tell all the secrets of his fiction in an illustrated concept map that he is shaping. While this arrives, as a Martian from that outer space would say: "To those who send a greeting, a greeting."