From Maradona to Benzema through Messi and Cristiano: the list of footballers with problems with the law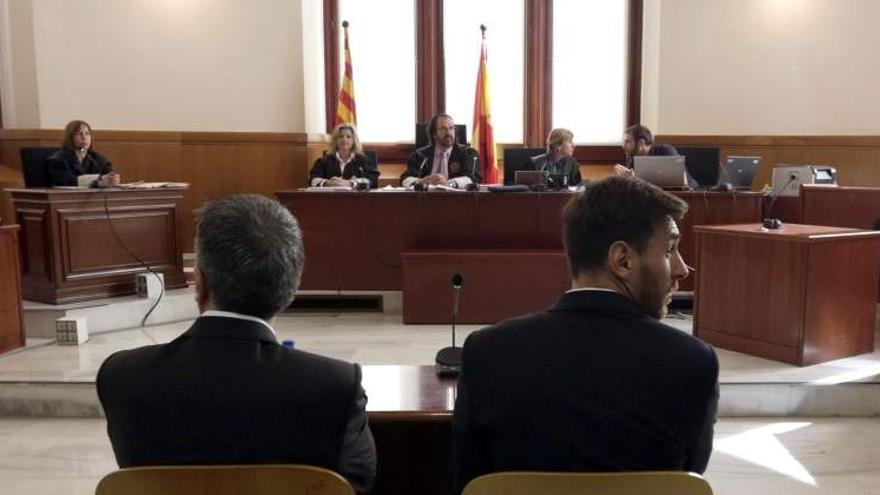 The start of the trial to the forward of Real Madrid Karim Benzema accused of a crime of complicity in the blackmail of his compatriot Mathieu Valbuena has once again highlighted the problems of some footballers with justice, which have led them on numerous occasions to sit before the judge, and in some extreme cases, even to go to prison.
Benzema, who is facing a request for a sentence of five years in prison, has already experienced previous episodes of clashes with the law, both for recurring traffic problems which led to his withdrawal of his driving license, such as for alleged abuse of a minor with his compatriot Franck Ribéry, of which he was finally acquitted.
The French striker is the latest in a long list that has affected over the last decades to numerous international football stars. Not even some of the most successful players of all time have remained oblivious, for reasons of various kinds.
Maradona, repeat offender
The Argentine star Diego Armando Maradona, who died in 2020, was a regular in clashes with the law throughout his life. His relationship with drugs, assaults with weapons and assaults on journalists, links with the mafia in his time at Naples ... many were his open causes, with more or less seriousness in the outcome.
On Barcelona, Diego Armando Maradona -who was about to sign for Unión Deportiva Las Palmas twice, as a footballer and as a coach- He came to pass through the dungeons of the city for some serious episodes during his nocturnal excesses. His most serious sentences were to 15 months and two years in prison, for possession of drugs and for shooting a group of people respectively, although the '10' ended up receiving parole.
Messi and Cristiano Ronaldo, by tax issue
Financial matters have cost more than one high-level footballer a legal dislike, and The league has been no stranger in recent years in this regard. Even the two most successful players in the soccer recent, the Argentine Leo Messi and portuguese Cristiano Ronaldo have had to go before the judge in Spain, being finally sentenced to 21 and 23 months in prisonl, respectively, in both cases being a shorter term than the law requires for their effective entry into prison.
The current Real Madrid coach himself, the Italian Carlo Ancelotti, suffered the seizure of a considerable part of his salary due to tax irregularities and in his previous stage. And among other footballers, the San Sebastian Xabi Alonso, current technician of the subsidiary of the Real society, has been acquitted on several occasions after lengthy judicial processes of which he has always been considered innocent and that extend from his time as a player until this year.
Among the Spanish team, in addition to the case of Donostia, Piqué, Iniesta, Puyol, David Villa or Xavi Hernández were some of those who in their day had to respond to irregularities with tax authorities, a situation in which the Brazilian also saw himself Neymar during his time as a Barça player.
The case of Lucas Hernández
Along with Benzema, the case that is currently still open is that of the French defender of Bayern Munich Lucas Hernandez, who this week he appeared before a court in Madrid before the rRequirement for your entry into jail for being a repeat offender in crimes related to sexist violence. The defender, recent champion of the League of Nations with the 'bleus', has a conviction of six months in prison for breaking the restraining order on his romantic partner, with whom he went on a honeymoon despite the fact that both had separate measures of distance.
For his part, Lucas's brother, Theo Hernandez, was also seen before the judge for the accusation of rape made against him by a Spanish-Russian model. However, after the resolution of the judicial process, the current Milan footballer and his brother's partner in the French national team was finally acquitted.
Other cases of sexist violence in Spain
Violence against women has sadly been the protagonist on several occasions in the judicial problems of LaLiga footballers. Among the most talked about was that of Ruben Castro, prosecuted on several occasions for up to six counts of physical and psychological abuse against his ex-partner. The one who was a forward for Betis and currently in Cartagena was acquitted of most of these accusations, although his judicial problems have been recurrent between 2013 and 2021, in which he had to return to the judge for an alleged crime of breaking of the restraining measures against the same complainant, of which he was also acquitted.
Another of the cases with the greatest impact on Spanish football was that of Braulio Nóbrega, former player of Atlético de Madrid and Zaragoza among other clubs, who was finally sentenced to pay a fine of 12,600 euros for the commission of two crimes of sexual abuse, one of injuries and two offenses of humiliation to four different women, in addition to not being able to approach them for a period of between six months and three years.
Those who are or were in jail
The judicial problems of some footballers became more serious with their effective entry into prison. Among the great world stars, one of the last cases was that of the Brazilian Ronaldinho, who spent approximately half a year in a Paraguayan jail trying to enter the country with a false passport. And about his compatriot Robinho He is currently facing a nine-year prison sentence in Italy for a group sexual assault perpetrated in Milan in 2013, although he has not yet entered behind bars.
Also the current defense of the Manchester City Benjamin Mendy is currently serving a sentence accused of four violations and a sexual assault. And of those who have passed through LaLiga, the last case heard was that of the defender Rúben Semedo, with a past in Reus, Villarreal and Huesca, which has ended up behind bars on several occasions, both in Spain and abroad, with accusations of kidnapping, threats with firearms, attempted murder or rape.
Likewise, Colombian soccer has experienced several similar episodes with some of its greatest historical stars, such as the exporter René Higuita, who ended up behind bars for a few months for his participation in a kidnapping indirectly related to the drug lord Pablo Escobar. For his part, his compatriot Freddy Rincon was put in search and capture by Interpol accused of the crimes of money laundering and conspiracy to traffic drugs.
Further back in time is the case of the current 'team manager' and former captain of Atlético de Madrid, Thomas Reñones, who was convicted in the 'Malaya case' for participating in urban and real estate corruption in Marbella and who finally entered the Alhaurín de la Torre prison to serve his sentence. Your ex-partner Jose Luis Perez Caminero He also went before the judge for a crime of money laundering from the drug trafficking which he ended up admitting, although his prison sentence was eventually replaced by a fine.