From Kun's arrhythmia to Ansu and Dembélé's broken muscles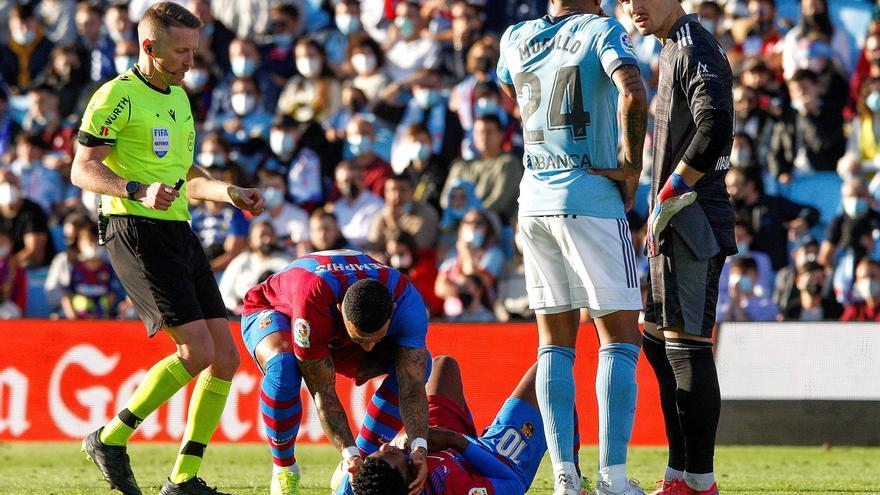 The Barça it is a fragile team. It breaks with nothing. It breaks in football. And it also breaks in the physical. When entering this Monday in the changing room of the sports city, Xavi Hernandez you will meet eleven players in the infirmary, which greatly conditions the staging of his sports project.
Xavi is left without the two great references of the Barcelona attack. It remains, for the moment, without Ansu Fati and DembéléThey are essential specialists in their way of understanding the game, in addition to the fact that they have also lost two of the three center forwards they have on the squad. You will not even have Kun Aguero, suffering from an arrhythmia. Nor to Braithwaite.
Ansu Fati
He was back in Vigo after two games of absence. But he suffered a muscle injury. It could be a month off. Has been replaced in the Spanish team by Raúl de Tomás, the Espanyol forward.
Dembélé
It reappeared and shone in Kiev. He hadn't played since June. AND 48 hours later he was injured in training. The Barça doctors have avoided giving a deadline for their return.
Kun Aguero
He asked for the change when noticing chest discomfort against Alavés. You will be absent for at least three months, as arrhythmia detected, so that attention has been paid to the Argentine striker.
Eric Garcia
Replaced at the Celta-Barça break (0-3). Noticed a overload on the calf of the right leg. It does not go with the Spanish selection.
Nico
He started an attack in the second half in Balaídos and ended up asking for the change for muscle overload. It does not go with the U21 team.
Pedri
He has only played four of the 16 official matches. Has suffered two muscle injuries. Your return is expected within 15 days.
Pique
He suffered against Alavés one elongation in the soleus of the right leg. He did not play in Kiev or Vigo. The club did not give a deadline for his return.
Sergi Roberto
Suffers a elongation in the quadriceps on his right leg, which has made him miss three games: Alavés, Dinamo and Celta.
Dest
He hopes to return to Espanyol in the derby on November 20. Suffers a low back pain. He did not play in Kiev or Vigo.
Braithwaite
He played the first three league games and scored two goals. But he suffered a severe left knee injury. It was operated.
Net
He was not in Balaídos suffering from feverish process, which prevented him from training normally. He will return in the derby.