Frida Kahlo: the painter who turned her life into art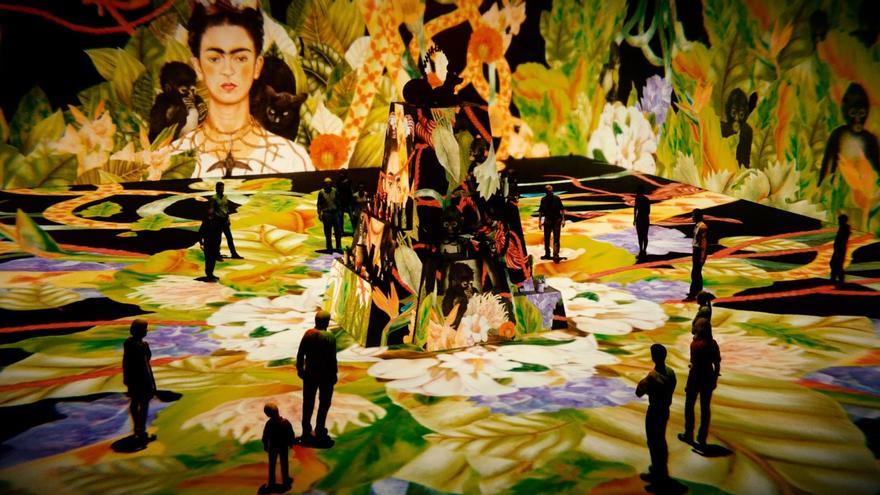 The artist Frida Kahlo (1907-1954 Coyoacán, Mexico City) like never seen before. The exhibition 'Life and work of Frida Kahlo' immerses the viewer in the particular universe of the Mexican painter through more than a hundred paintings, texts and photographs and 2,500 hand-painted animated frames by various creators. Is about a visual and sound sample that pays homage to a woman of extremes who portrayed her physical and moral existence with the strokes of her brush.
This new proposal is designed, produced and promoted by Acciona Ingeniería Cultural and you can see until next April 22 in an exhibition space created ad hoc in the Madrid neighborhood of Delicias, in an old bus garage -the Instant Theater, on Palos de la Frontera street, 20-. It was inaugurated on December 2. It spreads across the walls and the floor of a room with 1,129 square meters of HD projection surface and with 38 state-of-the-art projectors.
The exhibition has been curated by Roxana Velásquez Martínez del Campo, executive director of the San Diego Museum of Art, and Deidré Guevara, curator of the exhibition 'Frida y yo', at the Georges Pompidou Museum in Paris.
Audiovisual creativity is the authorship of the creative studio Tigrelab. A multidisciplinary team of creatives, illustrator plastic artists, creative coders, 2D animators, 3D artists, has worked to establish a relationship between content and images and transfer the curatorial script to a spatial, audiovisual, sensorial and exhibition experience.
Aztec, revolutionary, broken, dancer, walker, communist, painful, in love, wife, Frida, Frieda, Friducha, Freon, daughter, inharmonious, indigenous, intelligent, free, weeping, mother, Malinche, Mexican, muse, girl, dove , poet, painter, Tehuana, virgin ". This is how Frida presents herself according to the texts in her diary and pictures reflected in the new exhibition project.
"The challenge was to tell something that was different and that also paid tribute to her and spoke about what is not normally addressed about Frida"
Carla prat, artistic coordinator of the exhibition, explained to THE PROVINCE that, "although there are many types of immersive exhibitions, this hybrid format between the exhibition, the scenographic and the cinematographic is what makes the difference from other exhibitions".
Acciona Ingeniería Cultural's challenge from the beginning, said Prat, "was to get what else to tell about the world-famous Frida Kahlo, that was different and that she also paid tribute and spoke about what is not normally addressed about her."
"We have moved away from all the folklore around her history of pain and we have wanted to highlight Frida the artist, the intellectual, the painter, as an icon, as a woman, empowering her through the texts she wrote," said Prat. Added that "We have thought about what Frida would have liked us to do with her work and we did an artistic reinterpretation of it that helps us to tell about his life and work through his paintings and texts ".
"Always revolutionary, never dead, never useless"
The story is not presented chronologically but through three great moments which in turn have their own stages. The first part highlights the artist in all her splendor, creating a parallel between her work -with some of her best-known self-portraits, such as Frida with a medallion, with a braid, the one dedicated to Dr. Eloesser, with monkey, with monkey and parakeet and with a pearl necklace- and testimonies from her contemporaries (Picasso, Breton, Duchamp and Trosky) to convey to the public the relevance of the painter in the intellectual and artistic environment of her time.
"They thought I was surreal, but I was not. I never painted my dreams, I only painted my own reality", sums up the artist in her words.
The second part presents her most intimate facet, the Kahlo family, alluding to the artist's roots and friendships, and delves into a key event in her history, the traumatic accident that made her reborn as a painter. It happened in 1925, when he was only 19 years old.
"It was a strange shock; it was not violent, but deaf, slow and mistreated everyone. And me much more", as Frida describes that fatality with which she ended up with "a broken spine in three parts, a broken clavicle, eleven right leg fractures, crushed right foot, two broken ribs, left elbow dislocation, dislocated shoulder, pelvic bone fractured in three, perforated abdomen. "Despite the tragedy, she did not flatten:" Always revolutionary, never dead, never useless. " .
"They thought I was surreal, but I wasn't. I never painted my dreams, I only painted my own reality"
Doctors thought she was going to be paralyzed. "But one day I got up and went to Diego's house! [el muralista Diego Rivera] with three of my paintings! I have not died and, furthermore, I have something to live for; that something is paint", Underlines the artist with resilience and strength.
However, that was not the only pain in his life. "I suffered two serious accidents in my life: one in which a bus knocked me to the ground, the other is Diego. Diego was by far the worst ", he relates. "I am not terrified of pain and you know it, it is almost an immanent condition of my being, although I do confess that I suffered, and suffered a lot, at the same time, all the times you put the horn on me ... not only with my sister but with so many other women ... ". When Diego and Frida fell in love, she was 22 and he was 42. Frida's parents did not like that relationship. "Too old, too fat, too communist and atheist."
They were married on August 21, 1929. A union marked by his infidelities. "I am writing to tell you that I release you from me, come on, I 'amputate' you, be happy and never look for me ", concludes Frida bluntly.
The third and last part recreates the Blue House, the home where Frida Kahlo was born, lived, painted and died and it is in several of those scenes that she is seen in motion painting.
"I must have been six years old when I lived intensely the imaginary friendship with a girl. In the window of my room I drew a door. I would go out through that door in my imagination, with great joy and go down to the interior of the earth, where my imaginary friend was always waiting for me ", she recalls her childhood in that abode.
The soundtrack
The composer and pianist from Madrid Arturo Cardelús, author of the soundtrack of the exhibition, explained that the starting point for creating the music was "the painting The two Fridas, in which the duality that accompanies all his work and his life is reflected ". From there he built "a musical world that is close to those two worlds of the artist, that of tragedy and joy without more, that of the celebration of life ".
"We create a musical world that is closer to those two worlds of the artist, that of tragedy and that of the celebration of life"
For it, different styles have a place in the score, among them classical music, traditional Mexican music -in clear reference to the origins of the artist- electronics and sound effects. "For us it was important to have a unit in the soundtrack, that although it had different styles, it would be understood as one piece," said Cardelús, nominated for the Goya Awards 2020 for the soundtrack of the animated feature film Buñuel in the labyrinth of the turtles and creator of the music for the Netflix miniseries Call me Francisco, which narrates the life of Pope Francis.
In the soundtrack of 'Life and work of Frida', cinematographic techniques have been used in order to establish emotional rhythms and enhance the visual narrative, among them, the Foley sound, which has been used to recreate sounds such as that of water, footsteps or the sound of plants, generating a unique sound universe.
The composition was recorded with the Budapest Art Orchestra, conducted by its conductor, Peter pejtsik. The orchestral recording took place in Budapest, while that of the soloists and the mixes took place in Los Angeles, where Cardelús resides. "We worked three or four months without stopping. It was an intense job ", the musician highlighted. All music is original, except for a historic recording of Mexican music located at the United States Public Library.
"The process to create the music has been like that of a movie in three acts, but where the sound envelops you in an immersive way and, therefore, it was very important that the image and the music go hand in hand," said the composer.
The exhibition will visit other Spanish, European and Asian cities, among them, Barcelona (Maritime Museum), Copenhagen or Bangkok.
The visit has an estimated duration of one hour and a maximum capacity of 230 people, which will be adjusted according to sanitary conditions to guarantee safety against Covid-19.
The first carbon neutral exposure
The exhibition seeks a positive environmental and social impact in Spain and Mexico, for which a regenerative design has been carried out that includes the analysis of the entire life cycle of the materials used, as well as an exhaustive evaluation of energy efficiency. "It is the first carbon neutral exhibition", highlights Carla Prat.
In this way, 'Life and Work of Frida Kahlo' will be CO2 neutral, like all the exhibitions carried out by Acciona Ingeniería Cultural. For it, "CO2 emissions are minimized and those that are unavoidable are calculated and compensated by acquiring Emission Reduction Certificates (CER), granted by the United Nations Framework Convention on Climate Change ", says the promoter.
In addition, Acciona will carry out tree plantations both in Mexico and Madrid, in coordination with local authorities and within the framework of renaturation projects. The entire process is endorsed by the UNE-ISO 20121: 2013 certification.