Freedom was a chestnut for Anne Frank | Babelia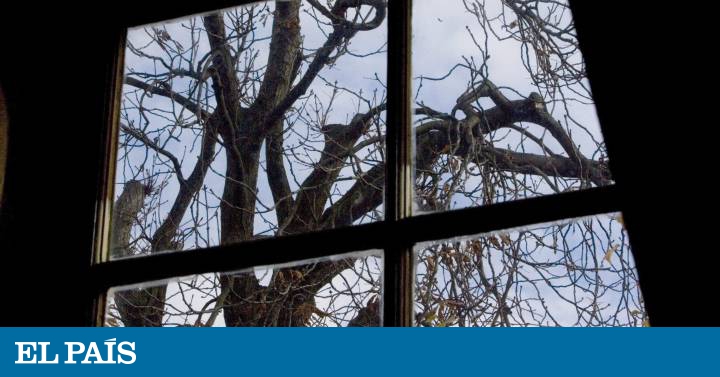 For Anna Frank, freedom was a tree. The German Jewish girl confined with her family in three secret rooms of an Amsterdam house could see a centennial chestnut from his hiding place. "We look at the blue sky, the leafless chestnut tree with its glowing droplet branches, the seagulls and other birds that when flying above our heads looked like silver. And all this moved us and overwhelmed us so much that we could not speak, "he wrote in his Diary on Wednesday, February 23, 1944. On Saturday, May 13, 1944, he noted: "The chestnut is in flower from top to bottom and full of leaves, and it is much more beautiful than last year."
Between ten and ten-thirty in the morning of August 4 of that year, a car stopped at number 263 Prinsengracht Street and stopped the Frank and van Pels, the family that took refuge with them. Of the 10 inhabitants of that hiding place, only Otto Frank, Anna's father, returned from the Death camps. But the centennial chestnut tree remained there, until 2010, when a storm knocked it down. Those responsible for the Anne Frank House Museum knew that the tree had been sick since 2005 and numerous chestnuts had sprouted and, once turned into small trees, were planted in schools and parks around the world.
At the planting of one of those trees, in 2016 at a school in the London neighborhood of Islington, the guest of honor was Eva Schloss, an Auschwitz survivor who was then 87 years old and who met Anne Frank as a child. During the ceremony, she explained that the old chestnut tree of her childhood friend was a "symbol of hope", now multiplied by her numerous descendants.
Ignacio Abella, naturalist and writer, author among other essays of the book Board and Council Trees (Libros del Jata), explains another iconic case in which the trees served as a refuge in a captivity imposed by injustice and racism: "When Nelson Mandela He was in prison, he cultivated in drums cut in half vegetables, but also trees. And he always told his guardians that he was imprisoned, but that his plants and trees were free. He maintains that thanks to them he was able to endure the long captivity ". Francis Hallé, a French naturalist born in 1938 and one of the pioneers of the defense of the forest and trees, who has traveled half the world in search of wooden giants, recounts the same anecdote in his small essay Tree life (Gustavo Gili), where he also remembers a verse by the poet Paul Valéry: "The tree reveals its time". "Now I understand what he meant: a tree is time made visible," says Hallé.
Few trees have so emphatically demonstrated their ability to overcome time and the elements as those that survived the Hiroshima atomic bomb. They even have a name in Japanese, Hibakujumoku. Eduardo Barba, landscape gardener and botanical researcher in works of art and author of The Prado garden (Espasa), a book that reviews the pictorial representations of plants in paintings from the Prado Museum, recalls above all a Gingko biloba. "Demonstrate the power of trees. It was very close to the epicenter and after a month it was already sprouting, after that tremendous misfortune. It became a symbol of the future, in the demonstration that planting a tree is something that transcends us. "
It is not by chance that a tree is precisely the symbol that the Yad Vashem, the Holocaust Museum in Jerusalem and at the same time a monument to the victims of Nazi barbarism, have chosen to honor the righteous, those people who saved Jews during Shoah, even at the risk of their own lives. The call Garden of the Righteous Among the nations it remembers 27,362 Jewish rescuers. The book by Italian journalist Gabriele Nissim Foolish kindness. The secret of the righteous (Siruela) goes through the lives of people who, throughout history, were able to say no to barbarism. The book starts right with a conversation walking in that forest of the Yad Vashem. "Events related to the righteous are often invisible and of little interest to historians because they refer to behaviors that leave little trace and do not seem to change the course of events," writes Nissim. Therefore, to remember them, the great living beings capable of conquering time have been chosen.
With her chestnut tree, Anne Frank combined her desire for freedom with the fascination that trees awaken in children. Many literary texts present trees as the dream scene of childhood, the free space par excellence. Trees stand as protective beings, as places where children can grow without being disturbed by a threatening world. There is, for example, the tree house where the children who star take refuge to smoke, play poker or tell secrets Stand by me, Stephen King's sad and evocative tale of his childhood turned into a classic movie by Rob Reiner.
But we must refer to the principle of Western literature, to Homer, to find the most beautiful example of the relationship between trees and childhood. In the OdysseyWhen Ulysses returns to Ithaca and appears before his father after 20 years of travel, the elderly Laertes asks him for "an obvious sign" to show him that he is his son. And Ulises responds: "Let me tell you about the trees in this well-cultivated orchard that you once gave me, and that I asked you every time when I was a child, while I accompanied you through the majesty. We walked among them, and you named them one by one. You gave me thirteen pear trees and ten apple trees and forty fig trees "(version by Carlos García Gual in Alianza Editorial). The childhood for the hero was the fruit trees, the number of which he was perfectly capable of remembering.
In the annals of tree literature there is another child who also finds his freedom in the forest: The rampant baron (Siruela), by Italo Calvino, that boy who, fed up with his family, decides to climb a tree and never went down again in his life. Asked about his favorite literary tree, Santiago Beruete, anthropologist, philosopher and author of books like Jardinosophy and Verdolatry (both in Turner), he replies: "More than for a specific tree, I have a predilection for a forest: the imaginary vegetable kingdom of Ombrosa, where Italo Calvino locates the action of his novel The rampant baron. Its protagonist, Cosimo Piovasco de Rondó, climbs with just 12 years old into a tree in the family home after a discussion with his father. And faithfully fulfilling his oath never to set foot on the ground again, he manages to subsist the rest of his long existence in 'that universe of sap', jumping from branch to branch, from oak to oak, from chestnut to chestnut " Few works like that Calvin novel are capable of turning love for trees into love for life.