Free over a thousand sex and labor slaves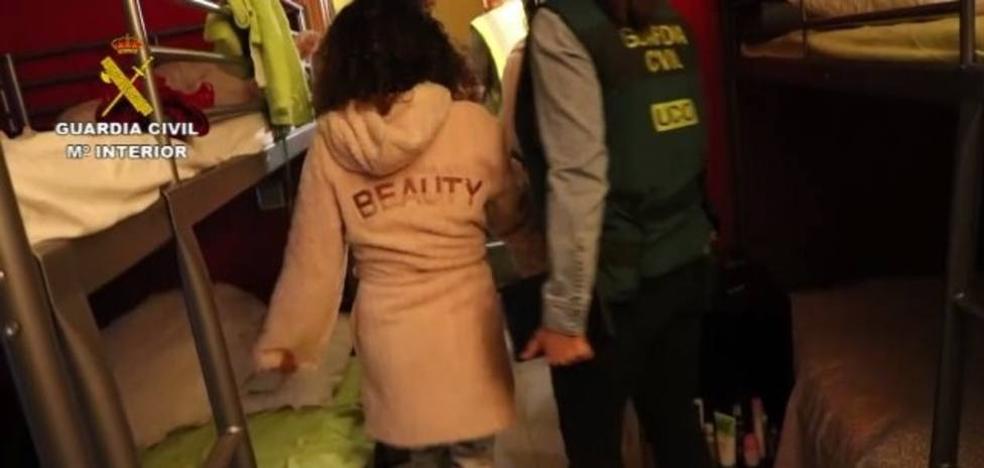 National Police and Civil Guard carried out 226 operations against human trafficking last year and dismantled 64 gangs with 663 detainees
Units of the National Police and Civil Guard managed to free last year more than a thousand people enslaved by criminal organizations that enriched themselves with their sexual exploitation, labor or forcing them to beg. It is the main result of the balance made by the Intelligence Center against Terrorism and Organized Crime of the operations unleashed in Spain against the mafia business of human trafficking.
These 1,056 victims rescued from brothels, highways, flats or insane workshops or warehouses are the slaves of the 21st century, most of them practically kidnapped by organizations that smuggled them into Spain and that hold and exploit them until they return the large debt that he has contracted with them and that, normally, grows day by day, which makes it almost impossible to ever pay it off. Among those released are two foreign girls who had been sold to trafficking networks with the aim of sending them to forced marriages.
Investigators managed to rescue two girls who had been sold for forced marriages

They are the victims of a criminal activity of such magnitude that, according to data from the Ministry of the Interior, it is the most lucrative after drug trafficking, with annual income similar to that of the black market for weapons. Slaves is not an exaggeration, it is the name given to this scourge by the judges and policemen themselves. Those rescued in 2021 from the clutches of 64 criminal organizations were not only plundered in prostitution, they were also exploited in clandestine workshops or businesses, in the countryside, begging at traffic lights, corners and supermarkets, or sold for forced marriages. In the operations, it was possible to arrest 663 of the criminals who enriched themselves by harassing them, stripping them of all rights and using them as mere merchandise.
From brothels, parks or streets 4,910 victims were released. Almost all of them are women (including six girls), from very vulnerable layers of Spanish society, but above all from Colombia, Romania, Paraguay, Venezuela or the Dominican Republic. Cáritas considers that 90% of the women who practice prostitution in Spain do not do so voluntarily and that at least 80% are foreigners. In short, trafficking for the purpose of sexual exploitation and prostitution are practically synonymous in Spain.
possible ban

These releases, in any case, are just the tip of the iceberg of a controversial activity that Congress will debate whether to ban next fall. Of a slavery fed by a society, the Spanish, the third in the world with the most whoremongers according to the UN, and by a powerful industry in which, at least until Parliament decides whether or not to approve the reform, it is not a crime to run one of the hundreds and thousands of brothels or pimping these women. Police estimates, rather conservative, suggest that in Spain there may be between 40,000 and 45,000 prostituted women, from countries among which, in addition to the above, Nigeria stands out. A clandestine activity that could move some 20,000 million very black euros a year.
The other half of the 2021 releases were of labor slaves. Specifically, 514 rescued. In this case, the majority were men, including five children, who were brought by force or trickery to basements, slums, barracks, warehouses or other places where they are overcrowded and forced to work endless hours, without security measures. nor rights. A good part of those rescued by the security forces come from Morocco, Nicaragua and Senegal, with Honduras or Romania, also high numbers.