Free courses to improve your digital profile | Economy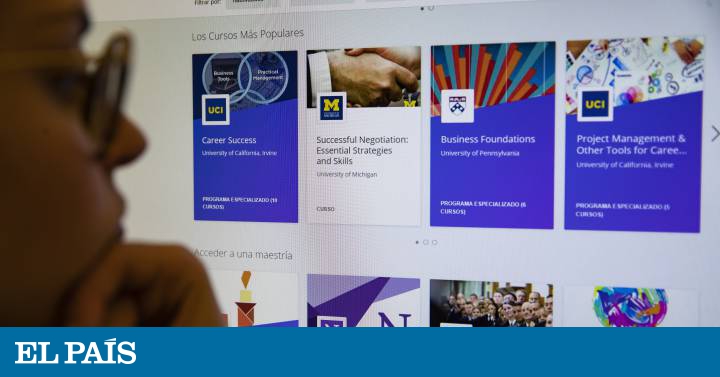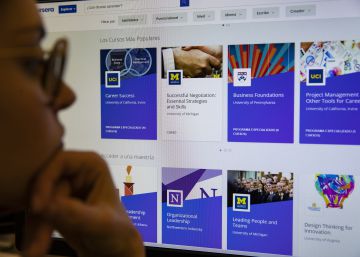 The magic of the Internet It has taken a radical turn to the formation. Not only for the expansion of the massive online courses (MOOCs) that have deployed many prestigious educational institutions through platforms such as Coursera, Udemy or Edx, but for the tutorials and educational pills that are available to Any kind of content and practices from YouTube. And more and more companies They launch free courses for people to improve their digital skills from home and at the pace they want. In general, they are technological, but not only.
From now on you have to pay attention to the website of Fundae (State Foundation for Employment Training), which since December has added on its website an offer of 200 courses from a dozen companies with which it has signed an agreement to help close the digital divide of employees and unemployed. An agreement that will be extended to another dozen organizations soon, noted in Fundae. Among them, several banks and some academy. So far, the initiative of the former Tripartite Foundation has gathered more than 120,000 visits.
The 12 companies have courses of all kinds, basic and specialized, of few hours or weeks, certified and uncertified, and with and without tutors. Everyone can be reached from the companies website or from Fundae, and to take some you need to register. There are no more requirements.
Possibly the best known are those of Google. Since launching its program Activate In 2014, it has served for more than 490,000 people to learn in about 35 courses (two of them face-to-face) how to develop an application, a website or an e-commerce platform; use the Internet cloud, learn the basics of digital marketing, artificial intelligence (AI) or how to carry out digital transformation for employment. Matters that are among the most demanded by users, according to the company, which argues that, after taking them and obtaining the certifications they carry, more than 59,000 people have promoted or found a job and more than 30,000 have seen their income or Number of customers in their business.
If you don't know the training you need for a job or which organization provides it, the Fundación Telefónica can help you. Its Employment Map tool crosses two million job offers from portals such as Infojobs or Tecnoempleo with the 25,000 open courses available in Spain to offer the appropriate training itinerary for each person, as well as the skills and abilities they need for a job. It also reports the most demanded occupations by provinces
Search. Most study centers and academies offer free courses to workers with the public subsidies they receive for it. These are the so-called training plans for employment, which also incorporate the improvement of digital skills into their catalog, they say in Adams. You can see them from the websites of the centers, from the Fundae and the SEPE.
Requirements. Anyone can access this portfolio of courses and sign up. You will have to wait to be contacted from the center when there are places available. There are currently 1,300 in Adams.
Duration. The average duration of these courses is about 30 hours and among the most requested topics in this study center are business intelligence, big data and cybersecurity.
But they are the courses offered by Fundación Telefónica (through Miríadax, the operator's MOOC platform) the ones that have received the most registrations since they appeared on the Fundae website, almost a quarter of the total, says Luis Miguel Olivas, director of Employability and Educational Innovation of the entity. There are a fortnight of courses, between 30 and 40 hours long, some of them tutored and with access to official diploma (sometimes paid), which in the last three years have trained more than 380,000 people.
The most demanded are those that have to do with the fundamentals of programming, Java programming and apps. There are more advanced, cybersecurity and AI, for example. However, Olivas acknowledges, in the MOOC the registration rates are very high, but those who reach the middle of the course are 40% of the participants, and those who finish it, 12%. "The impact of a 30-hour course on employability is low. We use them to raise awareness and for people to start thinking in digital and then sign up for some certification, to a degree… ", he says.
From his point of view, Fundae's showcase has great potential. Next month, Fundación Telefónica will launch a nanograduate of Introduction to Construction 4.0, of 220 hours, which will serve to introduce one of the most remote sectors to the digital world. And then the hotel, whose professionals need this kind of skills. "We want to build custom training," says Olivas.
Also the Accenture Foundation You will expand your portfolio of courses. A battery of 17 free modules of one hour, so far aimed at improving the employability of the unemployed and for which some 250,000 people have passed in the last seven years, according to its general director, Ana Millán. In March, the entity intends to launch another eight aimed at people with medium-low qualifications that require recycling, that is, to sophisticate the current basic offer focused on videos and gamification, which are the new online learning formulas that trap participants, he adds.
From Accenture's basic courses to the other extreme: highly specialized SAP programs. His amalgam is 19 courses. All are taught in English (there are subtitles in several languages, including Spanish), have a deadline to study and have trainers available to the student. Their themes are varied, naturally training in SAP technology abounds, but they offer everything from desing thinking or predictive models of data science to digital supply chains or blockchain. The duration of the courses varies. There are three or four hours and five weeks. They usually include a final exam that assesses student achievement.
In English
Amazon's free courses are also in English. It has about twenty categories, including analytics, big data and the Internet of things. They are certified. The same as in Cisco, which has modules in Spanish for entrepreneurship, cybersecurity and Phyton programming, among others. They last between 15 and 70 hours, some include laboratory practices, exams and have defined dates to study. In the case of Huawei, IBM, Oracle, Cloudera or Linux, its free training portfolio is less extensive and ranges from the Java language, to big data or 5G.
"The challenge of Fundae, which has taken a giant step by grouping companies that offer free training in Spain, is to differentiate what type of workers are targeted and have a digital assistant or a chatbot to accompany them in their training," he appreciates Ana Millán, for whom it is necessary to raise the level employees in the unstoppable train of digitalization.
These companies will add others soon. Although while doing so, know that companies such as Facebook or Twitter also give online classes to teach how to use social networks (not just your own), to place ads on them, to find customers or the public and segment them, and to manage inventories, among others thematic Also HP, Fundación Once or Digital Talent. All without paying a single euro, from your computer and at your own pace.