Fred Vargas, the activist writer, warns about the end of the world | Babelia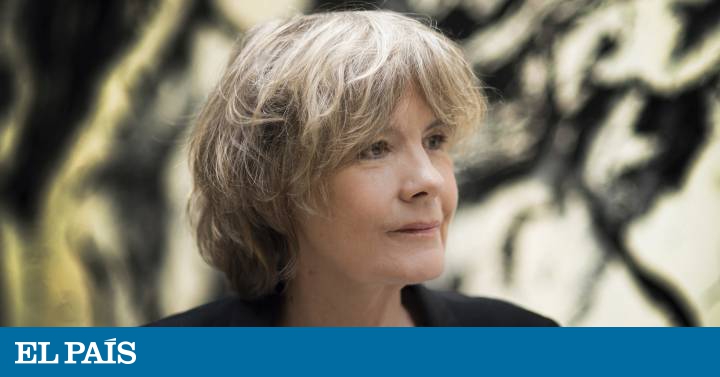 Fred Vargas (Paris, 1957) has many lives. She is one of the most read and translated writers in Europe, in fact, her books have broken all the barriers of the genre in which they register, the black novel, and even received last year the Princess of Asturias Award for Letters. His trade, on the other hand, has nothing to do with the letters: he is an archeozoologist and one of the world's great experts in medieval black plague, a profession that made 2005 compatible with writing. And, in addition, Frédérique Audoin-Rouzeau (his real name) is an activist, of just, lost or more than debatable causes, as his Italian terrorist defense Cesare Battisti, claimed in his country for four homicides and sentenced to life imprisonment. In his latest book, which arrives at the bookstores on Wednesday edited by Siruela, he embraces a cause that this time has the support of a large part of the world's population, climate change.
The title of this essay summarizes your vision of the problem: Humanity in danger. A manifest. His thesis is that we are not doing enough in the face of a threat that can destroy our species in much less time than we think and that our political representatives are basically incompetent or greedy or both. It is also the book of a scientist, not just a storyteller, because it is loaded with data and numbers that lead to a single conclusion: we have to act and we have to do it now. "Apart from our voice at the polls, we, too, as I have repeated more than once, have a lot to do and can strongly influence the indispensable change ahead," he writes in this book, translated into Spanish as almost all of his work by Anne-Hélène Suárez Girard.
Despite being a novelist who lives almost secluded in the countryside and away from the literary pomp – he hardly gives interviews, he lets himself be portrayed very rarely and he didn't even travel to Oviedo to pick up the Princess of Asturias, an unusual absence in these awards – her militancy is never limited to theory, but calls for action. And he doesn't usually have hairs on his tongue. In one of his few interviews, published by the magazine Madame Figaro In 2019, on the occasion of the book's release in France, he stated: "The decisions of the rulers at the end of COP 24 (the climate conference held in 2018 in Poland) are directly criminals." And he continued with his criticisms: "Our elected positions, which seek to be re-elected, only think about growth, consumption and production. They are obsessed with benefits, growth and power and are unable to understand that you have to change your model radically. " About him lobby Agrifood says it is "colossal, foolish and deadly." "We eat fifty times more than fifty years ago and we have to count four livestock animals for each human being, which is unsustainable: it takes 13,800 liters of water to produce a kilo of ox."
The author of When the inmate leaves, Run away fast, go away, Ice times, The third virgin or The furious army it is part of the old tradition of militant writers, of Charles Dickens and his fight against child poverty until Simone de Beauvoir or Jean-Paul Sartre; but in its case its causes can touch the obsession and bring tremendous criticism, as happened in Italy for its support to the terrorist Cesare Battisti. Sentenced to life imprisonment in 1993 for four homicides during the lead years in Italy, he fled to Paris in the 1980s and began writing black novels. He then fled to Brazil and Bolivia, where he was arrested in 2019 and sent to Italy to serve his sentence. Only then recognized the murders for which he has been convicted to spend life in jail.
She was not the only French writer who defended him, considering that not enough judicial guarantees were given in the process that convicted him in absentia, but none went as far as Vargas, who helped him financially when he was a fugitive, paid his defense and It was even located by the Brazilian police thanks to a judicial telephone jab at the writer's house. He came to write a book, The truth about Cesare Battisti, and maintained a public controversy, in the pages of Le Monde, with Antonio Tabucchi.
Its new cause, on the other hand, has nothing to do with those controversies and has enormous social support. His book reflects, of course, the same and thorough obsession of a novelist capable of composing unusual characters, obsessive researchers who never drop a case. "Let's roll up and get down to work. Let's act, stay alert and vote. Let's be hundreds of millions to do it, fast, very fast, which will drag hundreds of millions more with Us. That will be the Third Revolution. We will make it". Thus ends the new book of the militant Fred Vargas.