Francisco Brines, emergency surgery in Gandía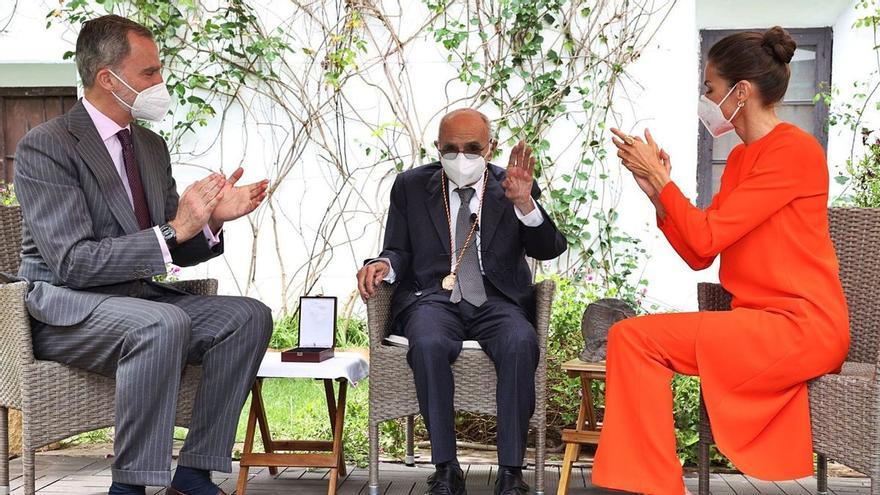 Francisco Brines He is admitted to the Hospital Francesc de Borja de Gandía. The Cervantes Prize 2020 he was operated last night for a hernia according to medical sources have indicated to this newspaper. As these same sources have reported, state is stable. However, the poet will remain admitted to the hospital
His entry occurred just one day after the visit of the Kings to L'Elca, the private estate where the poet lives in Oliva. There he received last Wednesday the Cervantes Prize from the hands of Philip IV and Letizia, who came to the farm accompanied by the Minister of Culture, José Manuel Rodríguez Uribes and the President of the Generalitat, Ximo Puig.
The Cervantes is the highest award for Hispanic literature and was traditionally given during the month of April in Alcalá de Henares, the hometown of the writer Don Quixote de la Mancha. However, the pandemic and the delicate state of Francisco Brines' health made the Kings agree to move to L'Elca to pay tribute to the author of Oliva, the only Valencian who has received the Cervantes.
Brines received the award during a private ceremony at his home, attended by political authorities and friends. Specifically, the Minister of Culture, José Manuel Rodríguez Uribes; the president of the Royal Spanish Academy (RAE), Santiago Muñoz Machado; the general director of the Book, María José Gálvez; the president of the Generalitat Valenciana, Ximo Puig; the niece of the artist Mariona Brines; the mayor of Oliva, David González, and the director of the Francisco Brines Foundation, Àngels Gregori.
The writer was "happy and excited", so much so that he even confessed that it was difficult for him to fall asleep in recent days.
During the meeting, the poet had a conversation with the kings about literature and presented them with a book, The illuminated black rose, a poetic anthology of his verses with a prologue by Carlos Marzal and original serigraphs by Antonio Martínez Mengual.
Upon his arrival, King Felipe VI expressed to the writer "his joy" at being able to go home, which he defined as "a little paradise." For her part, Doña Letizia was also very affectionate with the poet, whom she thanked for welcoming them into her home.