Francis Naranjo: "Art has to disturb"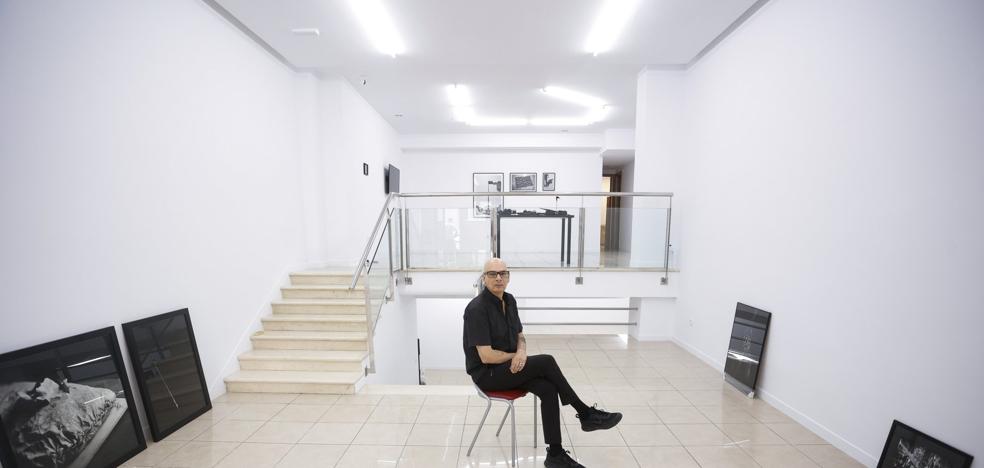 The Foundation of the artist from Gran Canaria opens the doors of its new headquarters this Saturday, starting at 7:00 p.m., on Avenida Primero de Mayo
If it doesn't overcome indifference, if it doesn't mobilize the neurons so that we think about the reality that surrounds us and if we leave the proposal that we have just seen or listened to just as we entered, that artistic project will hardly have space in the
Francis Naranjo Foundation, that from tonight opens headquarters in number
63 First of May Avenue from the capital of Gran Canaria.
«For years there have been many artistic proposals, especially in Europe, which are made with the art market in mind.
Many artists work with the marketing of their works in mind. It is a valid and respectable form. But it doesn't bother me. I think the important thing about art is that it worries you. Whether you like it or not like it is something else, because that is very relative. But in our Foundation
we bet on proposals that make the visitor think differentlyso that he sees things in a different way and without dogmas", explains Francis Naranjo while the details of the headquarters that opens its doors to the public this afternoon, starting at 7:00 p.m., with the
group show 'Black'.
South America, Europe and Africa

On the first floor and in the basement of this new enclave, the Francis Naranjo Foundation plans to develop a firm commitment to "experimentation" and creative connections with
South America, Europe and Africawith artists who in most cases move through the margins of the market and the most conventional institutions.
"What
we are interested in is experimentation, research and production, always from formats that are not so regulated or conventional. We always want to go through experimentation, for the Foundation to be a kind of dynamic laboratory, not at all flat and always changing", explains Naranjo.
«We will raise
exhibition experiences for the visitors of the Foundation, with very different formats according to the proposals of the programmed artists", he underlines.
meeting point

Under this model, this Foundation will seek to be a physical and creative meeting point between Canarian, national and international artists. «
Our project is dynamic, not only in the local context but also internationally. We have collaboration agreements with foreign institutions that until now we had not been able to materialize. That will make the Canarian artists who are linked to our project and our philosophy
travel to other contexts and participate in new realities. They will also come to the island to exhibit and create some from outside", assures Naranjo.
He gives as an example a project in which they are already working so that the photographer from Gran Canaria
Theresa Belt go to the
Sack Biennialin the middle of the Atacama desert in Chile, as well as a possible collaboration between this same creator and the Polish artist
Isabella Jagiellowhich is part of the list of the exhibition 'Black'.
They are also found, says Francis Naranjo, in conversations with the gallery
Kiosk of Santa Cruz de la Sierra, in Boliviafor future artist exchanges through its creators-in-residence project.
Two-year agreement with the City Council

All these ideas, which are from the beginning in the founding principles of the project, can be developed n, defends Francis Naranjo.
This physical space on Avenida Primero de Mayo is possible thanks to a «
Collaboration agreement with the City Council of Las Palmas de Gran Canaria", recognizes the artist, who has a
duration of two years.
«We arrived here as a result of the collaboration agreement with the City Council. First we get excited about
Guide. They approached us and failed because of the mayor's attitudes. Then we went to the City Council of Las Palmas de Gran Canaria and the Councilor for Culture,
Encarna Galvanbecame interested in the project, especially after seeing that
international cultural agents They were very interested in making it materialize. The first thing we did was to program in a timely manner in the
Castle of Mata, but the idea of ​​a headquarters was always there. In the end, the City Council has taken the step to make it possible, after seeing that the experience in Mata
it was optimalwith high-level commitments that had international repercussions", he assures from a room in this building that first housed an architecture studio and then an interior design shop, which is a stone's throw from Mata Castle.
Open with 'Black'

Openings usually have a festive air. 'Black', an exhibition with which the new headquarters of the Francis Naranjo Foundation opens its doors this afternoon, will also have it, according to its managers, but since
a different optic and without colorsas its own title already advances.
"We could have opted for a festive and colorful display. But ours is loaded with
thought, feeling and reflection. We live in a specific context, in which many things happen that have radically changed our relationship with the ways of life we ​​had in our childhood and adolescence. 'Black'
It has three specific spaces that complement each other and create a whole. It starts from the ritual and pragmatic connection of the pictorial and sculptural format to connecting with reviews of historical memory, identity, education among young people and the ecosystem, among other issues.
We touch a lot of topics and what is generated is a forceful proposal in which all the pieces go towards black, towards that darkness that seems to be taking over us", explains Naranjo.
"Is a
post-pandemic exposurein which we reflect on a specific moment through circumstances close to darkness, but I think that showing the wounds can help us heal and understand reality", he points out about a project in which the creators: Lecuona and Hernández, Mamadou Gomis, Teresa Correa, Liliana Zapata, Dado Nadi Jessica, Mauricio Toro-Goya, Andrea Jösch, Sara Roitman, Nicolás Cox, Víctor Hugo Bravo, Abrahán Riverón, Izabella Jagiello, Ricardo Zamora, Juan Ramón Barbancho, Acaymo S. Cuesta, Antonio Guzmán and Francis Naranjo himself.
It can be visited during the week until August 31, between 10:00 a.m. and 1:30 p.m. and 5:00 p.m. and 8:30 p.m. On Saturdays, between 11:00 and 14:00.