Francis Andreu: «No one can avoid tango»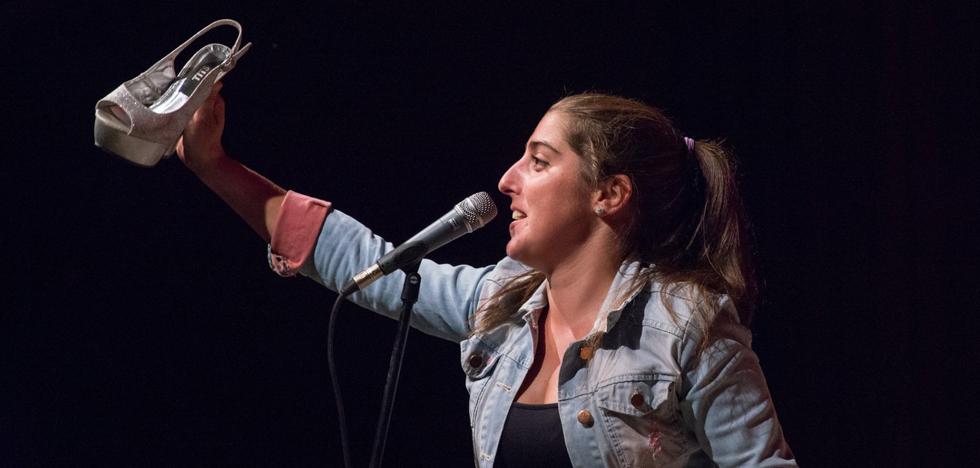 The Uruguayan singer offers a concert for the first time in the Canary Islands this Saturday, at 9:00 p.m., closing the cycle 'Orillas' of the Miller building
The Uruguayan singer Francis Andreu (Motevideo, 1985) will close this Saturday, starting at 9:00 p.m.,
the musical cycle 'Orillas' that the Promotion Society of the capital city council has been organizing since last July in the
Miller Building.
The
free direct de Andreu brings us the racial tango performed by this young artist who has renewed this centenary musical genre, declared intangible heritage of humanity for more than a decade.
Andrew, what
he started singing at the age of 16points out that «the love and fondness for tango came from a very young age motivated by my paternal grandfather Jorge, who was a great fan of the genre».
Despite the fact that many define her, both in Argentina and Uruguay, as a renovator, she does not admit to feeling like one at all.
"All musical genres have wonderful expressions. Tango is very particular, since it was born in a specific social and cultural context (between 1920 and 1960) and it even developed a special language, the famous lunfardo. Also, when it comes to singing tangos I'm very conservative. I always try to care for and respect even the most heartfelt comma", warns Andreu, who adds that "and
he tango is a crude genre that connects us to life because in many of its lyrics we identify ourselves».
Unstoppable

«Tango talks about heartbreak, betrayal, friends... In short, it talks about things that happen to you in everyday life. No one can avoid tango.
Later, earlier, the tango always comes», says the Uruguayan singer.
Andreu admits to admiring many artists and explains that he listens to very varied styles of music. But if he speaks of respect, he does so with reverential gratitude to two major artists who have been benchmarks in his career:
Roberto 'Polaco' Goyeneche and Jaime Roos, with whom he points out that he discovered Uruguayan music in two songs. "I am also very excited to hear the
Crayfish (with whom he has shared the stage) already
Alexander Fernandez. I love exchanging with musicians from all over the world and that's the way we're going.
Precisely with Roos, the artist begins to get excited about other sound recordings beyond tango when she launches her third album in 2018, a tribute to the Uruguayan musician, composer, producer, "for me the best artist and the one who best represents my country musically.
That was the first time I left the tango lanealthough not so much, since many of the versions included in this work are essentially tango».
«With the pandemic I understood that I also have to sing what makes me happy and what I like. Not only tango.
I have very varied tastes; that's why my show 'Berretín' was born, which in tango lunfardo means caprice. Within the musical whims that I am giving myself include rancheras, boleros, regional Mexican and several other genres », he adds.
His career is grateful for several things. "One is the beautiful people who surrounded me. My work team has been with me for more than 15 years.
Another is the unconditional love of people. That continues to excite me every day. Also the unique experiences that we artists have. We live beautiful things, but also of the others. You never know what you may find. In music there is no routine. I love that".
Francis Andreu does not consider himself a composer either. "I am an interpreter. I know I can make a song my own when I first hear it and it gives me goosebumps.
There I know that it touched my heart and that later I will interpret it well».
hook for youth

The Uruguayan singer performs for the first time in the Canary Islands. The public that goes to the Miller building will see on stage a temperamental artist who will go from you to you to the stalls.
The young generations have approached tango precisely because of that close attitude, spontaneous and uninhibited that Andreu practices on stage in her concerts. Energy and a way of singing that appeals to an assorted mix of heritages, make up Francis Andreu's baggage. Closing our eyes between theme and theme, surely we can follow the trail of other great figures who renewed, long before Andreu, the limits of tango: Osvaldo Pugliese, Horacio Salgan and their predecessors Arolas, Maffia, Laurenz, De Caro; and his successors Stazo, Libertella, Baffa, Berliengieri and the ineffable Julián Plaza, without forgetting Troilo and Piazzolla.