Four windows to a wounded planet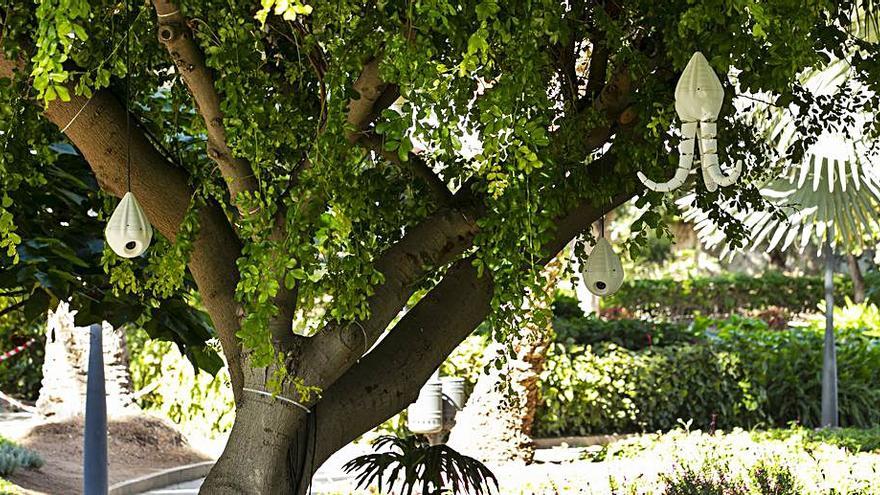 A twelve-meter container, with open guts, with compacted plastic waste, an installation by Marta Torrecilla, surprises the visitor who enters the Roman Park. It is one of the entrance doors to this urban space that since yesterday has altered its appearance until December 14, turned into an open-air museum, to give shelter to the Biotopías 2 project. A collective exhibition curated by PSJM, formed by Cynthia Viera and Pablo San José, which brings together four aesthetic proposals that invite us to reflect on what we can do in the face of the climate emergency situation.
The monumental piece by the architect Torrecilla entitled The journey of waste, a metaphor for the round trip of plastic packaging from Asia, is one of the interventions of the project in which the Dutch team Laboratorio para Microclimas participates; the artist from Gijón Avelino Sala; and uh513, signed by artists and technologists María Castellanos and Alberto Valverde.
The contribution of Microclimate Laboratory, the artist Annechien Meier, the filmmaker and conceptual designer Gert-Jan Gerlach and the engineer Joost Suasso, is a response to the drought: a rainwater collector, Microlima dew collector. A construction in the shape of a flower, with a ficus and palm leaves, which according to Pablo San José "is situated between the metaphorical and the functional".
Next to this piece is the Prosthetic Garden, intervention of the artists and technologists uh513, who have designed a series of robots with sensors connected to plants that receive electrical oscillations, move and generate sounds.
The sea is also present with Avelino Sala and the participatory performance SOS (paddle out), which summoned about thirty surfers in Las Canteras last Sunday, a symbolic funeral tracing a call for help in the sea, and which is projected in the rear of the Hotel Santa Catalina.
Call for attention
There are different actions that show that art is a tool to remove consciences. A sentence, as well as the relationship between art and nature, which was recalled yesterday by the Councilor for Culture, Encarna Galván, the curators and the artists. "The concept of Biotopies is to produce moles, places halfway between utopia and common places that call attention to the climate emergency," said Pablo San José.
In his opinion, "this Street & Web proposal, which is an intervention in public space and online space", which is accessed on the website saladeartesocial.com, underlines the critical and social function of art, which "is to remind us of what what are we".
The works are divided into two versions, for the public space and the online experience, exclusive pieces of net art, which can be accessed from the QR codes on the labels, for "sustainable creation".