Four Spanish Olympic canoeists unharmed after an accident that destroys their K4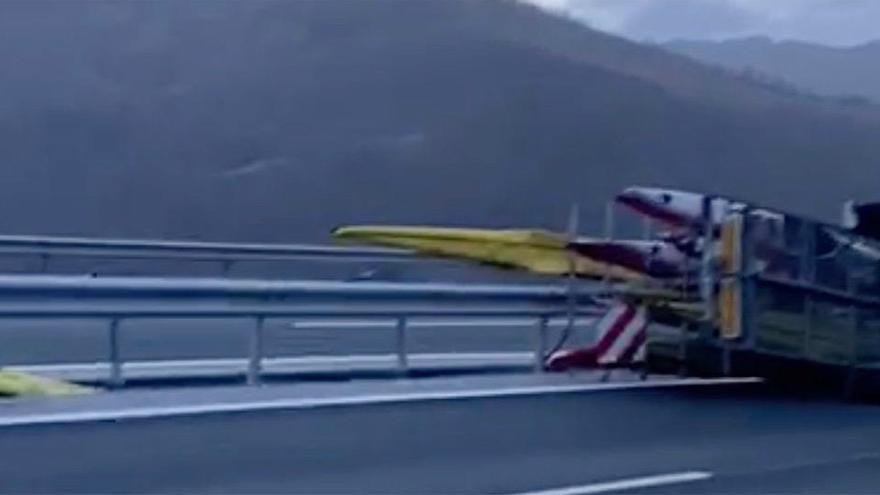 Paddlers Saúl Craviotto, Rodrigo Germade, Carlos Arévalo and Juan Oriyés, together with the coach of the Spanish team Miguel Garcia, they turned out unharmed in a traffic accident in Asturias, at a point on the Huerna highway, where strong gusts of wind caused the van to detach from the trailer loaded with vessels of more than 10 meters, including the K4 to compete in the Olympic Games, which was shattered.
As reported this Saturday by the Spanish Canoeing Federation, the event occurred on Friday at kilometer 65, after 7:00 p.m., when the K4 expedition I was returning to Asturias after concluding a concentration in Seville.
The driver of the van, Miguel García, felt the suddenness of a "swerve" and immediately the trailer was released from the mooring to the towing vehicle, was loose and ended up embedded in the median that separates the lanes between one direction and another of the highway.
"The scare has been tremendous but happily we have not suffered injuries, nor have other vehicles that at that time circulated on the highway been involved," said the technician, who nevertheless regretted the disruption that will involve rebuilding a new boat for compete in Tokyo.
The trailer, in which they transported eleven kayaks of K1, with a length of 5.20 meters each, and two of K4, 11 meters long, in front of the cannoned entrance of the strong gusts of wind, it made a "sail effect".
Miguel García, who explained that in that place they have already overturned several trucks when they go down without load, pointed out that, after the arrival of the members of the Civil Guard, they tried to remove the trailer but it was not possible due to the strong gusts of wind that continued blowing.
"The wind was strong for the rest of the route, but not so strong in the place where we suffered the accident. There it was pointed with incredible force. When we got out of the van we had a hard time holding each otherWe had a hard time being able to signal and warn of danger. We had to be inclined exerting force with the request forward. This morning we returned to the place where we suffered the accident but we could not remove it either, "he explained.
The Spanish K4, runner-up in the last World Cups, is currently outlining the crew with which it will compete in the Tokyo Games, in which it starts as one of the strengths of the Spanish canoeing team to achieve a medal.
In Seville, under the command of Miguel García, in addition to Craviotto, Germade, Arévalo and Oriyés, Marcus Cooper, Cristian Toro, Carlos Garrote, Daniel Abad, Carlos Borrás and Enrique Adan are trained.