Four out of ten tests for the diagnosis of the virus are positive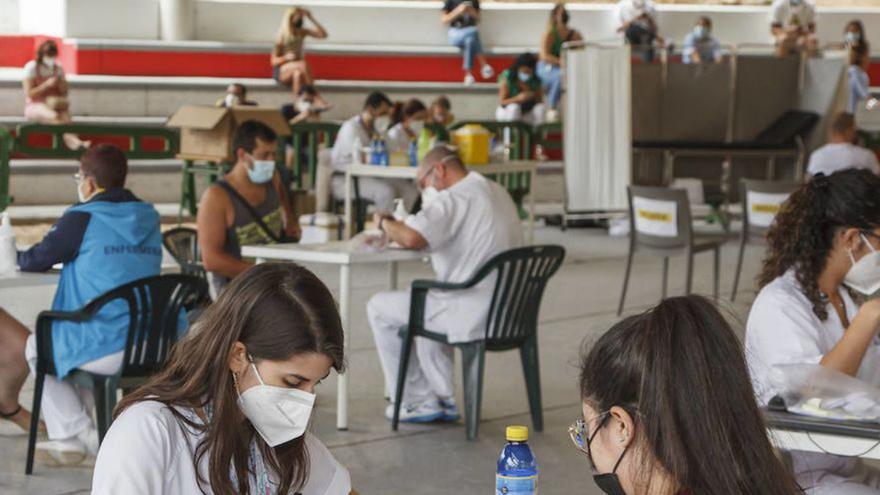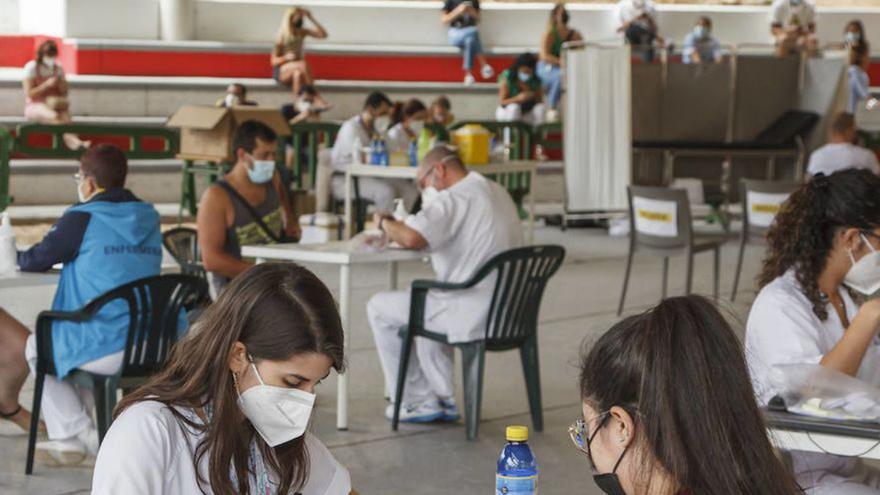 Four out of ten tests carried out in the Canary Islands for the diagnosis of Covid-19 come out positive. The omicron variant continues to trigger the accumulated incidence of the virus, which stands at 7 days at 1,400.67 cases per 100,000 inhabitants and at 14 days at 2,875.98 cases. The Canary Islands Health Service (SCS) has carried out a total of 86,365 tests in the last week, of which 34,623 (40%) were positive.
According to data released by the Canary Islands Government Health Department, 4,546 new infections were registered yesterday, bringing the number of active cases to 93,489, of which 665 are hospitalized, 41 more than last Tuesday. Of these, 79 are admitted to intensive care -six less than the previous day- and 586 remain on the floor -47 more-.
The number of deaths from the infection also continues to rise, after the death of eleven people was reported yesterday, six in Gran Canaria, three in Tenerife, one in Fuerteventura and one in Lanzarote. With ages between 64 and 99 years, all had previous severe pathologies.
The largest number of positives was recorded yesterday in Tenerife, which added 1,732 new cases, bringing its assets to 44,521; while Gran Canaria has 1,654 more infections and 34,912 active ones. Lanzarote adds 309 new cases and 6,651 active; Fuerteventura, with 314 new positives, raises its assets by 5,223; and La Palma registers 450 new cases and 1,747 active ones. La Gomera has 24 and its assets are 177; and El Hierro, with 63 more cases, has 257 assets.
Moratorium
The Ministry of Health has requested the High Court of Justice of the Canary Islands to ratify the extension of the use of the mandatory Covid certificate for alert levels 3 and 4, whose validity expires on January 24. If this moratorium is approved by the TSJC, it would be in force until midnight on February 24, 2022 and the possibility of requesting a new extension would be studied depending on the evolution of the epidemiological situation.
The mandatory use of the Covid certificate for certain establishments and activities came into force on December 25 with an initial validity of one month, and after its follow-up, it has been decided to request this extension due to the evolution of the epidemiological situation in the Islands.
mycertificatecovid.com
Health today opens a mass vaccination point against Covid in Gran Canaria with a capacity for a thousand daily doses. It is the Sports Pavilion of the Southern Cone, attached to the Pedro Hidalgo wrestling arena.
Access in pharmacies
The pharmacy offices of the Canary Islands have issued 16,790 Covid-19 vaccination certificates since these establishments were authorized to issue this document on January 10, following the collaboration agreement with the Official Colleges of Pharmacists of the provinces of Las Palmas and from Santa Cruz de Tenerife. The measure, which makes it easier for people living in the Canary Islands to access this document, relieves the workload of health centers that had been processing the certificates of patients and users who could not access the app or the web authorized by the Canary Health Service for this purpose. | LP/DLP