Four lives that changed for a mobile message | Love Use of Technology in THE COUNTRY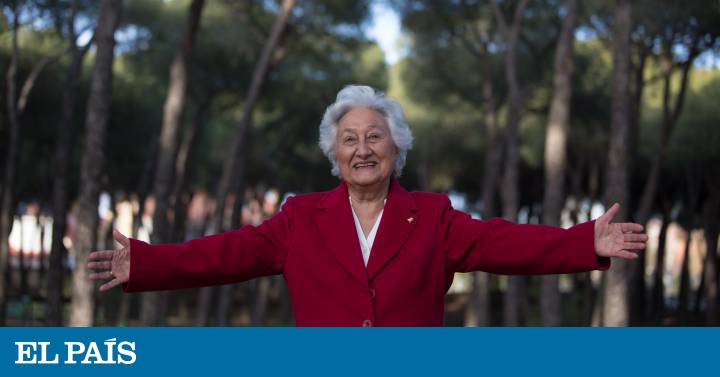 A Whatsapp on the mountain that helped rescue two disoriented young people in the middle of the night and the cold. An SMS that opened the doors to an 82-year-old woman to be an actress. A personal Instagram account that has contributed to placing on the map a remote village of the emptied Spain. There are three true stories that show how much a message sent or received on time has helped change the lives of different people. Anonymous protagonists, like so many others, whom technology has transformed, for good, its existence.
Josa also exists (on Instagram)
With good photos, 'hashtags' and 'stories', Eva Serrano has put in the cyber world the town of Josa: 34 inhabitants who begin to receive tourism thanks to their promotion in networks
They say in Josa that they are the only town in Spain with more museums than bars. Of the first it has three: the Paleontological, one ethnographic and that of the Moto; of the latter has only one that is called, as its poster says, simply Bar. Nestled in the Turolense region of Mining Basins, it is a prototype of the emptied Spain: 34 registered inhabitants, just a dozen in winter, a density of little more of one inhabitant per kmtwo.
In summer they pass 300, although they seem enough more to judge by a diverse cultural program formed by presentation of books, workshops, excursions or conferences and disproportionate to the size of the town. How was it achieved? Thanks to the miracle of Instagram and the commitment of a woman who, before 2014, did not even use the phone as a smartphone: This is Eva Serrano, a 45-year-old man, graphic designer, amateur photographer and hospitality entrepreneur. "Yes, we move a lot. Teruel exists and Josa resists. In a city nobody is essential; in a town, they all are, "he summarizes.
She is proof of how a casual movement can trigger the domino effect. It happened in 2014, "when I was bored on the couch because of a work leave." Then an SMS came to him from a friend of his who knew his hobbies: "Hi Eva, do you know Instagram? It's about photography, it's going to interest you. "
"I used my cell phone little; this friend had to install the application and teach me how to use it, "he says. Soon he reached the expert level, he created a profile for his bar in Zaragoza, the Mantis, organized weekly exhibitions (accumulates tens of thousands of images) and even exhibitions, both monographs and several artists.
There was another passion to add: Josa, his people and that of his paternal family of a lifetime, who goes from Sunday to Tuesday as soon as the cold subsides from April to September. The Instagram profile @josa_teruel is more modest, but adds and converts some virtual visits in person, that's what it is. People who, without even knowing the town, have been encouraged to visit it after seeing those photographs taken with the style that defines that resistance Josos: "Optimism and sensitivity, are better than pessimism to survive."
The inhabitants of Josa have also become their best ambassadors: "Some grandparents have opened an Instagram profile to see the photos or share them on WhatsApp chats with the family. That is what makes me most excited, that such a spontaneous and immediate technology facilitates human warmth. Mission accomplished".
Cuca, the 'megastar' of 82 years thanks to the mobile
Tired of not going to castings and losing papers for not mastering the mobile, this veteran actress decided to take a course. The result: it has managed to be the protagonist of an important advertising spot
Last year, Alejandra Valero, Cuca (Almoguera, Guadalajara, 1937) received one of the happiest news of recent times. An SMS blinked on the screen of your phone. After a complicated casting, he had been selected to star in an important spot advertising (which, for reasons of confidentiality, cannot reveal). It was not the first time that this 82-year-old neighbor who lives in Torrejón de la Calzada (Madrid) participated in an advertisement. After a life of much work and upbringing, Cuca decided three years ago to fulfill one of his great illusions: to devote himself to interpretation. "It was the dream of my life, but my father didn't let me be an actress; at that time it was impossible, "he recalls.
Many decades later, about to turn 80 and thanks to the help of a niece, Cuca signed up for an advertising agency. He was immediately called to count on her in filming. "I received the offers, the scripts, the calls, practically everything by WhatsApp, by messages… But, since I didn't know how to answer them, I had to continually turn to my daughters or my grandchildren," he explains. Until last year he received that sms that widened his access to new technologies and, in some way, changed his life. "I decided it was time for learn for myself how did a smartphone, browse through some pages, learn about applications … ", he says.
Said and done. Cuca has just completed a training course in the use of technological tools for people older than Cybervolunteers Foundation offered through the Expertclick.org program. "The new technologies have helped me a lot: through mobile I keep in touch with casting partners and with the companies that send me the instructions and the scripts. Without knowing how a smartphone I couldn't do any of that, "he admits. Cuca has learned to open and send emails, to attach images, to upload content to the cloud, to use location maps to move around the city … "I don't want to be left behind, I love being always up to date", judgment. And it is clear that he wants to advance in new technologies. "They offer many possibilities that I still don't know and I'm interested in knowing more."
A help whatsapp at 2,400 meters high
Pol Cova and Stamen Miroslavov sent their exact coordinates to firefighters in the middle of the night and snow through the phone. The message saved them
On November 16, 2019, he will remain in the memory of Pol Cova and Stamen Miroslavov, 23 and 29, mountain fans with experience accumulated in demanding crossings, who spent moments of anguish when the night and the cold surprised them more than 2,000 meters The day, clear and sunny, very cold, invited to go out to the mountain. The weather conditions were good and these two friends decided to ascend to a shelter located in the upper part of the Cadí massif, in the Catalan Pre-Pyrenees, at 2,400 meters, and spend the night there. "The route was not complicated. The problem is that, at the time of doing it, we had to follow a path that was not marked and turned much more. They were a few meters more than we did not calculate and that made us accumulate fatigue, "explains Pol.
That unforeseen disoriented the couple. It was not clear to them which path they followed and, although they knew their position at all times through GPS, they ran into paths that ran in different directions and did not appear on the maps. The situation lengthened more than expected and at the end of the climb, when they had almost reached the top, it began to get dark. "We put on the front to move forward, but the temperature kept going down and the snow began to slide a lot. We saw that we were circling without much sense, with fatigue in the legs. We still had three or four kilometers to reach the shelter and decided to call 112, "adds Stamen. The fact of going well equipped, with warm clothes, sleeping bags, food, drinks, crampons and ice axes, a small stove and technical material reassured them. In their backpacks, there were also no missing phones and several rechargeable external batteries – the cold quickly discharges the cell phone's battery – essential elements in its forays into the mountain.
"Fear we don't pass. Yes stress, anxiety. The hardest part was not getting carried away by emotions and knowing how to control nerves. I knew that I didn't want to be there, but trying to keep my mind fresh and free, and thinking about what you have to do was complicated, "admits Pol. And what they did was send the firefighters a Whatsapp with its exact location, just below the highest peak of the Cadí, on an outdoor slope. "We weren't sure if the message had come because the coverage came and went," Stamen adds. Then the firemen contacted them to tell them not to move from there, that they were going to look for them. That call was balsamic. "We calm down a lot," they agree. Two hours later, with the rescue teams already next to them and the scare still in the body, they began the descent of closed night. Pol and Stamen already think about returning to the mountain. His next plans go through the Pyrenees, a journey through the Montseny massif … and return through the Cadí.
. (tagsToTranslate) four (t) life (t) change (t) message (t) mobile (t) world (t) saturate (t) visual impact (t) (t) audio (t) whatsapp (t) image ( t) sms (t) time (t) can (t) assume (t) change (t) radical (t) be (t) clear (t) example



Source link