Foster families claim their role: "They are saved children"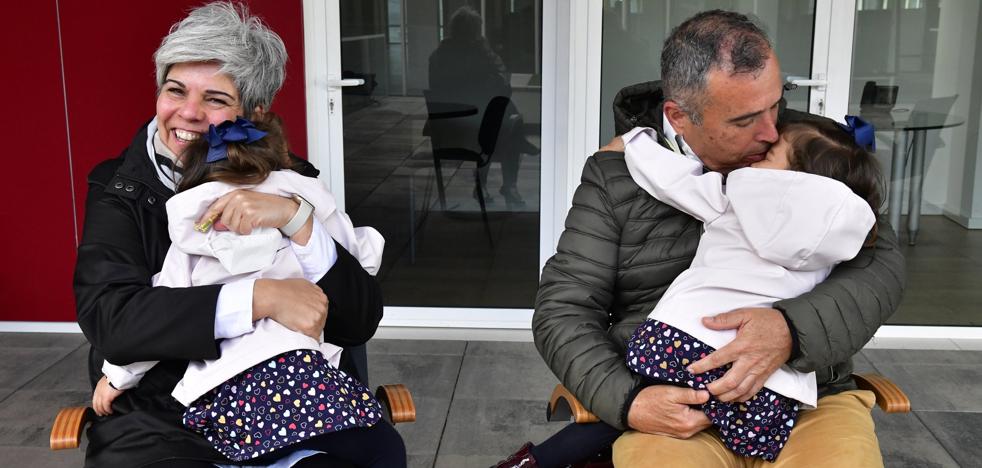 In the Canary Islands, 57.3% of children with measures live in foster care. Childhood has "purged" 15,000 files. The Association of Host Families asks for more support so that the little ones are in homes and not in residences
The
General Directorate for the Protection of Children and the Family of the Government of the Canary Islands is still "refining" the data, but the latest figure they have is that in the archipelago there are
1,755 boys and girls whose guardianship has been withdrawn from their parents. From them
57.3% live in family care, that is, 1,006, and another 749 in residential care.
The law states that it should be a priority for the minors in care to live in foster care, but
In Spain, half of the 35,000 minors in this situation are in residences or supervised flats, according to the Ministry of Social Affairs. "Our figures are verified as of December 2021 and
We can get something out of something, 57.3% of children with protection measures are in foster care and that is a success, "says the Director General of Children, Iratxe Serrano.
Francisco Oliva is the president of the Association of Host Families of the Canary Islands, which 210 "according to the last count". But foster care by the extended family is not counted there: grandparents, uncles and distant relatives who also take care of these minors with measures up to 1006.
«Since 2015 (with the new child protection law) there has always been a commitment to reduce the number of minors in residential care and
increase foster care», he highlights. «In the Canary Islands there are about 1,300 families. There are many grandparents with a foster family contract », he explains.
From the association Oliva considers that in the last two years things have changed a lot, but believes that more needs to be done.
"A child in foster care is a saved child," he says.
He and his wife, Carmen Galván, have welcomed 23 boys and girls into their home. The first time it was a "coincidence" in a barbecue they asked him to take care of a mother and her child. The girl stayed with them for 10 months. From there -12 years ago- they signed up for the foster program.
The family must take a course, including the minors who live with them in case they have children. In their case they had two daughters aged 14 and 16. Today one of them is also a foster family.
But not only goodwill and solidarity are inherited.
«We have had grandchildren of parents who were in a center and their grandparents too. They don't know what a foster family is. They believe that if they send their children to the center they will leave. We have failed as a society. We failed the grandparents, and the parents. We have to help the children," laments Oliva.
Right now
two twin sisters live with them, Maria and Ana (fictitious names). They will soon be four years old and have been with them for 12 months. For little Carmen and Francisco they are now their references. "When they arrived they didn't even know what each one was called," says Carmen.
The couple is what is called an "emergency" foster family. They can notify you any day of the week.
"For them this is a second chance," says Carmenwhich explains that the girls had to go to several medical consultations that the biological family did not take them to.
"The foster families give them security, attachment, it's not just taking them to school or to the doctor, it's everything"Francis says.
A biological child and a foster child "have nothing to do with each other. Your son is forever, you are sure that you will have time to do things.
With them - and look at Maria and Ana - time is limited. You have to love them in a concentrated way».
Host families also have their loving "reward". "They teach me a lot about what life is," says Carmen.
The couple remains in contact with 20 of the 21 children they have previously fostered. "Now it's easier with Facebook," says Francisco.
«They send us the notes, or the photos of carnivals... We have even gone to other islands to see them»they report.
Foster care can end for a variety of reasons, including
the adoption of the minor or that he return to his biological family. This is the most difficult process because the foster family says goodbye to the child and they, the minors, must go to another place.
"After many fights, we now have more time to connect", 21 days. Before "there were three," they explain. Now the boys and girls can "get to know their new environment, go little by little".
Before María and Ana arrived, they "integrated a baby" that had been with them for a long time. "We went to the adoptive family's house so that he understood that we were with him," says Francisco. "It was a wonderful outing," says Carmen.
«
Goodbye must be handled. You have to normalize the output., not dramatize », they abound. Soon, in addition, Carmen will be the godmother of another child that she took in and who has been adopted. "There are those who prefer not to welcome because the farewell is hard if you don't chew it well," they insist.
It is also not easy to deal with bureaucratic problems. The host family is the one in charge of registering the children, signing them up at the health center, at school...
Francisco Oliva if he regrets that the administration does not facilitate these procedures as it does for the NGOs that run the centers. Organizations that also receive more money per minor than families to whom they give 20 euros per day if there is one minor, 30 per day if there are two or 40 if there are three.
It is not the only thing that should be checked.
For two years Infancia has been analyzing the files it had because sometimes cases were not closed. "We had people 25 and 30 years old who were listed as people at risk", admits Iratxe Serrano. «An MS-DOS program was used, from 1997. As of April, a new application will be used. We will be able to have a unique story or make block resolutions when there are siblings, "explains the Director of Children. "In 2022 we are entering the 21st century," she adds.