"Forties" at the wheel of the Church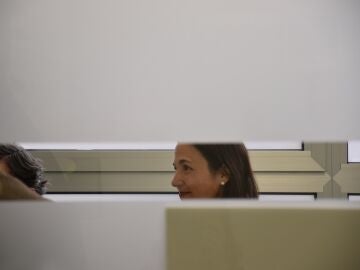 "We do not want to maintain ourselves to survive." With these words, which sound like much more than that pandemic "I will resist", the provincial superior of the Dominicans in Spain, Jesús Díaz Sariego, closed this Thursday the annual Plenary Assembly of the Spanish Conference of Religious (Confer) And he did so as president of this platform that represents 33,000 consecrated men -25,000 women-, an ecclesial network that brings together the endless variety of charisms and apostolates: from schools to hospitals, passing through residences, shelters , cloistered convents... Punished by secularization and demographic aging -an average age of 73 years-, translates into a lack of vocations, closure of works... Hence Díaz Sariego's reflection aloud before those responsible, both the Marists and the Salesians, were not a toast to the sun before a scenario that could invite them to throw in the towel. "We must avoid this corporate uncertainty, without forgetting that 'hope touches the ground we walk on' », explained the Dominican, within the restructuring process they are going through to redefine their mission.
Far from letting themselves be entangled by defeatism, a new generation of "40-year-olds" provincials grab the wheel with courage. But no acceleration or braking. "There will be those who accuse me of naivety, but, trusting in the Lord, my goal is not to reach a number of new vocations, rather it is the fruit that can come when we open a path of discernment and purity of intention," he explains. Betty Rivera, territorial director of the Consecrated Women of Regnum Christi in Spain. Convinced that she does not manage a company, she does not have as a priority to offer at the end of her "term" an income statement that multiplies the students of her centers or the novices. "Of course, being sustainable is a concern and we have strategic plans like other entities, but man does not live on bread alone, but also on bread," she clarifies. And she goes further. «We are lost if we fall into the self-referentiality of self-preservation. We have to focus on what the Lord calls us to be, keep our eyes on Him and on the mission, on giving life to the charism and not so much to the institution, which requires constantly asking ourselves what type of apostolate and presences we had before today they are not being a sign of life". From there, she is convinced, for example, that vocations ministry involves "seeking that young people discover the meaning of their lives and the Lord as a companion on the journey who sends them to be missionary disciples." «Perhaps he does not send as many vocations as we would like. It would be marvelous to have 30 new consecrated women, but if there are three young women who take the step, let us appreciate it", drops this 45-year-old Mexican, who has been leading the 82 women of this ecclesial reality in our country for four years -500 in the entire planet – who live in chastity, poverty and obedience.
"The concept of leadership in the Church has evolved and participation and co-responsibility are being encouraged. Authority is a mediation, one of several. I do not make decisions alone in the chapel, but, in addition to discerning with the Lord, I listen to reality, to the consecrated woman affected, to the community, to other branches of Regnum Christi...", she explains about a family that includes legionaries from Christ, consecrated laymen and laymen. Or what amounts to the same thing, the "order and command" of the superior general or the abbess has been left behind. «We are trained for leadership and we carry out 360 evaluations on different competencies: the ability to motivate a mission, make change possible, spread our way of life, invigorate fraternal life...».
«Of course I think that we are few and that this may end, the reality in Spain is precarious and tending to disappear. But at the same time I live it from the Gospel, Jesus who invites us to sow without expecting anything in return. Until the Lord gives us life, we must sow," explains Alberto Núñez, provincial vicar for Spain of the Missionary Oblates of Mary Immaculate. At only 31 years old, he was already appointed provincial councilor and now, at 42, he coordinates some thirty religious out of 3,500 around the world: "Here we have always been few because of our missionary imprint." He is the third youngest consecrated in his region, which allows you to get an idea of ​​the average age of his brothers. «They have always welcomed me very well, with mutual recognition. They have not questioned me about my age.
Regarding the lack of candidates for the future, he points out that "we have had young people who have considered it, but they have seen that it is not their place." «Sometimes it generates despair, but I do not work so that there are Oblates in Spain, but so that the Gospel reaches everyone in Spain. In our case, after Vatican II we spent 20 years without a single vocation and then there was a flowering. Now and here we live another winter and spring can be seen in other latitudes», he explains, with a universal conscience:« When in the General Chapter, the Europeans and North Americans spoke of crises, the African and Asian Oblates looked at us strangely. There you perceive that you form a larger and more diverse body and that leads you to grow in the sense of communion and mission".