Fortes, after his interview with Espinosa de los Monteros on TVE: "Insults portray the one who pronounces them"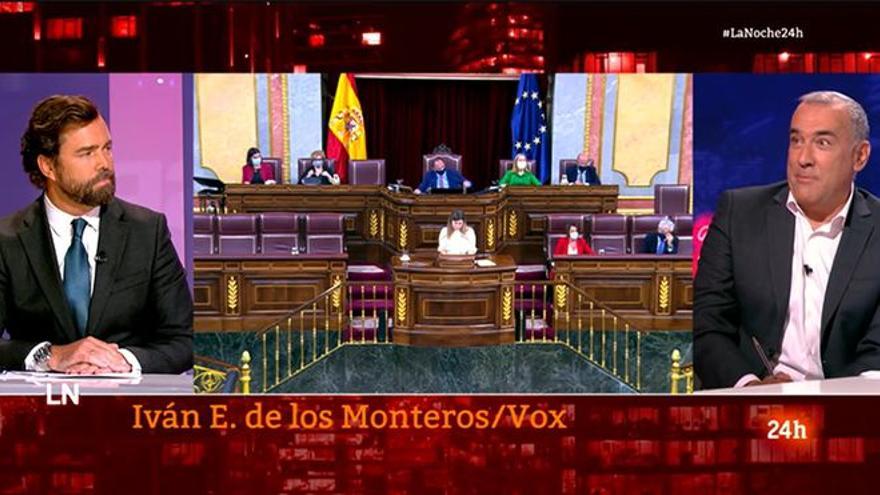 The spokesperson for Vox in Congress, Ivan Espinosa de los Monteros, visited the TVE studios in Torrespaña this Wednesday to give an interview to Xabier Fortes on 'The night in 24 hours'. The journalist's first question was related to the controversy of José María Sánchez, a deputy for the far-right party who called the socialist Laura Berja a "witch."
"Is this admissible? Are the forms being lost?" Fortes began by asking without waiting for the disconcerting response of his interviewee: "We got off to a good start, Xabier, in this … dung heap. What a parasite! A parasite!". "What? Are you calling me?" Asked the presenter without hiding his astonishment.
"How do you say it like that …"Fortes added while waiting for the explanation from Espinosa de los Monteros, who reacted in this way to defend the attack of his party partner: "Does it offend a little if I call you a parasite or say that this is a dung heap? Criminal, murderer, parasite? , fascist, racist, xenophobic, posh, bad person … These are things that we have had to hear in different parliaments ".
"It seems that when those things are said to Vox they are not important, they are not talked about, it is irrelevant. Journalists who constantly ask us about this issue demonstrate double standards", launched the politician on public television:" Vox is required more because we are better. "
"You have called the government supporters filoterrorists, the leader of your formation has accused the president of causing 100,000 deaths during the pandemic. They have literally called him a gravedigger. They call you fascists. They are all thick in outline, but they fall within from the field of politics. What is not a political qualifier is 'witch'. It is an insulting term that is dedicated to a woman ", emphasized for his part Fortes.
This morning, after his interview with Espinosa de los Monteros, the presenter of 'La noche en 24 horas' shared a tweet in which he made several notes: "RTVE is obliged by law to interview all parties based on their parliamentary representation". "The insults in an interview only portray the one who pronounces them, and then those who cheer him," he writes. Please see the entire interview without editing by ultrafans ", ends.