Foreigners deny that there are "decent" reception centers on the islands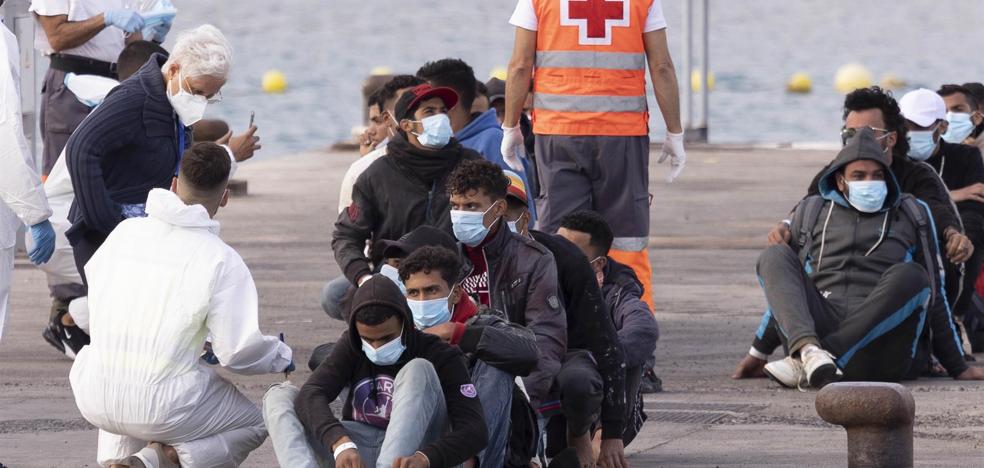 The arrival of boats to the archipelago skyrockets in the last week
The Immigration Prosecutor of the province of Las Palmas, María Teseida García, has been especially critical of the Canarian reception system this Thursday during her speech at the immigration study commission in the Parliament of the Canary Islands. She assures that the archipelago does not have "decent" centers and that
the asylum law is used in a "torticera" way» and the courts collapse.
It is precisely in this area where there is special controversy both on the part of professionals and of the different organizations that have denounced, among other matters, lack of information and legal assistance to those detained or traffic jams in administrative procedures.
The prosecutor influenced the tests to determine the age of the minors, which in her opinion "makes water everywhere" and affirmed that the rights are violated. According to the latest data from the Ministry of Social Rights,
40% of the almost 2,500 minors protected by the Autonomous Community even
The decree is still pending.
This bottleneck prevents schooling and the regulation of residence and work permits. Some who reach the limit of 17 years, in addition, are doomed to a limbo once the majority is completed due to delays of up to a year to obtain the document.
Pressure

In turn, the pressure in the centers for minors prevents the Directorate General for Child Protection from guaranteeing the rights of all those under guardianship, as the head of the area, Iratxe Serrano, has warned on several occasions. In this regard, the Government continues
waiting to agree on a co-responsible distribution law between the rest of the territory, while the Immigration Prosecutor, for her part, has also referred to the fact that «there is no impediment to its distribution».
Teseida García, who has been in Immigration since 2003, has experienced the two most recent crises of cayucos, and has recalled that the action of the Public Prosecutor "is and will always be" that of
ensure the rights of people and of society, and not to defend a State migration policy but to comply with the law.
The prosecutor divided her speech to speak for ten minutes about reception, asylum and unaccompanied minors, and highlighted that the Public Prosecutor's Office
was the first authority to denouncein September 2020, that the situation of the immigrants who were at the Arguineguín dock in Gran Canaria was not adequate.
Upturn

During the last week, the number of people who have arrived on the islands has skyrocketed. After a streak of ten days without boats, since Friday
this newspaper has counted 834which already represents a notable increase compared to the April figures.
In recent statements to journalists, the Government delegate, Anselmo Pestana, has assured that this increase is due to a "window of good weather", but he trusts that the recovery of diplomatic relations with Morocco will decrease arrivals in the coming months. .