Forecasts suggest that 'Theta' will touch the Canary Islands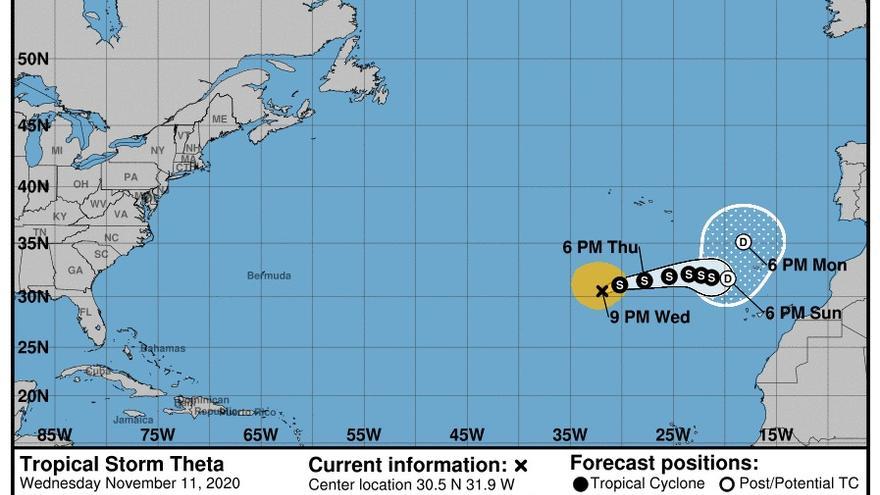 Tropical storm 'Theta' It continues with a firm step its advance towards Madeira, although the latest projections suggest that During the weekend it could change its direction towards the Canary Islands, where next Sunday it could leave some rain and strong winds on the tops of the more mountainous islands, although it has already become a tropical depression. What it will bring with it will be an increase in temperatures starting tomorrow, with thermometers that will be around 30 degrees.
The United States National Hurricane Center points out in its latest forecast tonight that 'Theta' advances from the center of the Atlantic towards Madeira with sustained winds of 99 kilometers per hour and at a speed of 20 kilometers every hour. The prediction indicates that the storm will continue heading east, although during its journey it will lose strength.
Forecasts indicate a slight change of course towards the Canary Islands from this weekend, where it could arrive already converted into a tropical depression with a notable drop in winds, below 70 kilometers per hour, and some rainfall, especially in the westernmost islands. The State Meteorological Agency (Aemet) does not rule out "very strong" winds as of Saturday in the upper area of ​​the pretty island and Tenerife.
'Theta' will indeed bring an increase in maximum temperatures, which from tomorrow will touch 30 degrees in coastal areas.