for, against and for in just 5 years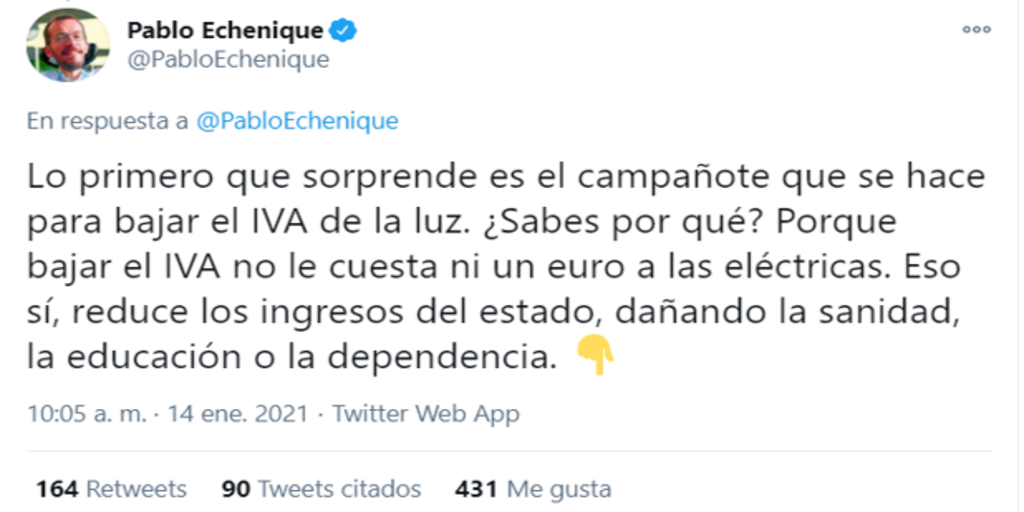 Updated:
Keep

The spokesperson for United We Can in Congress, Pablo Echenique, it is not clear what position to take regarding the VAT reduction on electricity. In 2016 he defended, during the Government of Mariano Rajoy, the reduction of this tax as a solution to the increase in the price of electricity. This was stated on his Twitter account with a message that he was in charge of deleting some time ago: "The Government could end the problem of rising electricity by lowering VAT, but they are not interested because they are on the side of the powerful" .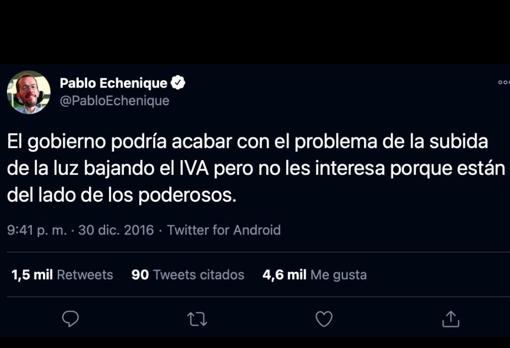 However, five years later and coinciding with the presence of the purple formation in the coalition government, Echenique changed her mind on the lowering of VAT on electricity. The spokesman for United We Can declared that he was completely against this measure and called the climate of opinion favorable to the reduction of said tax a "campañote". Echenique alleged then, only a few months ago, that this would decrease the state's income, "damaging health, education or dependency." It was the meJanuary s of this year 2021. Like the message dated 2016, the spokesperson for Podemos has also made this message disappear from his profile.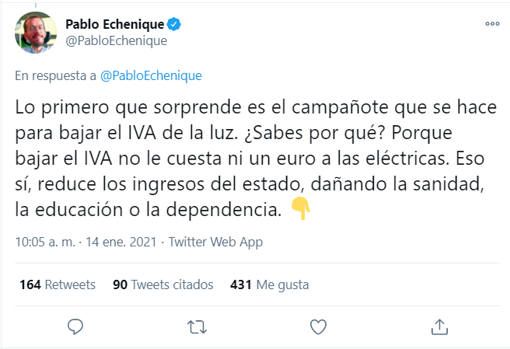 It is surprising that just five months later, Echenique qualified as «great news»The reduction of VAT on electricity from 21% to 10% that the Government will make effective this Thursday in the Councils of Ministers. This has been stated in his Twitter account, attributing the credit for this measure to his own party.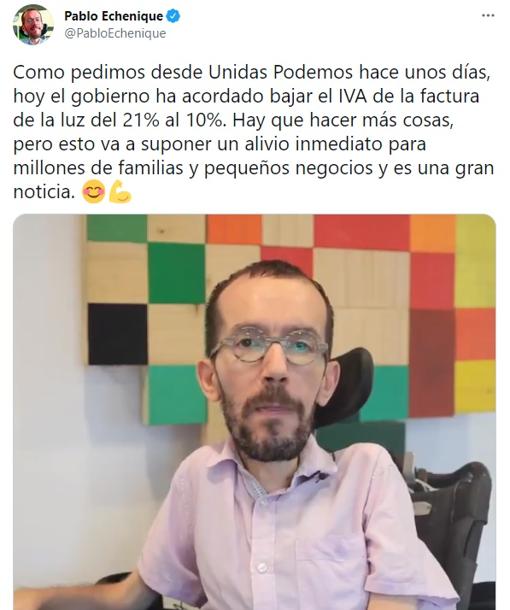 The Government has decided to lower the electricity bill at a time when the price of electricity is at all-time highs. The Ministry for the Ecological Transition and Demographic Challenge and the Ministry of Finance will take three "urgent" measures to the Council of Ministers on Thursday to "reduce in the short term and significantly the electricity bill of consumers."
On the one hand, will lower VAT on electricity from 21% to 10% until the end of the year and for all consumers with contracted power up to 10 kilowatts (kW). This measure will only be applied while the average monthly price of the wholesale electricity market is above 45 euros per MWh, however, it will apply to all severe vulnerable consumers until the end of the year "regardless of their contracted power and of the market price ». The third measure is the suspension of the 7% tax to the production of electrical energy during the third quarter of this year, which was created during the Government of Mariano Rajoy.