Folding mobiles: trend with future or passing fashion? | Innovation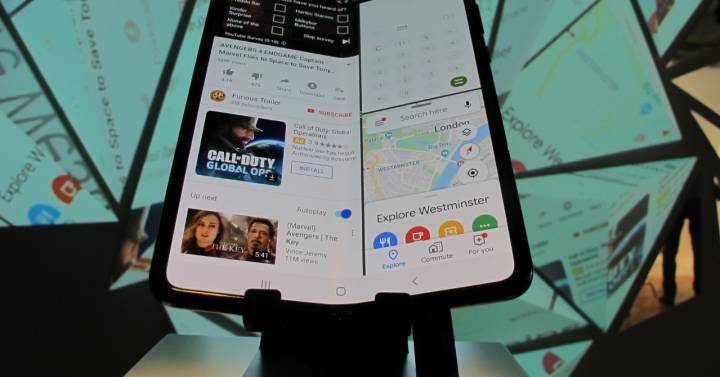 In February 2019 Samsung presented in San Francisco its first folding mobile, the Galaxy Fold. Since then, the main manufacturers participate in a constant race to launch smartphones that bend. Huawei started selling the Mate X in October last year, also equipped with 5G connectivity. A month later, Motorola introduced a new version of the legendary Razr, without physical keys and with a folding screen. While in 2020 Samsung and Huawei have introduced new versions of their folding, companies such as Xiaomi, Oppo or TCL also work in terminals of this type. Everything indicates that this trend will continue in the coming years. But are users ready for mobile phones? How much are you willing to pay for them? Are these terminals a fad or are they here to stay?
Manufacturers have been experimenting with new designs for years to try to meet the demands of their customers. Phones with larger screens. More durable batteries. Cameras that take sharper photos - both day and night. Powerful processors to run apps with more speed. In contrast, most users have not asked for a phone that can be opened and closed again when it is ready to be stored even in a pocket.
This is precisely the main utility of these smartphones. Some such as the Fold or the Mate X also intend to improve the user experience when viewing multimedia content and allow you to use up to three applications simultaneously. It is possible, for example, to watch a video on YouTube, while searching for information about it on Google and sharing impressions with a friend on WhatsApp. All on the same screen.
José García Fanjul, dean of the Official College of Computer Engineers of the Principality of Asturias, describes these terminals as "a mixture between a phone and a tablet": "So we can carry both the tablet that we usually use at home and mobile phones We took to the street. Imagine you are on a plane and you want to watch a movie or you are a commercial and you want to demonstrate to a customer, it can be very useful, "explains García, who is also secretary of the Council of Computer Engineering Colleges from Spain and professor at the University of Oviedo.
These smartphones with large screens pose a challenge for application developers, who have to adapt them so that they look correctly in the terminal. "Right now, the usefulness of these mobiles is debatable," says César Pablo Córcoles Briongos, professor of Computer Science, Multimedia and Telecommunications studies at the Open University of Catalonia (UOC). For now, "on Android there are very few apps that work well on a tablet."
Screen failures
Today, Córcoles, also director of the UOC web application development master, would not buy a mobile that doubles. Unlike much of the innovations of the past, the few folding presented so far have experienced significant problems. For example, the Galaxy Fold. Samsung intended to start selling the terminal on April 26, 2019. But its intentions were truncated by lending several test devices to American journalists and tech-specialized youtubers. The phones presented different faults on the screen with just two days of use. While one of the terminals had a small lump in the fold of the screen, another began to turn off and on constantly. The South Korean brand was forced to delay the sale of the Fold until September.
For Córcoles, these durability problems are due to the fact that "making a flexible screen is a marvel of engineering." And manufacturers are still taking their first steps. "In other types of industries, for example in cars, if they show you a prototype of a vehicle, you know that it may only be 15% functional. But giving you permission to take that car to market is much harder than getting it to launch a mobile, "he says.
It also lets you want the battery and durability of the hinge of the new Motorola Razr, according to the first reviews of professionals. In a test performed by the digital publication specialized in Cnet technology, the terminal hinge that marked an entire generation broke after only 27,000 folds. Motorola said on Twitter that the test did not reflect the real durability of the mobile, since it had been performed with a machine that exerted undue stress on the hinge.
All these contingencies have questioned whether these smartphones They are prepared to reach the market as their price. "Motorola's superb folding Razr does not deliver the expected performance of a $ 1,500 phone," says the PCMag Technology portal.
High prices
One of the biggest drawbacks of these phones is precisely what they cost. In general, the price of mobile phones has been rising gradually in recent years. Both folding screens and 5G support and improvements in cameras have led manufacturers to increase the cost of their terminals. In Spain, the Motorola Razr costs 1,599 euros. While the Z Flip is priced at 1,500 euros, most of smartphones They represent a significantly higher outlay. The Samsung Galaxy Fold can be obtained for 2,020 euros. The Mate X of Huawei, for 2,299 euros. And the Mate Xs, for 2,499 euros.
All this taking into account that only 3% of users are willing to pay more than 1,000 dollars - about 920 euros - for a mobile, according to a survey published in December by the American newspaper USA Today. In fact, eight out of 10 users would not spend more than 750 dollars - about 690 euros - in a smartphone.
But, if these mobiles exist and go out to the market is it because there are those who buy them? Córcoles explains that the great mobile software developers acquire some terminals. There are also collectors interested in selling them again in a few years or users with high purchasing power and interest in technology that seeks to highlight: "A good part of these buyers are interested in attracting attention. It's the same as when you buy a luxury brand bag and show it. With these mobiles, you just have to make the gesture of opening them so that everyone around you is fixed ".
Garcia names these clients: Early adopters People willing to try all the technological news at any cost. It is expected that in a few years these terminals will become cheaper and have greater durability. "When Steve Jobs introduced the first iPhone, the first units were very expensive. Over time, more people could access these technologies because prices fell. With the folding, the same can happen ", adds the computer engineer.
It is still too early to know if the folding phones will succeed. Córcoles stresses that "if they finally succeed, it is because they do not involve a huge investment for brands." "Manufacturers may finally find their niche market. But in a few years, these mobiles are not going to replace the ones we carry today, "he concludes.
Folding tablets or shell phones: the designs of foldable 'smartphones'
The new folding phones have a hinge that allows them to fold so they can be more easily stored in a pocket. Some like the Samsung Galaxy Fold or the Huawei Mate X have a large screen that displays reminiscent of a tablet. The main screen of the 7.3-inch Fold folds inward like a book. The terminal also has an external screen of 4.6 inches, which can be useful to send messages, answer a call, tweet, make a quick inquiry on the Internet or play a song on Spotify.
On the contrary, his rival has a single flexible OLED panel, which bends outwards. The folded Mate X has a 6.6-inch front screen and a 6.3-inch rear. When opened, both screens are unified into one that reaches 8 inches. Huawei has maintained this system and the same proportions in the new Mate Xs. However, he claims to have improved the flexible screen and its mechanisms to achieve greater durability.
Other terminals such as the Motorola Razr or the Z Flip adopt the classic shell format. Open have a standard size touch screen. The Razr's measures 6.2 inches. The Z flip, 6.7 inches. Once folded, it is possible to consult information on a small external screen. Motorola, which developed more than 20 prototypes to reach the final design of the Razr, allows in this 2.7-inch screen to read notifications, make calls, answer messages, play music, use the Google assistant or take selfies. The external display of the Z Flip is smaller - 1.1 inches - and is used to display the time, battery level of the mobile or date.