Florentino bleeds from Mbappé's wound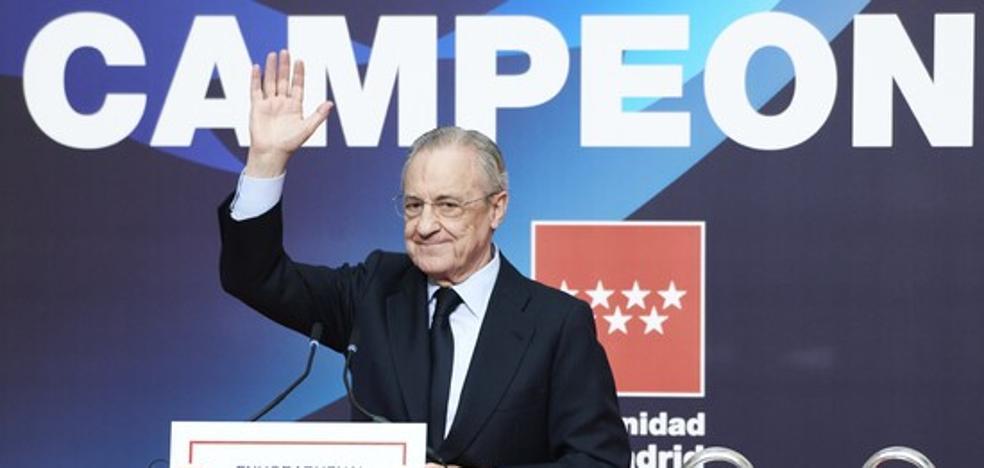 The president of Real Madrid considers that political pressure "confused" the French star and made him "change his behavior"
Florentino Pérez chose El Chiringuito last night to take stock of a historic course for Real Madrid, with a League-Champions double, and explain why the signing of Kylian Mbappé was not consummated in the end, whom he accused of having even submitted to political pressure and not to be now the same guy that the white president reached an agreement in principle to recruit as galactic. The head of the white club revealed that two weeks before making a decision and opting for his continuity at PSG, Mbappé "changed his behavior." "The pressure affected him," Florentino assured before making it clear that "no player is above Real Madrid."
«The madridistas have been a little disappointed, but the Mbappé who was going to come is not the one from the end; if so, it is better that he stays at PSG. The one I met was the one from the dream. Now I no longer dream of seeing him in white because this Mbappé is not my Mbappé. You have been confused. I wish him the best there, I have nothing against him. I believed the dream, but no player throughout the history of Real Madrid has been above the club. We will not make any exceptions", stressed Florentino Pérez.
Macron's call

"He didn't betray me. Mbappé conveyed to everyone his desire to play for Real Madrid. We wanted to do it in August and they didn't let him. They did not accept the offer because they did not want to sell it. He informed the club that he wanted to leave, but they had to wait a year. He always stated that his dream was to come, but fifteen days before he changed the situation due to the political and economic pressure he had. He had a block and came out on the easier side », underlined Pérez.
"An important detail was when he did not want to do a sponsorship act with his teammates. "Football is a collective sport, everyone is on equal terms, there is no one different. He had been offered to be team leader and club management. I saw that it was not the Mbappé that he wanted to bring. He has had to change his dream », remarked the top merengue leader.
Florentino confirmed that these pressures on Mbappé came even from the highest French and Qatari political authorities. «He is very young and the pressure affects him more. The President of the Republic called him to ask him not to leave. It is not normal. It doesn't make any sense because there are more clubs there. He will want it to prosper, but Zidane and Benzema have done it at Real Madrid and they are big enough for the president to be proud of. The mayor of Paris called him and they offered him crazy things in Qatar. That made him block himself and influenced him a lot, "emphasized the boss of the Concha Espina club.
The mother, embarrassed

"I grew fond of him, but the pressure made the circumstances change. At 23, it is not easy to have the necessary peace of mind. Her mother wanted him to come to Real Madrid because it was her childhood dream. They have confessed. They transmit to us that she has been embarrassed, everything was on track and the circumstances changed. She made another decision and you have to respect that. He has not come because he has not wanted to », settled the president.
The president recognized that there was no penalty clause that would have allowed Real Madrid to receive an economic amount as a penalty for the sudden change of opinion of the Frenchman. "It cannot be done," justified Florentino Pérez. "There is a rule and you have to go to the club to report that you are in negotiation with another club. It would have been a huge disturbance to say that he was talking to Real Madrid. The normal thing was to wait for the end of the season. It would have been an added pressure and in order not to harm Mbappé it was not done », he clarified.
He denied that the frustrated negotiation with Mbappé also harmed the possible arrival of Haaland, City's star signing. "It had nothing to do with it. We have the best striker in the world, who is Benzema, and we were not going to bring another to sit on the bench." Finally, the president of Real Madrid also assured that the Super League project is still alive, although it will depend on what happens in court.