Floors with a value of more than one million grow 50% since 2017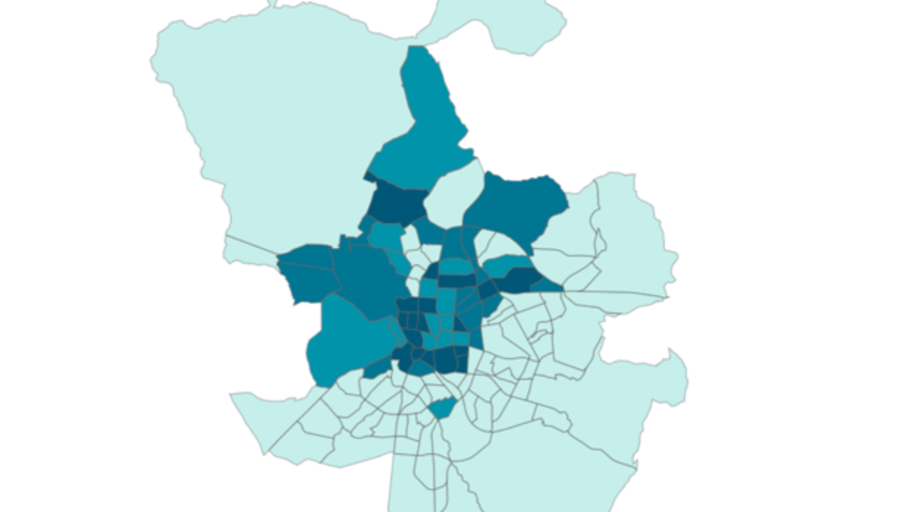 MadridUpdated:
The recovery that the real estate market has experienced in recent years has not been uniform. The large capitals, with high demand and scarce new supply, have played a leading role in price rally that contrasts with the more moderate upturns of other geographical areas or the stock of new housing of difficult absorption that still remains pending after the hangover of the real estate bubble.
The trend is exemplified by a significant figure. According to the data of a study of precioviviendas.com, in our country there are already more than 58,408 apartments with a value greater than one million euros, 50% more than there were at the end of 2017, when they added a total of 38,926. Predictably, most of these "millionaire flats" concentrate on Madrid (31,196) and Barcelona (19,990), figures that represent a significant increase compared to the more than 20,000 that were in the capital in 2017 and almost 15,000 in the Ciudad Condal.
This platform uses big data technology to determine the value of homes based on their cadastral characteristics, a calculation system that is endorsed by the Department of Statistics and Operations Research of the Mathematics Faculty of the Complutense University.
The study, which collects data from all of Spain except the Basque Country, Navarre, Ceuta and Melilla, also certifies that there is life for the luxury market beyond the two large cities. More than 7,000 "millionaire" flats they are located in the real estate parks of the other thirty-eight Spanish cities analyzed, compared to the 4,000 that were a year and a half ago. Palma de Mallorca, with 1,929 homes, occupies the third place on the podium, followed by Marbella (1,336) and Valencia (1,266).
From Madrid to the sky
But, undoubtedly, Madrid is the absolute protagonist of the luxury market hoarding more than 53% of the national total. By districts, Salamanca (8,809), Chamberí (5,713) and Chamartín (5,542) are confirmed as the "prime zones" par excellence. If the different neighborhoods are analyzed, Recoletos (3.945), Castellana (3.100) and Almagro (3.009) are the indisputable references. El Viso (2,412), New Spain (1,826), Justicia (1,667), Argüelles (1,174), Cuatro Caminos (1,101) and Goya (1,018) also surpass 1,000 million homes. Recoletos monopolizes five houses in the « top ten of the most expensive in Madrid », including the first three. The most expensive, a house of 1,295 square meters, is valued nothing less than 8,139,075 euros.
The road that brings together a greater number of millionaire flats is the Castellana (1.132), followed remotely by Velázquez (937), Lagasca (690), Núñez de Balboa (644) and Prince of Vergara (631).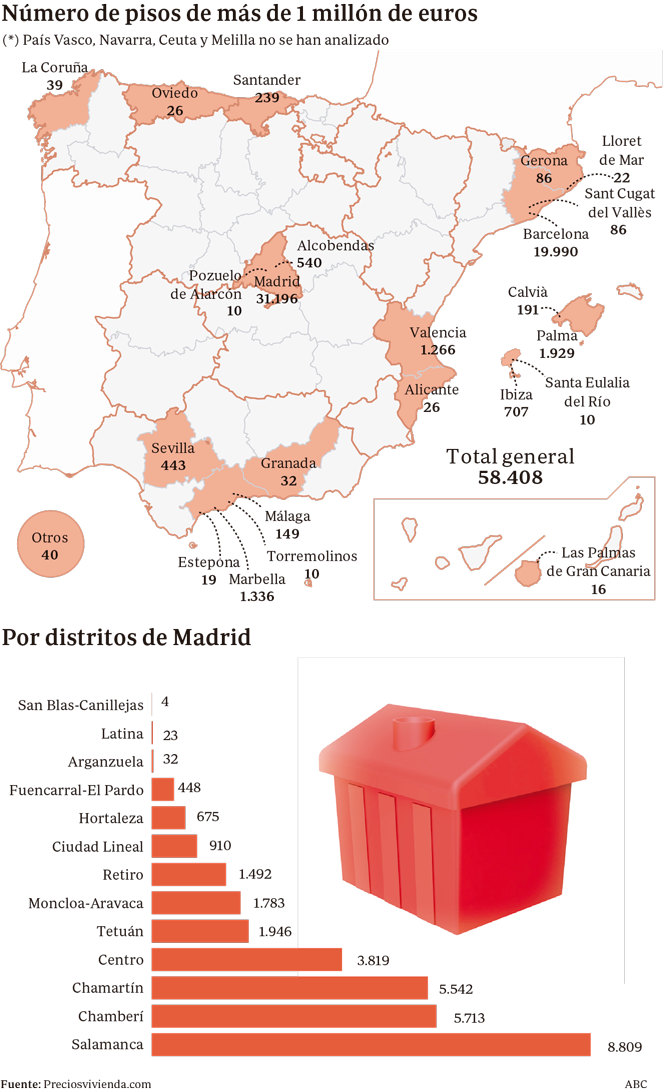 . (tagsToTranslate) floors (t) value (t) million



Source link