Five squads in search of two very clear places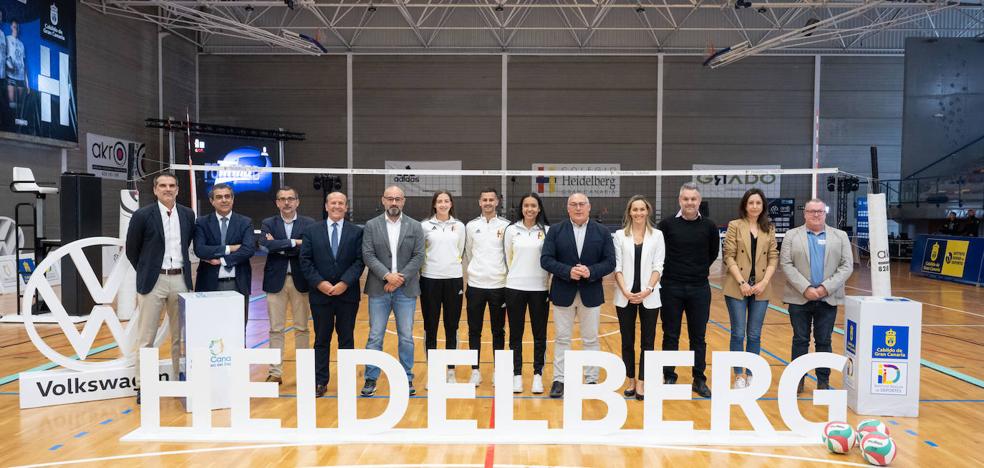 The Heidelberg Volkswagen team from Gran Canaria aspires to achieve promotion to the Iberdrola League
Today will start the action of the
Final Phase of the Women's Super League 2which is being held in the Miguel Solaesa Pavilion and in which the local team, the Heidelberg Vollkwagen, will seek promotion to the Iberdrola League, the highest category of national volleyball, with the permission of their five rivals, Madrid Chamberí, Cide Palma, Leleman Valencia and the Canarian teams CV Aguere and JAV Olímpico, the latter team that cannot be promoted as they already have a team in the Iberdrola League.
The starting signal for this interesting final phase took place yesterday with the official presentation of the event, which was attended by Manuel López, General Director of Sports of the Government of the Canary Islands; Adany Romero, councilor of Las Palmas de Gran Canaria; Miguel Ángel Montenegro, director of the Heidelberg School; Magüi Melián, CEO of Domingo Alonso Importer; Néstor García, vice president of CD Heidelberg and Roberto Melián, president of the Canarian Volleyball Federation.
Lola Hernández, Asly Antivero and Santi Guerra, captains and coach, respectively, of the collegiate team were also at the event.
The latter commented that the "team is already looking forward to the start of the competition."
«We arrived at a good moment, in form, but without a doubt it will be a very tough phase due to the high level of all the teams. We hope to enjoy it to the fullest and that we can be as high up as possible", concluded Santi Guerra.
CD Heidelberg Volkswagen will be able to secure a direct ticket to the semi-finals on Saturday afternoon by winning both of their matches today. However, if he won only one of them, he would have to wait until Saturday morning after the match between Madrid and Cide to find out if he qualifies; and would be eliminated if he failed to prevail in any of his matches.