Five black bets from small publishers | Elementary Blog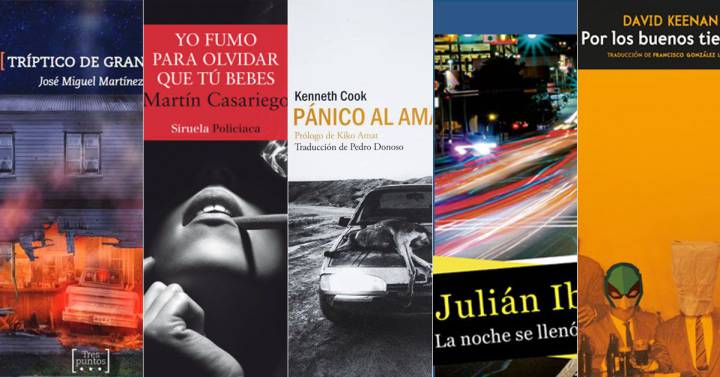 It is always difficult to read even a portion of what is published in the genre, but I have been trying for some time to separate some books from small publishers so that they do not go unfairly unnoticed. Sometimes I get it, I read them and I can write, and others it is impossible and the desire is nothing.
We go with the selection of this occasion, which has several noteworthy novels.
Panic at dawn, Kenneth Cook, (Sajalín, translation by Pedro Donoso). "Panic at dawn, a dark 1961 novel set in the vast wasteland of the Australian Outblack, traversed by clumsy kangaroos, drunken policemen and violent locals, not to mention a reprehensible protagonist, begins in the best possible way: by standing out of the ordinary and the background how. But it's not just about that, as the reader will see shortly, "says Kiko Amat in the brilliant prologue to this edition of an Australian classic. Isn't it a crime novel? Maybe not. And a policeman? Surely not, but Grant, that protagonist trapped in nowhere, quickly encounters an armored liver and infinite thirst cop before landing at an illegal gambling den or joining poachers on a continuous drunken hunt for something to do. make sense of it all. An exploration of the dark and more irrational side of the human being that does not leave indifferent.
For the bad times, David Keenan (Sixth Floor translation by Francisco González). Another novel that travels comfortably on the border of the genre. The year in which it was published in Spanish Do not say anything, by Patrick Radden Keefe (Reservoir Books) —a brutal essay on Northern Ireland, the IRA, the United Kingdom, revenge, violence and silence—, also comes this crushing fiction in which through four friends who enlist In the Provisional IRA we observe the worst side of the conflict, that of a mafia organization that blackmails, extorts and is consumed in internal divisions. But Sammy, Tommy, Barney and Patrick do not stop being young, they do not stop believing in friendship, they do not stop living everything as a kind of adventure, which places the novel in another sphere, the street, the humor, the music and neighborhood violence. A jewel.
The night was filled with sirens, Julián Ibáñez (Notebooks of the labyrinth). Praise for Ibáñez's writing, the world he created around Bellón, that born loser, has long been exhausted. In a genre with so much photocopied scheme, Ibáñez's work has its own place, his misery has a particular color. The "so and so" who populate his world are ordinary, neighborhood people, smart policemen, violent guys, office workers who "seem to be waiting for sandwich time to commit suicide." All are described without frills. Bellón is not going to like any fan of the politically correct. He is a hustler who lives on what he can, uses violence if necessary, has a macho language and an attitude towards women that is the opposite of the new masculinity and the same thing is involved with a police, who watches prostitutes exploited in their gambling den. All told with a first person difficult to forget.
In this twelfth installment of his adventures, he comes across a briefcase loaded with enough money to fix his life. But a loser who has never had more than the daily ticket with which to "put something on the plate", this is a problem. I will not tell you more. The plots matter little in Bellón's novels, it is the environment, the character, the misery, some filth, which makes them unique.
[Tríptico de Granola] , Jose Miguel Martinez (Three points). Many times I receive books from publishers that I did not even know about. Why deny it. Sometimes they are very pleasant surprises like this [Tríptico de Granola] Thus, with the brackets, which tells the story of Gordo Granola from its ancestors. Divided into three parts that could function as three stand-alone novels, the book is based on notes collected through a series of interviews by a policeman, Gustavo Bernales, who is in a wheelchair from a shot by Granola. In the first, Martínez offers us a calm genealogy of the Granola that sounds like the Sacco de Camilleri, not so much in the character of the families but in the intention of reeling off crimes and historical troubles to find out where we are. The second part, The eight bullets, are eight semblances of Granola from eight points of view. There we see him in the eyes of others, implacable at times, boring at others, vindictive, overwhelmed and violent but always, or almost always, very cold. The last part, The family revolver, closes the vital and criminal circle of Antonio Granola. I understand its need, but this Granola already with Parkinson's and finished is the one that least interests of this original reconstruction.
I smoke to forget that you drink, Martín Casariego (Siruela). Second big title of the season after A guy with a bag over his headby Alexis Ravelo, that also had behind an excellent crime novel. In this case, Casariego introduces us to a new antihero, Máximo Lomas, back in 1988, hard years in the Basque Country, where he served as an escort. He's a lonely, cultured, well-read, very archetypal guy, a posh boy who doesn't want his family's money. He falls in love, of course, with the blonde Elsa, a waitress in Madrid, wonderful and somewhat fatal. There are hundreds of cultural references, most of them recorded in the final part (maybe some were not necessary), from George Best to Virgilio, going through all kinds of musical memories, which would not work if the protagonist did not know where he was and did not load. of irony against himself. The plot turns upside down when Lomas gets into trouble because of Garcia, his fellow escort, a first-rate undesirable, a rather unbearable character — I imagine that was the idea — that almost made me get off the novel. There will be a second part, My price is none. We will then see if Max stays in our readers' hearts.