First statements by Tanxugueiras after qualifying in the Benidorm Fest final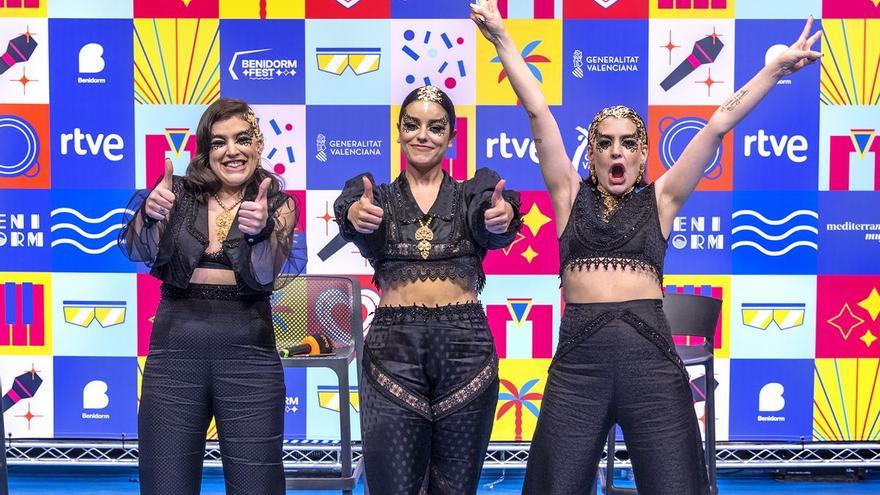 Tanxugueiras they are one of the candidates who have achieved the classification in the grand final of the first edition of benidorm fest with 'Earth'. Despite not being proposed by the jury to go to the final, the members of the Galician band show happy to continue still with options going to the gala on Saturday: "We are super delighted and very excited".
"I think we are not going to win, but we are going to give everything. We are going to polish the rehearsals to do it much better, and above all to stay comfortable with what we are going to do on the last day," said Aída. "I am winners by being here. We sincerely think about it," Sabela added later.
After the first semi-final, Chanel (110 points), Tanxugueiras (93), Blanca Paloma (79) and Varry Brava (74) have become the first finalists of the music contest of RTVEand continue in their race to represent Spain in the next edition of the Eurovision Song Contest after adding more points by the jury, demographic panel and televotingwhich received more than 42,000 votes (16,854 calls and 25,197 SMS), one of the most important participations of the Spanish pre-selection galas in recent years.
On the other hand, Azúcar Moreno (69) and Unique (55) said goodbye of their options to participate in Turin 2022 after finishing in fifth and sixth position in this first gala with, respectively, 'Postureo' and 'Best'.
Specifically, Chanel started the night taking 55 points from the professional jury, which gave the surprise by placing Tanxuguerias in fifth position with 38 points, although later they came back with the first position of the televote (30 points) and the second of the demographic panel (25 points), only surpassed by the interpreter of 'Slo mo', who also won this vote.
In the subsequent press conference, Tanxugueiras, for their part, were "very grateful and excited" about the result: "Spain is ready to send an inclusive, modern project that defends the co-official languages. There are no borders", they stressed.