First guide for the rescue of people in electric cars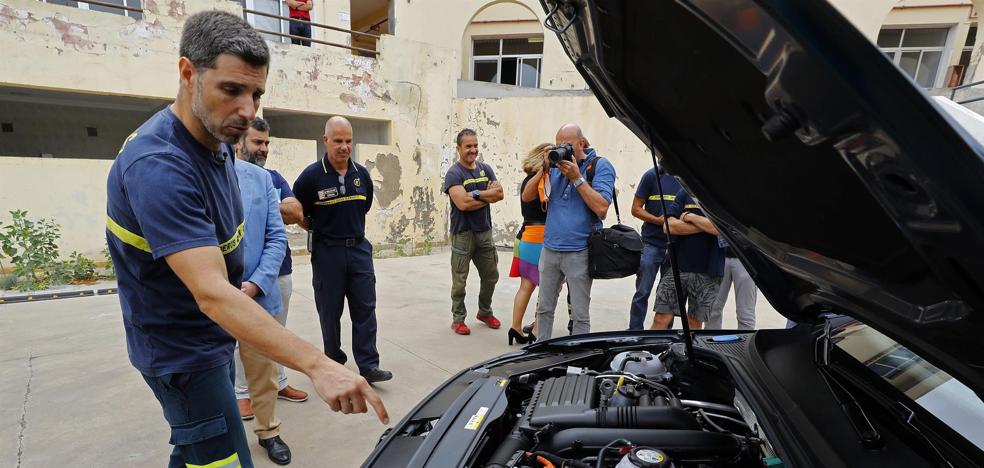 A firefighter from Gran Canaria, a pioneer in developing a protocol for the intervention of specialized personnel
The first national guide to intervene in electric car accidents was born in Gran Canaria. Cristóbal Gómez, a member of the island's Emergency Consortium, has been a pioneer in instructing firefighters on the risks they run when responding to ecological vehicle accidents, which operate with batteries of up to 800 volts and whose fire requires the use of 10,000 liters of water. .
This firefighter, with the help of the Almería City Council sergeant Jorge Sañudo, has promoted
a first print run of 200 copies which will be distributed by the country's emergency consortiums and will serve as the basis for the specific training that their colleagues will acquire next year, as detailed this Thursday at a press conference, accompanied by the Minister of Finance of the Cabildo Gran Canaria, Pedro Justo.
Cristóbal Gómez has stressed that these are instructions to be followed exclusively by firefighters, since they involve
some risks that neither users should assume of such a vehicle or anyone who witnesses an accident in which they are involved.
There are no more risks, but different risks that must be taken into account when rescuing people who are trapped inside an electric or hybrid car as a result of an accident or to warn of an imminent fire in its battery or , failing that, act to extinguish your fire.
Protocol

The first thing to specify to the emergency services is
the type of vehicle accident, since this will give the professionals time to prepare the maneuvers to be carried out in order to make the intervention as safe as possible.
Gómez has highlighted that the firefighters involved in an accident of this type must know which are the three spaces of the vehicle that they can access to
disconnect or disable your high voltage systemeasily located by its orange wiring and that under no circumstances can touch neither its holder nor any other person.
The firefighter has also warned that when any whistle or click is detected, it will be necessary to
move away about 15 meters of the vehicle, since they can be signs that risk the fire of its battery, whose toxic gases cannot be inhaled due to its harmfulness.
"They are virulent fires in which temperatures of up to 1,000 degrees can be recorded, hence the amount of water required to extinguish them is much higher (up to 10,000 liters) than the 500 or 1,000 liters that would be used in a combustion vehicle. » damaged, has referred.
In addition, fires from batteries, which can be nickel-metal hydride or lithium-ion batteries, can reignite "hours or days" after they have been extinguished, a possibility that companies needing to be warned about, for example. take care of its transfer to a deposit or to the emergency services that intervene in its removal from the road.
Speed

It is also important that firefighters preparing to extricate people from these types of vehicles know what specific maneuvers to carry out and what parts they can and cannot cut.
The author of this guide has recommended that owners of a hybrid or electric vehicle make the calls
rescue sheetswhich you can order from your dealer or download from the internet, and place on your sun visor, as it contains information on how quick and safe access to casualties can be provided, which is of vital importance to rescuers.
These tokens can also be found in mobile apps such as "Euro Rescue" and "Rescuecode".