Firms that do not go to the Mobile World Congress in Barcelona do attend a similar fair in Amsterdam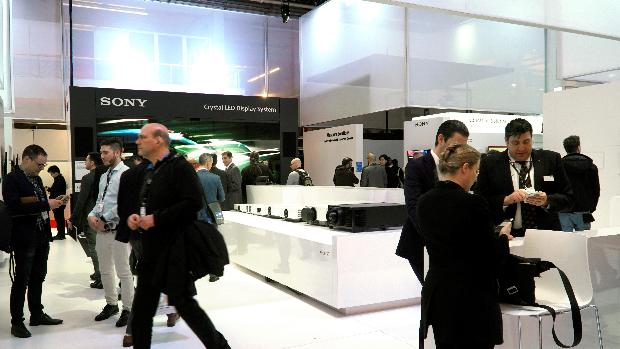 Amsterdam
Updated:
save

Sony, Cisco or Intel, who have announced their withdrawal from the Mobile World Congress (MWC) in Barcelona, ​​showcased Wednesday their news at the Integrated Systems Europe (ISE) in Amsterdam, a technological event also pending possible infections by the coronavirus, as Efe has been able to verify.
Sony, which has been discharged from the Mobile World Congress, which is scheduled from 24 to 27 this month in Barcelona, highlights the normality in the fair of the Dutch city although people are taking some precautions, and despite cancellations of Asian companies.
"We have had some clients that have not come this year to the ISE fair, but in general there are quite a few people, I think that many clients have not been lost on this issue. It is true that we talk a lot about what is happening, people are taking some precautions, but with some normality, "he explained to Efe Maxime Lemoine of Sony.
From the congress organization they confirm to Efe that There are several Asian companies and customers, especially from China, who have canceled their participation, but Lemoine says that Sony "is barely noticing, although perhaps at the end of the fair a balance is made and it shows more."
However, none of these companies present in Amsterdam want to comment on the cancellation of their assistance to Mobile World Congress from Barcelona because, they argue, it is a decision that has taken the direction of their companies.
One of Sony's exhibitors recognizes Efe that employees «they don't understand the decision that the participation in the MWC has been canceled and that nonetheless they remain in the ISE, when there is the same risk of contagion by the coronavirus that would exist in the congress of Barcelona ", and ensures that there is more of an effect called" «That here has been avoided.
The company LG withdrew its participation from the ISE a week ago, when the Amsterdam congress was ready with everything, so «it caught the rest of the companies off guard, but surely they would have followed in their footsteps of having done it in advance, because in the end it seems that it is about following the decision of the competition ", adds the same source.
Other companies they believe that this fair is a «litmus test» to decide whether or not to participate in the MWC and they hope that «the balance that is made on February 14 (final date of the ISE) will be positive, both for absence of contagion and for the number of visitors».
Samsung, which has announced that it will reduce its presence in the MWC by sending fewer managers, it is present today in Amsterdam with total normality, and has even presented the first 8K screen in the world.
A total of 50 Chinese exhibitors and another twenty from other Asian countries have canceled their attendance at this fair after doing LG, although the event has received 6.7% more pre-registrations this year, as confirmed by Mike Blackman, general director of the ISE.
The Amsterdam RAI convention center is poster wallpaper where attendees are asked to "protect and protect others", with recommendations such as not shaking hands to greet, avoid close contact with the rest, and go immediately to the health services present in the building in case of presenting suspicious symptoms .
In addition, it is also requested to "cover your mouth and nose when you cough" and wash your hands frequently with hand sanitizer dispensers installed throughout the building.
Although the use of a mask is not essential, some assistants who use it can be seen.
The ISE 2020 fair in Amsterdam, dedicated to the integrated image and sound systems industry, is counting on the participation of more than 1,300 exhibitors and this will be its last edition in the Dutch capital, because from 2021 it will be held in Barcelona .