Filomena left in three days the equivalent of urban water consumption in Spain for a year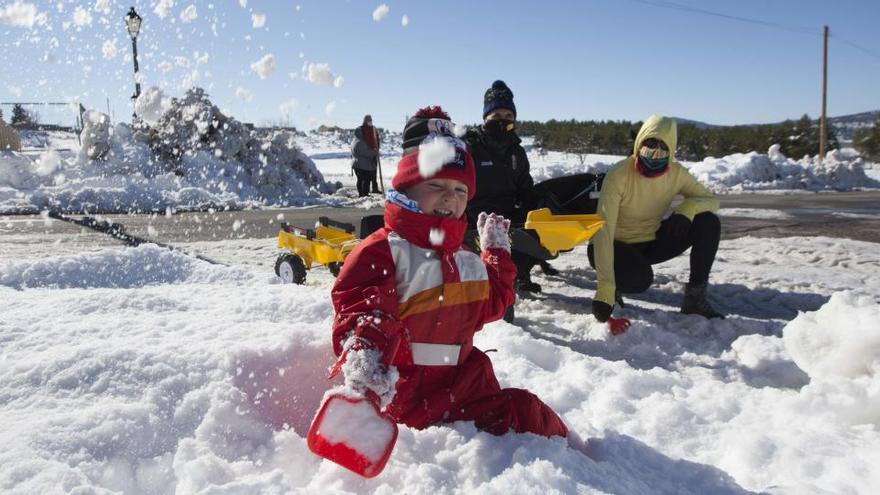 The stormy Philomena left in Spain from January 7 to 10 a accumulation of 5,000 cubic hectometres (hm3) of water, what equals the water consumption of cities for one year, according to data provided by the Hydrographic Confederations and the rainfall measurements of 70 stations of the State Meteorological Agency (AEMET) to the Ministry for the Ecological Transition and Demographic Challenge.
The hydric results are an initial estimate that will have to be verified as the remaining snow melts. The study has also taken into account satellite images that it calculates that the snow covered area of ​​the Peninsula reached an area of ​​256,000 square kilometers, around half of the peninsular surface.
In total, the Program for the evaluation of water resources from innovation (ERHIN) has estimated the amount of water contributions left by 'Filomena' at about 5,000 hm3.
Specifically, it has been calculated the total volume of water resources in Spain is around 100,000 hm3 per year, the total capacity of the Spanish reservoirs is about 55,000 hm3 and at the moment they store about 28,000 hm3.
In addition, it points out that the estimated volume of reused water is about 380 hm3 per year and the annual desalination reaches about 540 hm3, while the annual demand for water is about 32,000 cubic hectometres.
Precisely, the supply to the populations supposes around 5,000 cubic hectometres per year, more or less the amount that in just three days left Filomena.
In this context, the Ministry values ​​that this accumulation will increase the water reserve during the rest of the year, mainly in mountain areas.
The ERHIN Program has been developed since 1984 to estimate the volume of water in the form of snow in the main Spanish mountain ranges to optimize the management of water resources and, especially, to know in advance the expected contributions to the main reservoirs.
In any case, the results will have to be contrasted as the snow melts and is translated into an increase in river flows, volumes in reservoirs and increases in aquifer levels.
Of the 5,000 hm3 collected, the largest amount of water in the form of snow has been observed in the Ebro basin, which is calculated at 1,955.26 hm3, followed by the Tagus, which has added 1,063.25 hm3 and by the Júcar, with 895.47 hm3.
On the contrary, those that benefited the least from 'Filomena' was Galicia, where it did not precipitate, so that in the Miño basin it added 0 hm3 of snow and that of the Miño-Sil, just 0.72 hm3.