FIL 2019: The mariachi expedition of Amin Maalouf | Culture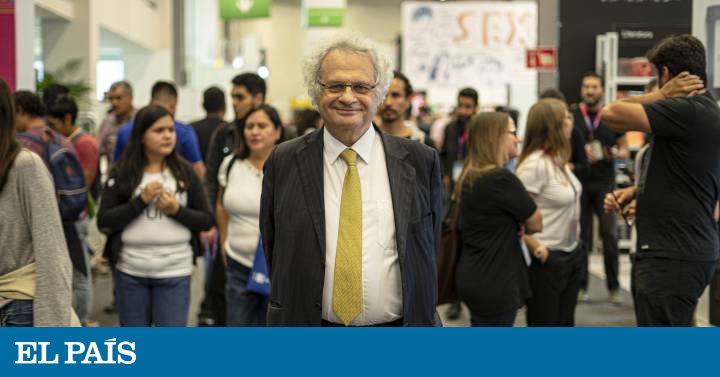 A smiling and friendly man walks calmly through the halls of the International Book Fair (FIL) of Guadalajara while warning of an impending global collapse. Amin Maalouf (Beirut, 1949) arrived as a complete stranger to most of the Mexican public and left as one of the great sensations of the largest Spanish publishing event in the world. "My intention is to shake the readers," confesses the Lebanese writer, who had to wait more than 70 years to disembark for the first time in Mexican lands. Maalouf, one of the most celebrated voices of French literature in recent decades, has captivated by offering a speech of hope after painting an apocalyptic horizon, for its simplicity to be known despite being one of the strong letters in the program of this year and for transmitting a genuine passion for the country that welcomed him in recent days.
His most recent work, The wreck of civilizations (Alliance), is a historical essay with autobiographical passages that delivers a devastating diagnosis of the destiny of humanity, in which nostalgia for a future without direction or captain abounds: discouraging and inevitable. "The world is not in good shape, but we cannot blind ourselves to reality, however distressing it may be," says Maalouf. "At the same time, I have more hope than ever, we live in a wonderful time because we have all the tools to get out of this crisis," adds the essayist and novelist.
It is at the crossroads between his personal history and universal history, from the most intimate to the most public, where Maalouf builds a story to explain how the world has reached a point of no return and where it has armed its resistance to confront problems most pressing today. From climate change and the rise of extremisms to intolerance towards minorities and the unease of economic and social inequalities that has unleashed protests in more and more corners of the planet. "I think the biggest problem is mutual distrust, we have stopped understanding the other", he says without losing the reflexive tone." I do not come to defend the idea that before times were better, rather I think we have to respond to this call urgently, I am desperate, "he says with a phrase that could well have been a battle cry from Greta Thunberg, but that has come out of the mouth of a 70-year-old man.
Maalouf, winner of Prince of Asturias Award for Letters 2010, is also a figure that breaks all the protocols: joker, warm, frank. After some back ailments truncated what might have been his first visit to the country 10 years ago, he is the writer who accesses all the photos, who signs all the books and who does not reject any questions during his interviews. He smiles after an assiduous follower dragged him from his clothes to get a souvenir or have a group of students chase you in a group after recognizing your face on a poster. This is how in two minutes the inadvertent writer becomes rockstar.
Inevitably, after reading his diagnosis of reality, the anguish of his prose becomes contagious. "The look of the book is apocalyptic," says a journalist before opening an interview. "Are you pessimistic or realistic?" Says another public radio. "Is there hope for the world?" Asks one more. Maalouf says that the latter is the question they ask the most. His strategy to face 30 interviews in a week has been simple: not prepare for any. "For me it's about talking to the person in front of me," he says bluntly. If the interview is good, it is full of energy. If not, it loses some strength and has to recharge batteries. Maalouf also has no writing rituals. The first thing you do when you wake up is to lock yourself in writing in your office for an hour or two. "All I need is absolute isolation and work on several books at the same time," he explains, alternating between French, English and some Arabic words.
Amin Maalouf also speaks with his hands. The right palm carries the rhythm of the conversation. It opens up to explain. He puts it in his mouth to think. Point with the index or drum the other fingers to remember. And the left almost always rests, except when the discussion reaches its peak. Then he moves everything, his gray and disheveled hair sways from top to bottom, his glasses discomfort his striped suit is contorted and his white shirt is unintentionally rolled up.
That trajín has accompanied him all his life. Descendant of Christians settled in Muslim-majority countries, he has lived in Lebanon, Egypt, Turkey and since 1975, after the outbreak of the civil war in his native country, in France, his adopted homeland. He worked before An nahar, one of the main Lebanese newspapers and covered the conflicts in Vietnam and Ethiopia. "I never felt the difference between being a writer and a journalist, although I think I still see the world from the perspective of a reporter," he confesses.
That resume, marked by migration, conflicts, revolutions and a permanent notion of being part of a minority, whether as a Christian in the Mediterranean or Arab Levant in Europe, has had a decisive influence on his work. His legacy is composed of novels, essays and even opera librettos, one of them (Distant love) was staged last April at the Palace of Fine Arts in the Mexican capital. Their books They are translated into more than 40 languages ​​and include, among other titles, Lion the african, Samarkand and origins.
"The line between being an immigrant or refugee is getting thinner, I left my country because of the war, but also because I wanted life opportunities, it's as simple as understanding that people are looking for a better life," Maalouf explains. That was the momentum that brought millions to Latin America, the main destination of the Lebanese diaspora and a region that has left its mark on its own family. His grandfather's brother settled in Cuba and also has a Chilean brother-in-law and a political cousin who was born in Mexico. "" Far from God and so close to the United States, "Maalouf repeats to empathize with Mexico's geographical fatalities.
Like almost any foreigner who arrives in Mexico, his hosts have taught him rudeness and entertained him with food. And he wants to try everything. One day, a cut of meat. The other, seafood. Mezcal cocktails as an introduction and right mezcal for graduation. He discovered mole and cochinita pibil, went into a dozen recipes of guacamole and neither he nor his wife Andrée, who also writes and is passionate about food, were intimidated by the spicy nor the chapulines, a typical dish based on grasshoppers. "It is a country that has impressed me a lot, with a unique history and identity, I still feel that I continue to discover Mexico," says the writer excitedly, before confessing that the place that most surprised him was the Garibaldi square, world famous for its mariachis . "It will have to be the setting for one of my novels," he tells jokes.
The gastronomic obsession, the excitement of seeing everything you can and the desire to open space for a tourist getaway at the cost of a busy schedule of commitments are not for less, but have begun to give in to fatigue. "I am a man who loves life," he summarizes moved, minutes before he concluded his presentation this Sunday in Guadalajara with a standing ovation, in his last public engagement of the next three months. He will return home to observe the world with despair and hope, and anticipates that most likely his next book is a novel. And although he has not left, he already thinks about returning to Mexico.
. (tagsToTranslate) expedition (t) mariachi (t) amin maalouf (t) writer (t) lebanese (t) arrive (t) unknown (t) mexico (t) go (t) large (t) feeling (t) public (t) citation (t) editorial (t) Spanish (t) world



Source link