Fifteen venues aspire to be part of the Iberian candidacy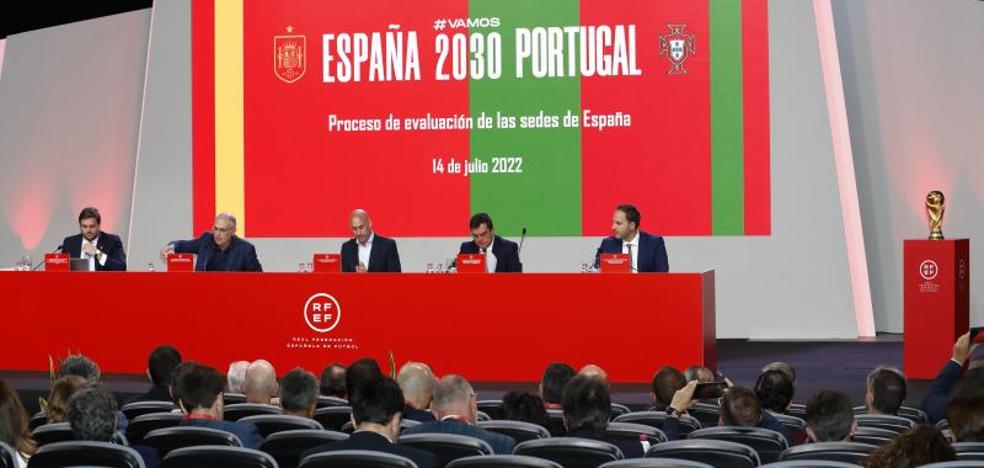 The Federation studies, together with autonomous communities, municipalities and clubs, all the proposals in search of the eleven Spanish stadiums that, together with three Portuguese ones, would host matches of the 2030 World Cup
The Spanish Football Federation (FEF) already has the fifteen venues that aspire to be part of the Iberian bid between Spain and Portugal to try to organize the 2030 World Cup. To the list of fourteen stadiums in Spain that was already being handled in recent days Balaídos, in Vigo, finally joins, so a process is opened that should outline the definitive list of fourteen venues, eleven of them Spanish, since the Da Luz and José Alvalade stadiums in Lisbon and Do Dragao, in Oporto, seem fixed as Portuguese representation.
The Santiago Bernabéu and the Metropolitano, in Madrid, aspire to overcome the cut; the Camp Nou and the RCDE Stadium, in Barcelona; La Cartuja in Seville; the New Mestalla in Valencia; San Mamés in Bilbao and Anoeta in San Sebastián, in the Basque Country; Riazor and Balaídos, in La Coruña and Vigo, in Galicia; La Romareda, in Zaragoza; El Molinón, in Gijón; La Rosaleda, in Malaga; La Nueva Condomina in Murcia and the Gran Canaria Stadium, in Las Palmas.
A list outlined after the first working meeting between the FEF, autonomous communities, city councils and representatives of the clubs in the Ciudad del Fútbol de Las Rozas, which exudes the aroma of that unforgettable summer of 1982, with the only World Cup played in Spain .
How could it be otherwise, the project revolves around the remodeled Santiago Bernabéu and Camp Nou, one already with the works very advanced and the other on the way to starting a necessary reform. The white and Barça coliseums are the jewels in the crown, but other classic Spanish football venues have also given way to their modern substitutes, such as the Nuevo San Mamés, the Metropoliano, the Nuevo Mestalla or the RCDE Stadium, which will take over the classic San Mamés, the Vicente Calderón, the still in use Mestalla, still called Luis Casanova 40 years ago, and Sarriá.
In Seville, La Cartuja, the Federation's favorite stadium, leaves out Benito Villamarín and Ramón Sánchez Pizjuán, the Betic and Seville temples. La Romareda, Riazor, Balaídos, El Molinón and La Rosaleda, five stadiums with character, survive although they will have to undertake renovations and increase their capacity to aspire to repeat as World Cup players. Anoeta, La Nueva Condomina and the Gran Canaria Stadium are added, leaving out protagonists of 1982 such as Carlos Tartiere from Oviedo, José Zorrilla from Valladolid, Martínez Valero from Elche and Rico Pérez from Alicante.