FIFA backs down and stops a World Cup every two years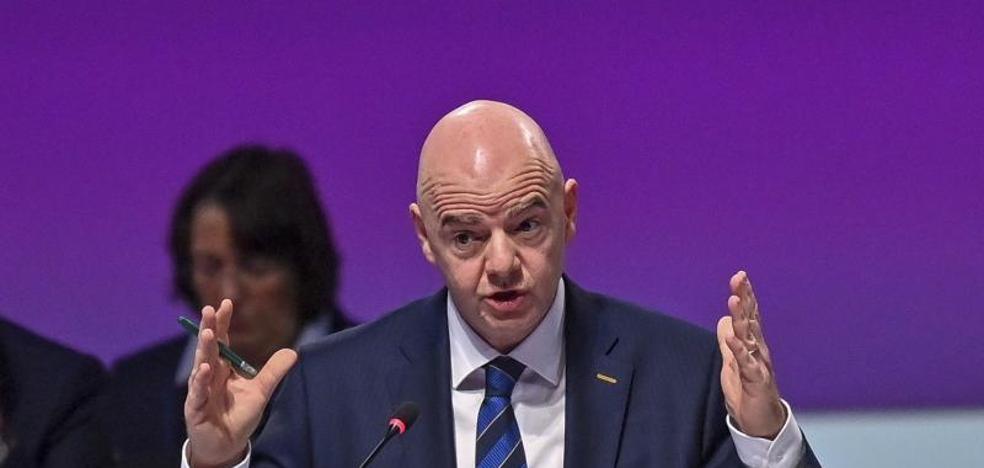 72nd Congress
The opposition of UEFA and Conmebol forces Infantino to park his project and now propose an international League of Nations
Faced with the opposition of the two most powerful organizations, UEFA and Conmebol, FIFA has backed down and has stopped the initiative to hold a World Cup every two years. The president of FIFA, Gianni Infantino, bet heavily on a project that has been diluted, mainly due to the rejection of Europe and South America, which with a biennial World Cup would see their economic interests greatly harmed. The Swiss leader even stated this Thursday during the FIFA Congress that the highest soccer body "has not proposed a biennial World Cup," although he assured that the project "is viable."
Now, with the project of a World Cup every two years from 2026 ruled out, FIFA is considering the possibility of the UEFA Nations League becoming a global competition, with the aim of expanding internationally what would be a new competition that would generate significant television income. FIFA also intended to boost its economy with the, for the moment, frustrated attempt at a biennial World Cup, but the refusal of the European and South American confederations, apart from the footballers' unions, among other bodies, has forced Infantino to park the project .
This Thursday, during the 72nd FIFA Congress in Qatar, the proposal with which Infantino tried to reach such a complicated consensus was not even put to a vote, after publicly launching an idea described as preposterous and contrary to the health of the players. For this reason, Infantino now proclaims that "FIFA must organize its own international competitions, because they are promoters of development." "At the last FIFA Congress, 88% of the federations voted in favor of studying the feasibility of a biennial World Cup project. The international calendar, the current one, ends in 2024, and we have seen that the World Cup every two years is viable and positive for a large part, but there is also great opposition, "acknowledged the FIFA president, who says to take into account, not only to the confederations, "but also to the clubs, the players and the leagues."