Ferreras stays up late again on laSexta: reports live of the arrival at sea of ​​the lava from the La Palma volcano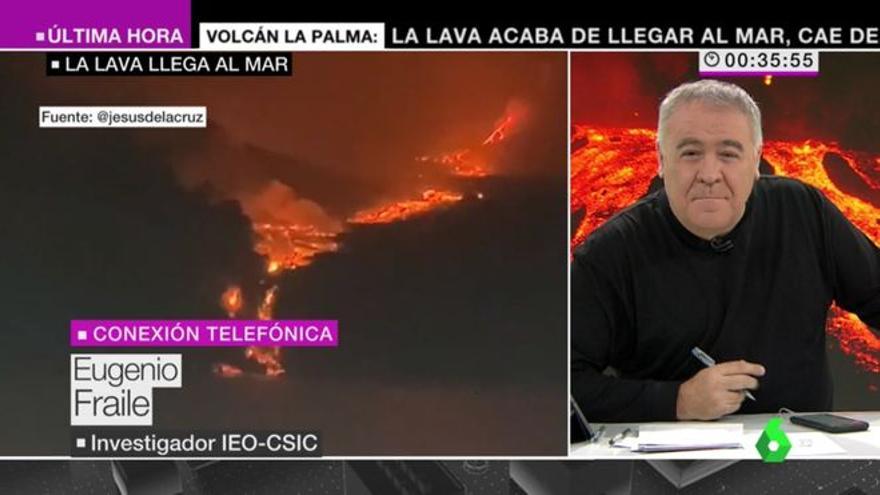 The arrival of the lava from the volcano of La Palma to the Atlantic ocean has interrupted this Tuesday night programming of laSexta. After midnight, Antonio García Ferreras has been in charge of a special of the Atresmedia chain to report the last hour of this event, precisely 10 days after the eruption begins.
Just a few minutes before midnight and without his usual jacket, the presenter and director of 'Al Rojo Vivo' took the lead in this special on laSexta Noticias, which featured the first images of the arrival of the magma pouring into the sea and with direct connections with Pablo Hermaz, Juanjo Cuéllar, Marina Valdés and Beatriz Correal, special envoys to the island of La Palma.
In addition to having interviews with volcanologists, geologists and emergency managers, Antonio García Ferreras also featured on the set of laSexta Noticias with the presence of Isabel Zubiaurre, PhD in Physics and Head of Meteorology at the Atresmedia Televisión network; the geologist Nahún Méndez and the journalist Ana Cuesta from the newsroom editorial office.
In this unexpected way and although it lasted until 1:45 a.m., this special about the arrival at sea of ​​the lava from the La Palma volcano has replaced the rebroadcasting of some installments of the previous seasons of '¿Te lo vas comer?', the program presented by Alberto Chicote, which laSexta had planned to broadcast until 2:30 in the morning.
To be more exact, the volcanic magma stream reached the sea just minutes before midnight (UK time). He did it through a cliff of more than 100 meters high, located in the town of Tazacorte, after destroying an area of ​​greenhouses and banana plantations and crossing the coast road.