Ferrari deals the first blow to Red Bull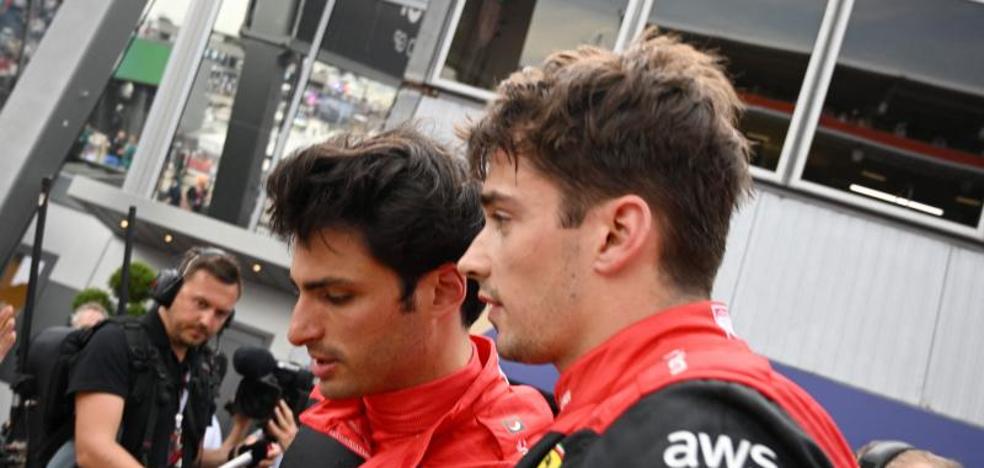 Monaco GP
Leclerc and Sainz dominate the first row of the Monegasque race after a classification that ended with a scare due to the accident of Pérez and the Madrilenian.
If the Monaco GP starts on Saturdays, it can be said that the first goal of this sort of match was scored by Ferrari. And for the entire squad: its two drivers will start first and second on a track where overtaking is impossible, so they just have to make a good start and hold on. Charles Leclerc will try to end the curse that persecutes him in his house. He has never finished any of the races since he has been in Formula 1, and for this he scored a colossal pole position that left everyone speechless, although he benefited 30 seconds from the end, when Sergio Pérez lost the rear of his car at the tunnel entrance and crashed. Carlos Sainz, who came behind, could not avoid him and the consequence was a red flag that prevented Max Verstappen from improving, who arrived in a good time, and Leclerc himself, who aimed to lower his time from 1:11.3 and screw even more his pole.
Throughout the session it was verified that it was going to be a classification that was going to be decided in the last moments. The progressive improvement of the track made each driver get the best of himself to achieve his goals, with the Ferrari and Red Bull fighting for pole, obviously. The risk of hitting a wall was soon seen: Yuki Tsunoda caused an exaggerated red flag after a puncture, forcing the Q1 dispute to be slightly delayed.
Although the pole went to Leclerc, this weekend is a golden opportunity for Carlos Sainz, who was already second here in 2021. If the man from Madrid starts well and is lucky and wise, he can achieve a memorable result and even, who knows, his first win. If there is a place to claim, that is the Principality.
For Fernando Alonso this Monaco GP will be special. Not because, as for everyone, he was keeping an eye on Paris to see what would happen in the Champions League final -much commented on was the photo of Guanyu Zhou marking an Alaba chair in hand to wish Real Madrid luck-, but because ironically this test may be a final for himself.
Alonso has reached the seventh race of the year between doubts. What seemed like a practically bureaucratic fact, the signing of his renewal, has become a pothole that can end the Spaniard out of Formula 1. So radical and hard. In Alpine the messages are anything but reassuring, because they talk about finding a solution for the Spaniard and for the tester Oscar Piastri, but they only have one car available, since Esteban Ocon will be calm until 2024.
Starting from seventh position is obviously not the best place to fight for the victory or the podium, much less on a circuit like Monte Carlo. However, and despite the fact that he did it with suffering, Alonso reached Q3 and that is already fulfilling the objective that was set before this race. After the lousy Saturday in Barcelona, ​​another mistake here could not be allowed.
Alonso curdled a very reliable classification that almost remained in a very poor one. The cut from Q2 to Q3 was met by the minimum, with a tenth place that would have been eleventh if it had not been for Valtteri Bottas made a timely mistake that prevented him from improving. Be that as it may, Alonso is at the gates of a Sunday that could be his best result of the year. It is not the dream goal, but if he manages to finish ahead of Esteban Ocon it will be a perfect vindication after days of rumors before bosses who are not afraid to lift his chair.