Fernando Savater, the best reflection of Sara Torres | Culture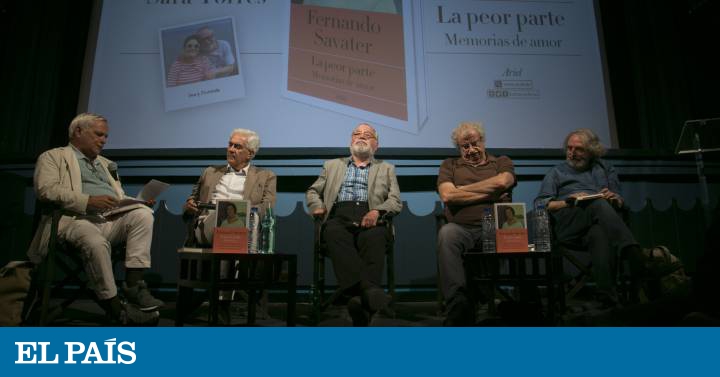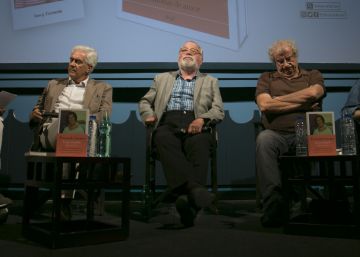 The Doré cinema, headquarters of the Spanish Film Library, drew the curtain to Worst part (Ariel) of Fernando Savater (San Sebastián, 72 years), the book in which the philosopher strips his memories (of love) after the death of his partner. "I can swear with my hand in my heart that I have never been truly happy, intimately, as I once was every day, not a single moment since I learned about Rocket Hair disease. I don't know how long this atrocious drought will last, because I think it's impossible to live like this, "writes the author. On stage, together with Savater, Jon Juaristi, José María Calleja, Juan Cruz and Basilio Baltasar, celebrated Sara Torres' greatest source of pleasure, cinema. "Our author says: I neither accept nor compromise nor overcome and break the strict scope of private life, to proclaim his unconditional love to Sara," Basilio Baltasar said to present the author "who rebelled against the tyranny of corrections" and Against death "The feeling of having lived depends on our power to remember," he added to relive the great compassion of his beloved.
Calleja also remembers the couple: the two talked quickly, talked quickly. "Sara was a Canarian woman who taught Basque. It was a shocking woman, with a tsunami-like capacity, "the journalist said. Sara was always, organizing the intention, like the day of 2003 that ETA murders Joseba Pagazaurtundua and sheltered his sister and his wife at Calleja's house. The strokes of Juaristi recovered Sara cinephile, in a pass of Sleepy hollow (1999), by Tim Burton. "Sara and I talk in Basque about cinema," he said. In the hospital Sara devised a perpetual tribute to Joseba Pagaza: a mailbox that collected letters dedicated to keeping the memory alive of the former chief of the Andoain Local Police. For his part, the journalist Juan Cruz stressed that the book has "radical happiness." "Rocket Hair was Fernando's speed plus his own urgency," he said. "She was full of fury and love, two embers without peace of which Fernando was the main recipient. The two were the best part of each one, "he added of Savater's" self-portrait of love. "
The problem in writing this book, Savater himself acknowledges, is that of The paradox of the comedian de Diderot: "If you're sorry, you do it badly." "The great singers of love are people who did not feel it, but imagined that love," he explained. For the first time he has had to tell things he "felt very much." And "that blocks." "Having felt too much, perhaps, is what prevents the book from a higher quality. But I wanted a very lively and sincere portrait. The book is about her and what she contributed to the world, "said the author. "Sara was the active core of resistance in the Basque Country against ETA. It has been unrepeatable and I have tried to remember that. It will be my last book, because I am not going to be able to book better than this one, "he finished.
. (tagsToTranslate) fernando savater (t) best (t) reflex (t) sara torres (t) philosopher (t) donostiarra (t) have (t) present (t) Monday (t) book (t) la (t) worse (t) part (t) contain (t) memory (t) write (t) death (t) husband



Source link