Fernando Robleño, a heroic, ambitious, sad, happy bullfighter … (and from another time) | Blog The bull, by the horns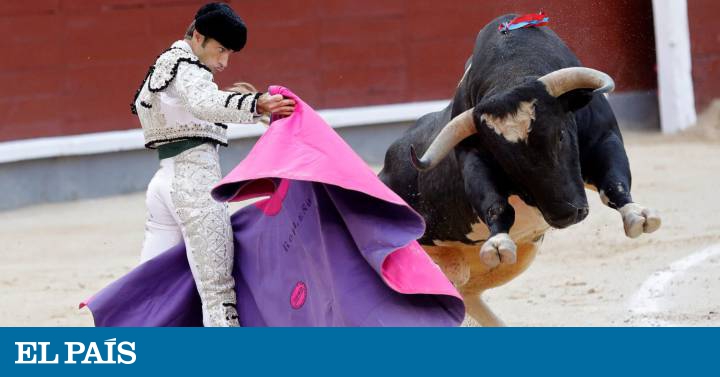 Bullfighters are admirable characters regardless of their human qualities; because they are those who go out to die every afternoon to achieve a dream.
One of them, perhaps one of the most deserving, has ordered an orange soda at a coffee shop near Las Ventas, and appears embedded in a small and apparently fragile body, but with the features of a large man, crossed by the scars left by the effort on the skin.
It seems, perhaps it is, a bullfighter from the XIX; at least, his résumé is not from this time: 33 bullfights by Adolfo Martín; 30, of School; 25 by Victorino; 14 by Miura; 12 by Dolores Aguirre; 11, by Cebada Gago; another 11, by Cuadri … And only one by Juan Pedro Domecq. And he has just turned 20 years of alternative.
He has the respect and admiration of the fans of Las Ventas, where he has done the walk 49 afternoons before bulls that carry "two cemeteries in the pythons", in words that one day the bullfighting Bojilla referred him, he has cut 11 ears and has gone out twice through the front door; He is an idol in Ceret, the French sanctuary of the bull of integrity.
And he is considered a modest bullfighter…! One more incomprehensible paradox of the modern bullfighting festival.
Fernando Robleño (Madrid, 1979), married with two children, aged eight and four, is a torrent of sincerity and a hero in a constant state of boiling, who defines himself as an ambitious, excited, grateful, happy man … and sad.
"Yes, I am sad, because this was a special season for me; last June 20, 20 years of my alternative in Torrejón de Ardoz, with Morante as godfather (I have not fought with him again) and El Juli. For me, it is an important fact to have come this far. But the virus has screwed up everything… ".
Gone is the celebration, and his agenda only includes the date of September 13, in Arles, in which he will participate in a cattle challenge, with bulls from Escolar and Palha.
He has turned 40, he confesses that he has suffered, but is clear that he has a career ahead of him.
"Well, I don't know, because it's not what I want, but how life comes. Yes, I have suffered a lot, and I have lived very hard moments that I do not wish on anyone. I have reached important goals, but I believe that my career should not end here. It deserves another climax. I want more, much more ".
Robleño extends a long and heartfelt reflection on bullfighting suffering, and tells it with full knowledge of the facts.
"When you have to face a difficult ballot every afternoon, you really suffer. When I finish eating and I lie down for a while before getting dressed to fight two bulls from Miura or Escolar, my anguish catches me. I don't know what will happen. Step fear; and the more experience I acquire, the more fearful, because you have already experienced compromised situations and you know what can happen ".
"The bullfights that I fight," he continues, "require special physical and mental preparation; When you return to the hotel, you feel empty and without strength. It is the wear, the tension… ".
The curriculum of this bullfighter must be written in capital letters. Their website (fernandorobleno.com) is a horror movie starring the toughest herds in the wild countryside; Only in Madrid has he faced eight bullfights by José Escolar; five from Victorino; four from Adolfo; another four from Cuadri, three from Palha and two from Valdellán, Baltasar Ibán and Dolores Aguirre. Almost nothing.
"Look, the most important thing is to have come this far, and with the conviction that if a bull attacks 20 times, I am capable of turning the bullring upside down. That is what has merit: the path traveled and the knowledge acquired ".
"In this world of bullfighting they put a stamp on you and you carry it all your life," says Robleño to explain his bullfighting situation.
He remembers that his beginnings were hard, and qualifies as 'significant' his career as a bullfighter. In fact, he came out on his shoulders in Madrid, but, after his alternative, "he had a name, but a single celebration" and it was a bullfight by El Cura de Valverde in the French town of Ceret.
"It was the year 2000, I was only 20 years old, but I went out to risk my life, ready for those fans to adopt me as a bullfighter. I cut off two or three ears, I don't remember, but I reached the goal. The following year, I confirmed in Madrid with the same livestock, and I thought it deserved another treatment, but it was what there was. The bottom line was that in 2002 I cut two ears off a victorino at the Autumn Fair and I was pigeonholed ".
However, the bullfighter is convinced that he would do a good job before a bullfight of the very commercial iron of Juan Pedro Domecq.
"I have only fought one in Santa Olalla de Cala, but I am not enough in a celebration with those bulls. Upside down; perhaps, it would surprise more than one. I say it loud and clear. What happens is that necessity forces. You have a place in this bullfight, they tell you, and if you don't want it, there is a waiting list of thirty companions ".
But Robleño assures that he is not a man resentful of his fate. On the contrary, he says he feels "very grateful." "Of course; my career is alive thanks to those bullfights and the public that goes to it ".
He acknowledges, however, that he had envisioned a different career.
"It's true, but, with my hand on my heart, I must say that today I am, to a large extent, the bullfighter I dreamed of as a child. And that is very important".
– Is the effort that a bullfighter makes in these bullfights valued?
– "Many afternoons you walk out of the square or pick up an ovation or go around the ring and it is equivalent to cutting three or four ears in another type of bullfight. But after ten days it has been forgotten, and the effort does not have the reward it should ".
– And do you make money?
– "It depends on what we call making money. I can say that all the energy that I have developed in front of the bull has not been paid fairly. I recognize, however, that if tomorrow I stop fighting, I would have no need to look for a job outside the bull.
"I am a happy man because I have managed to make my childhood dream come true. A different matter is that my sacrifice would have deserved another treatment, but I am not resentful for that; on the contrary, to the bull I owe everything that I am ".
And he does not want to finish the orange soda, which he has not yet tried, not to mention Madrid and Ceret, the two places that cement his career.
"I am a bullfighter who is loved and respected by the Las Ventas fans, and that is a pride that this profession has given me. It is very heavy to fight in that ring, but there is no better place to do the walk ".
And Ceret. There he triumphed with six Escolar bulls in 2012 and, since then, is an idol of the demanding local fans.
"It was a proposal of mine to the organizing committee. I told them to choose the bulls. I prepared myself conscientiously, I even participated in the Madrid marathon, and I arrived at the quadrilla yard fully aware of my high responsibility. When I saw the square full, I grew two hands. I cut off four ears, and the doors of France were opened to me ".
On the table the soda remains intact. The illusion and feeling of an admirable character have been stronger.
"I don't know how to lie as a bullfighter, and I believe that the truth leads you to success. For me it is an honor that a fan stops me in the street and speaks to me with respect and admiration. That… that is priceless ".