Femarguín does not get an immediate reaction with the arrival of Ciani Alonso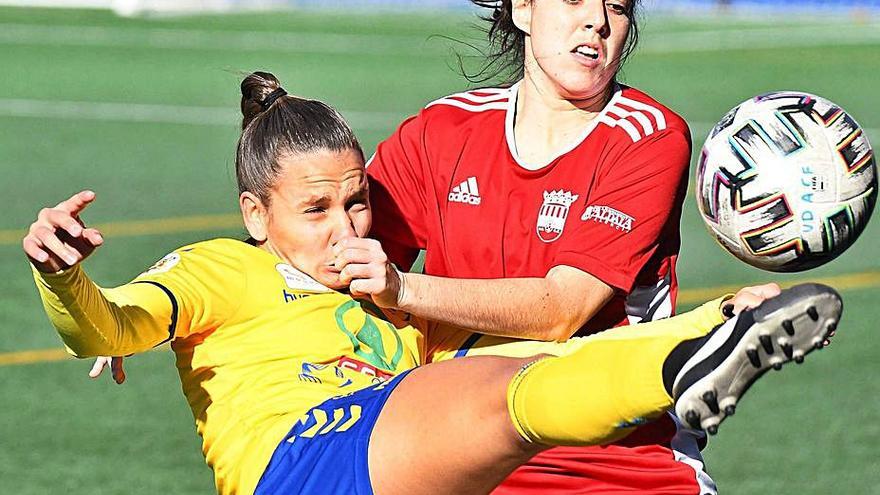 The Femarguín Spar Gran Canaria could not fulfill the traditional saying of a new coach, sure victory. The Mogán team opted for Ciani Alonso as a replacement for Migdalia Rodríguez, but the Gran Canaria, despite the improvement shown in the Jaume Ortí venue, were unable to end their bad dynamics against Aldaia (2-0). The set-piece actions condemned the Arguineguín team to suffer its sixth defeat of the season and to continue as bottom of group Sur B of the Iberdrola Lig Challenge.
Ciani Alonso's initial match approach was conditioned by Aldaia's early goal. When the first ten minutes of the contest had not been reached, the Mogán squad suffered the first blow, after the execution of a corner kick, which was used by the Valencian Nuria Ferrer to put her team ahead on the scoreboard.
Despite so much against, Femarguín was not intimidated, and looked for the equalizer before the break, enjoying good approaches for it, especially, with a header from Zaira, and with an action from Astrid, with everything in favor, but The Gran Canaria footballers were not successful in beating goalkeeper Cristina Valldelvira. The meeting came to rest with the minimum income favorable to the set of David Muedra (1-0).
After the restart, it was possible to see an ambitious Arguineguín team that fought to get the tie, but found themselves facing a solvent Valencian squad in defensive tasks in each yellow attempt. In addition, the strategy gave the sentence to Aldaia in minute 63, when the same protagonist of the first goal, Nuria Ferrer, again in a corner, made it impossible for the Gran Canaria to take a positive result at home that invites them to believe.