Felipe VI embarks to participate in the first regatta of the Copa del Rey in Palma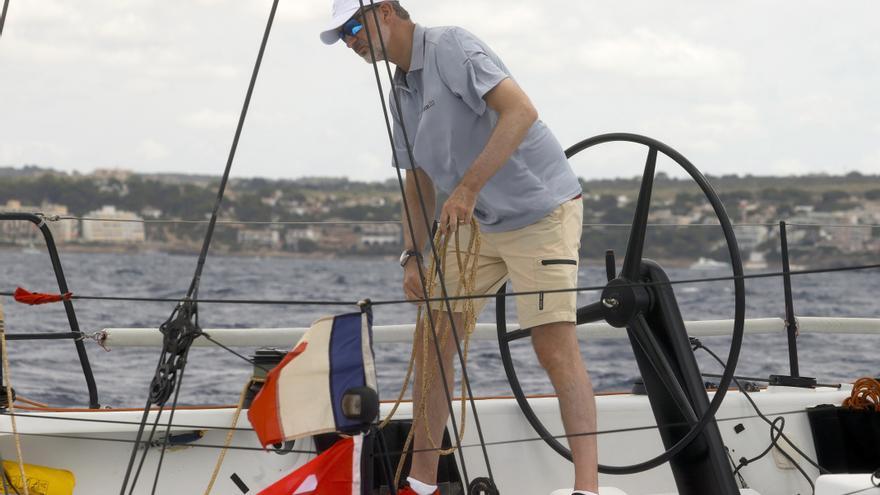 Philip VI has embarked this Monday in the 'Aifos 500' to compete in the first regatta of the 39th edition of the Copa del Rey Mapfre de Vela in waters of the bay of Palm, which was not held last year due to the pandemic.
The monarch already got on the Navy sailboat this Sunday for the training session to reconnect with the helm and with the crew after two years without sailing.
Was the first public appearance of the Head of State since his arrival this weekend in Palma with Queen Letizia and her daughters, Princess Leonor and Infanta Sofía, to spend a few days of vacation, alternated with official acts.
As he did this Sunday, Don Felipe has embarked on the 'Aifos 500' from the Porto Pi military naval base, instead of from the Real Club Náutico de Palma, after having held a round of meetings with the main authorities of the Balearic Islands at the Almudaina Palace.
The monarch plans take part in several of the Copa del Rey Mapfre regattas that will be held until Saturday.
That day will be the awards ceremony at the Ses Voltes venue in the Balearic capital, which will preside as is tradition.
The 'Aifos 500', renamed to commemorate the fifth centenary of the first trip around the world of Magellan and Elcano, competes this year in the ORC 1 category along with eleven other participants of five nationalities.
Like the rest of the sailors, Don Felipe has undergone a covid test in the days before the competition to comply with the strict sanitary protocol established by the organization to avoid infections.
Felipe VI has competed in most of the editions of the Copa del Rey sailing since 1982, although he has never won the title.
King Juan Carlos, on the other hand, achieved victory in five editions aboard the Bribón.