Felipe VI attends the raising of the flag of the V centenary of the first round the world in Palma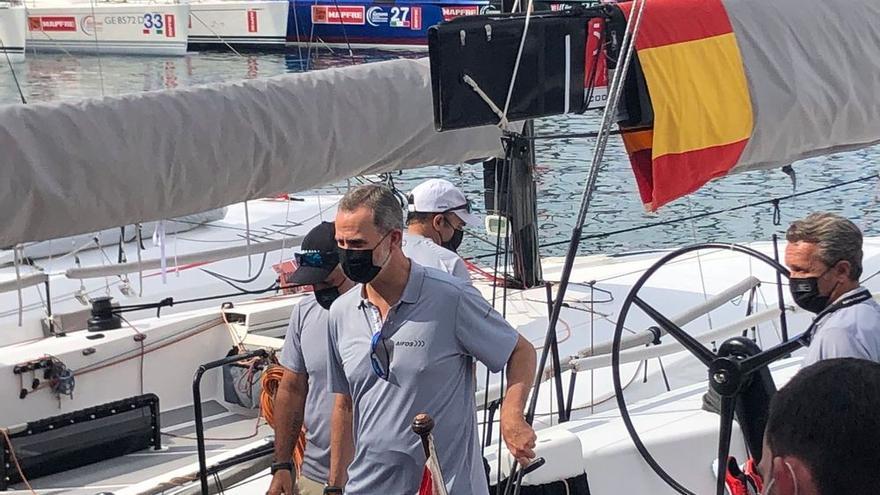 Philip VI has attended this Wednesday the raising of the commemorative flag of the V centenary of the first round the world of Fernando de Magallanes and Juan Sebastián Elcano with the crew of the Aifos 500 that competes in the Copa del Rey Mapfre sailing in Palma.
The act took place in the Real Club Náutico de Palma (RCNP), where the banner has been placed on one of the masts located in the outer area of ​​the complex.
Don Felipe and the other 14 crew members of the sailboat Aifos 500 have witnessed the hoisting together with the president of the RCNP, Emerico Fuster; the rear admiral and adviser to the Navy for the commemoration of the V centenary of the circumnavigation, Santiago Barber, and the commander of the Balearic Naval Sector, Dámaso Berenguer.
Before starting the act, the monarch has changed his mask to put on a black one with the commemorative logo of the event.
The Aifos 500 has been renamed in this edition of the Cup on the occasion of the V centenary of the deed of Magellan and Elcano. Its main sail also exhibits a large effigy of the Basque sailor, who was the one who concluded the circumnavigation in 1522 after the Portuguese captained it when it set sail three years earlier.
In September of last year, the raising of the same flag was organized in the RCNP and now it has been repeated on the occasion of the dispute this week of the Copa del Rey Mapfre, which last year could not be held due to the pandemic.
Felipe VI has subsequently boarded the Navy sailboat to participate in the third day of the competition. This is the first time that he has embarked from the port since he normally did so in Porto Pi. The monarch greeted the media and attendees who were waiting for him since early in the morning and now he's waiting for it to be time to get on board and start the day.
In the afternoon, Felipe VI and his family will star in Lluc in the first of the images of the entire Royal Family together on their public holidays in Mallorca. The visit to the Interpretation Center of the Serra de Tramuntana natural area, on the tenth anniversary of its declaration as a World Heritage Site by UNESCO, will also include enjoying a small performance by the Blauets de Lluc, signature in the book of honor of the City of Escorca and greeting from the balcony. It is also planned that, on their visit to the sanctuary, they greet the religious who live in it.